Art in public places enhances the beauty of our campus for students, faculty, staff, and visitors, and they also convey the emotional power and spiritual values of art itself to every student, no matter his or her course of study or discipline. Art in public places are central to the experience of UC Davis.  Robert Arneson's Eggheads from 1991 exemplify the irreverent and maverick spirit of UC Davis. But they are not the only works of art on our campus.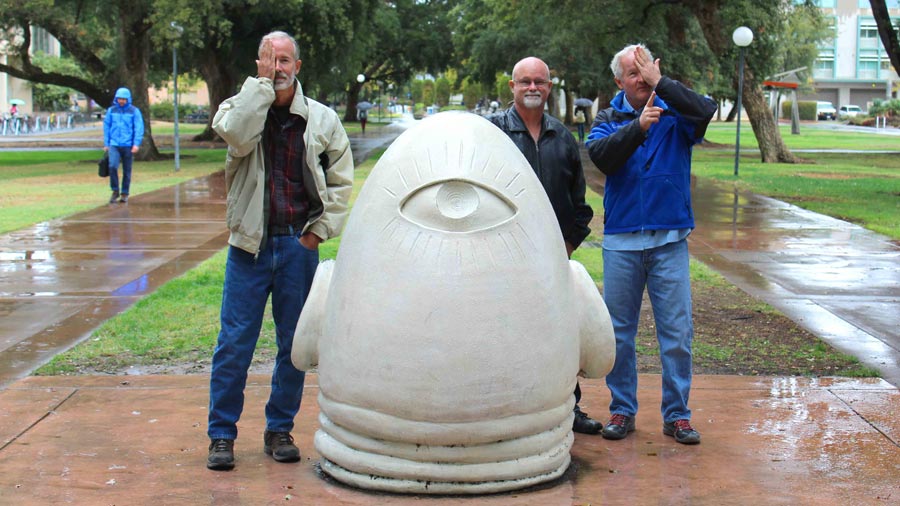 Guide to Outdoor Sculpture at UC Davis
In 2015, Associate Professor Diana Strazdes and her art history students created a guide to introduce more of UC Davis' public art to everyone. Their guide to outdoor sculpture at UC Davis (2015) contains a map, as well as descriptions of the works of art students, chose to highlight. When you visit UC Davis, pick up a guide at the Welcome Center, or download a copy here, to follow along on their tour.
Margrit Mondavi Art Garden
The Margrit Mondavi Art Garden, adjacent to the Jan Shrem and Maria Manetti Shrem Museum of Art, honors one of the university's most generous benefactors, a dedicated volunteer and an esteemed cultural ambassador. The Chancellor and Maria Manetti Shrem presented the garden to Mrs. Mondavi in celebration of her 90th birthday.
The garden design and concept are inspired by Mrs. Mondavi's plein air floral watercolors. The vision is that students and the campus community will be inspired to sketch in the garden.
The garden design ascribes to Mrs. Mondavi's aspirations for the new Manetti Shrem Museum. At the museum groundbreaking, she shared her vision for arts on campus that "this is a place where you find beauty. That you are inspired. That you go home and you start sketching the cherry tree in front of your window."