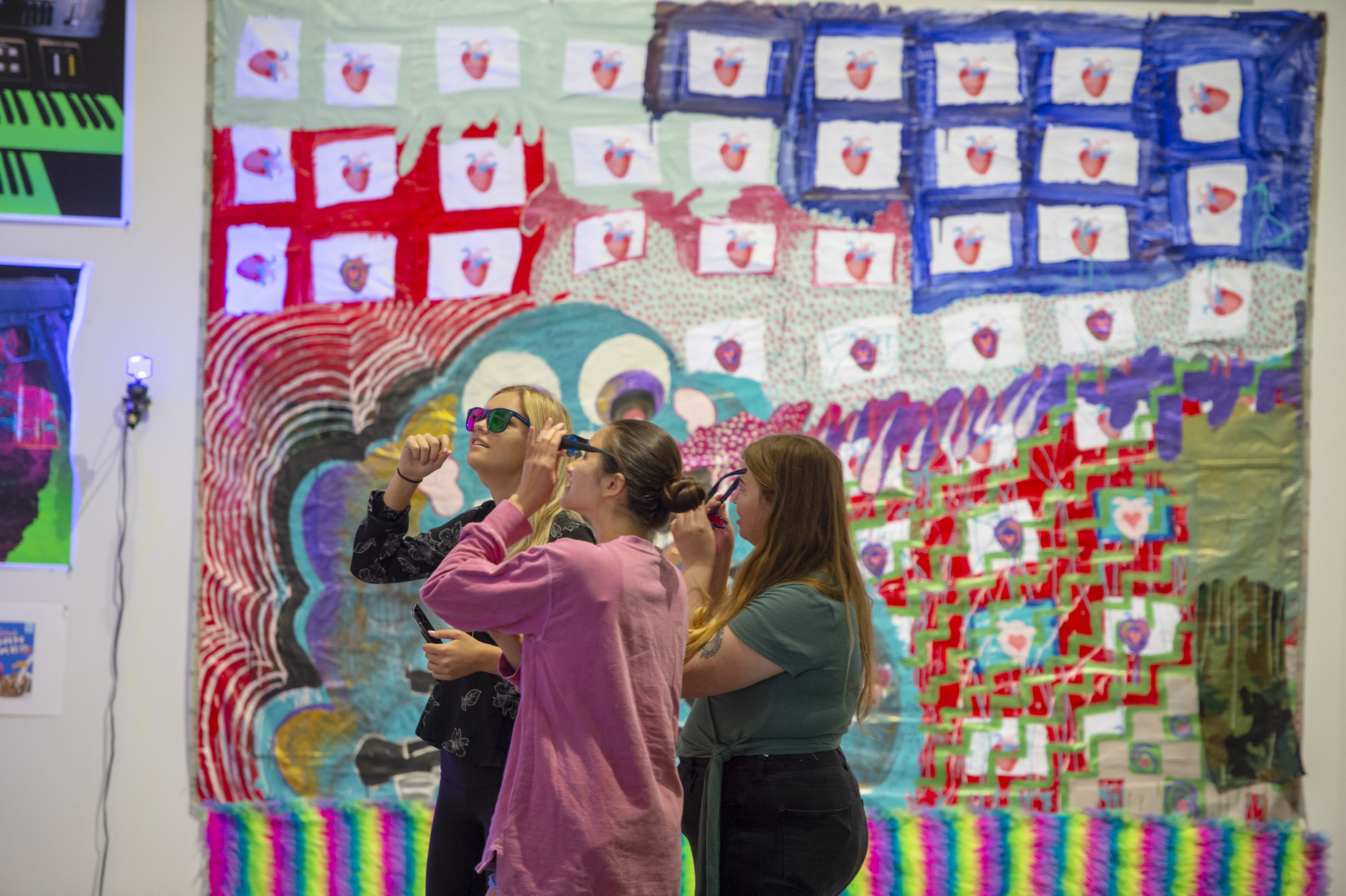 The Manetti Shrem Museum builds on the university's legacy of excellence in the arts to bring the transformational power of art to everyone. We are committed to offering engaging experiences that reflect and serve the UC Davis community through our public events and programs.
Download the Fall Season Program Brochure.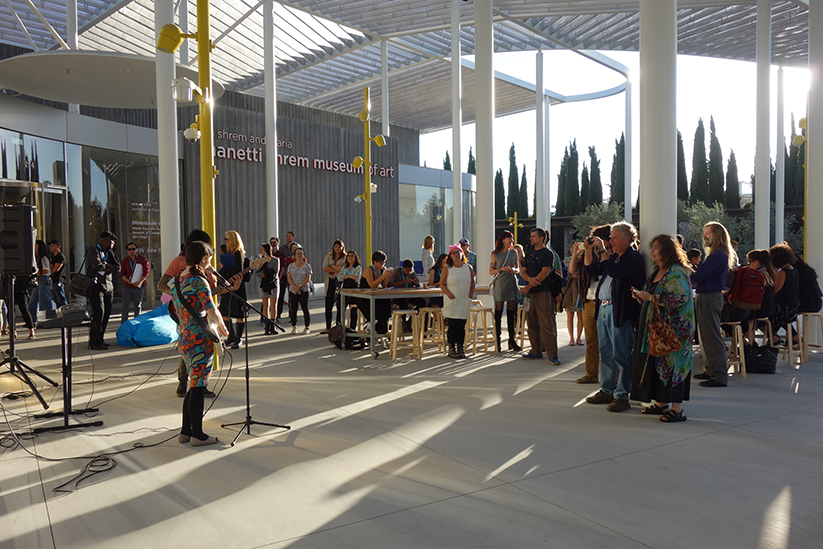 Fall Season Celebration
Thursday, September 26
5–8 PM, 6 PM: Artist's Talk
Don't miss the Manetti Shrem Museum's festive Fall Season Celebration. Experience the opening of The Manetti Shrem Museum presents NEW ERA, an installation by Doug Aitken, plus Kathy Butterly / ColorForm and Landscape Without Boundaries. Hear an artist's talk with Kathy Butterly at 6 p.m., enjoy live music and snacks, and participate in games and art activities for the whole family. Free for all!
Art Studio Visiting Artist Lecture Series:
Yevgeniya Baras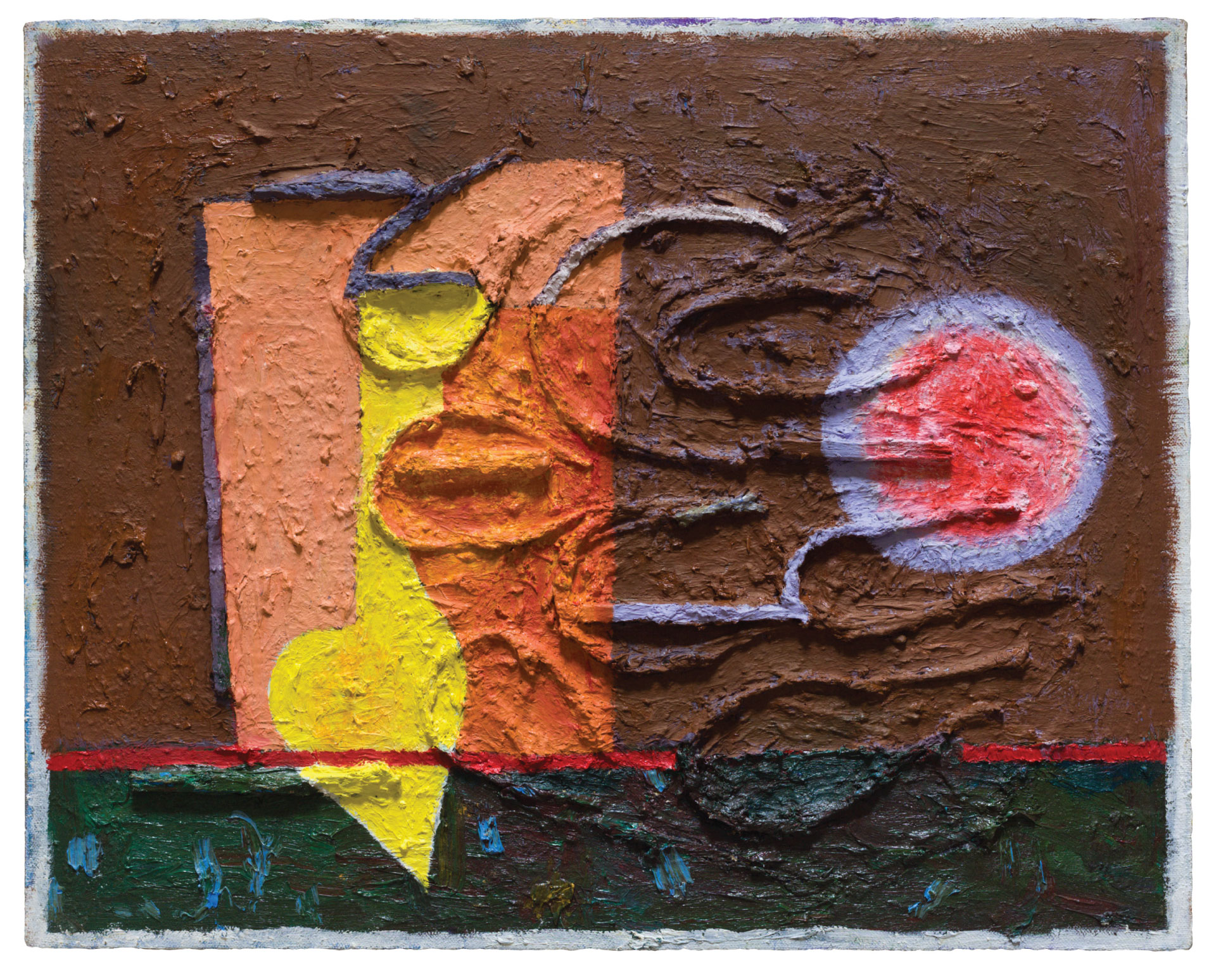 Thursday, October 3
4:30–6 PM
Yevgeniya Baras received her bachelor of arts and master of science degrees from the University of Pennsylvania (2003) and a master of fine arts in Painting and Drawing from the School of the Art Institute of Chicago (2007). She is represented by Nicelle Beauchene Gallery in New York and the Landing Gallery in Los Angeles. Baras is a recipient of the Guggenheim Fellowship in 2019, the Pollock-Krasner grant and the Chinati Foundation Residency in 2018, and the Yaddo Residency in 2017. Currently living in New York City, Baras teaches at the Rhode Island School of Design (RISD) and Sarah Lawrence College.
Doug Aitken: Artist Talk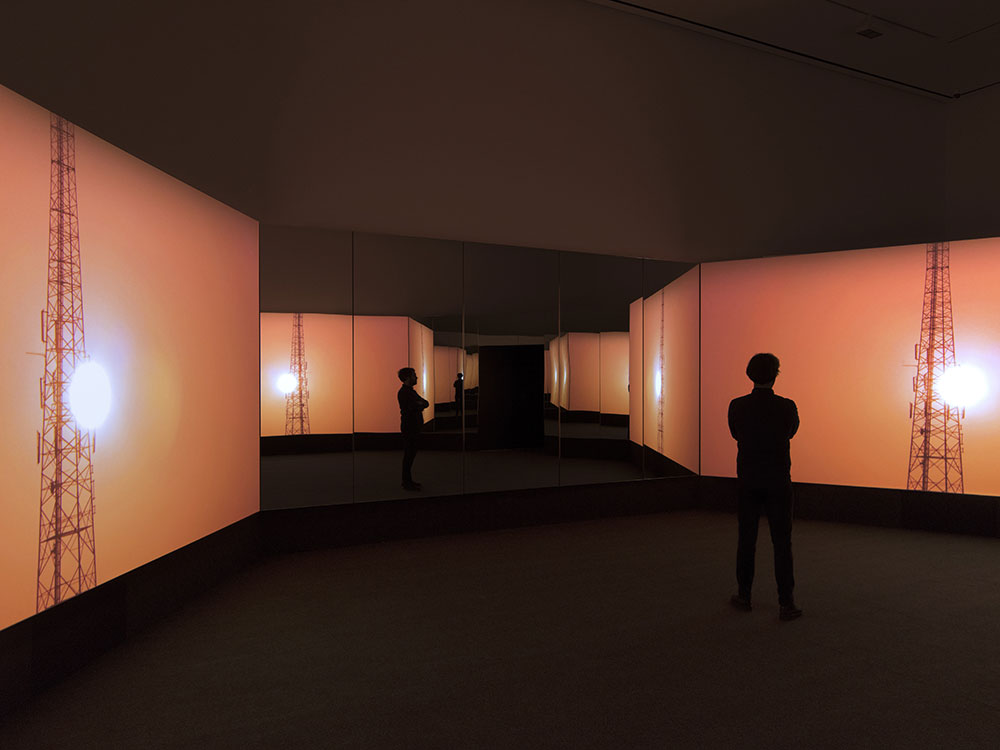 Saturday, October 5
2 PM
Doug Aitken has earned international acclaim with his groundbreaking work that redefines how we experience art. Defying categorization, he integrates moving images into sculptural and immersive environments and pushes the limits of perception. With a profound knowledge and understanding of the history of 20th-century avant-gardes, experimental music and cinema, and an intimate kinship with the protest movements of the late 1960s, Aitken has invented a unique aesthetic that transforms viewers into collaborators.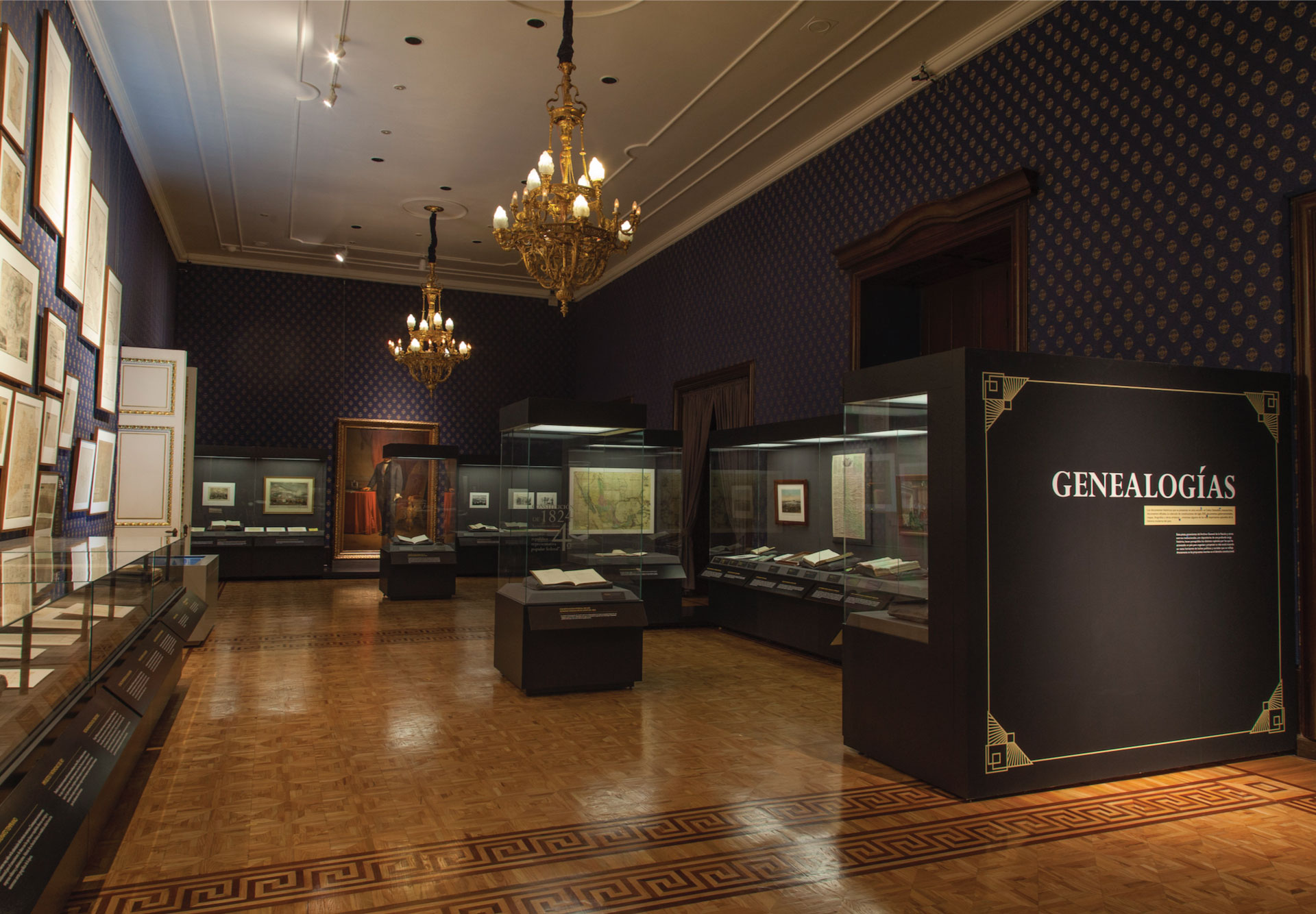 The Scholar as Curator Series
The Philosopher as Curator:
Jose Luis Barrios
(Universidad Iberoamericana, Mexico City) 
Wednesday, October 9
4:30–6 PM
This series examines the dual practice of the scholar as curator at the intersection between the humanities and the social sciences.  
Mexico City-based philosopher, art historian and curator Jose Luis Barrios meditates on the interconnections between his academic work and curatorial practice. Barrios will talk about his experience as a founding member of the art collective Curare during the 1990s, as the author of several books on both continental philosophy and Mexico's art-historical heritage, as a curator of several major exhibitions of contemporary artists, including Rafael Lozano-Hemer and Eric Meyenberg, and as Associate Curator of Contemporary Art University Museum (MUAC).
Programmed by Tarek Elhaik (Associate Professor, Anthropology) and the AIL: Anthropology of the Image lab in partnership with the Manetti Shrem Museum and with the generous support of the Mellon-Sawyer Series on Branding Cultural Heritage.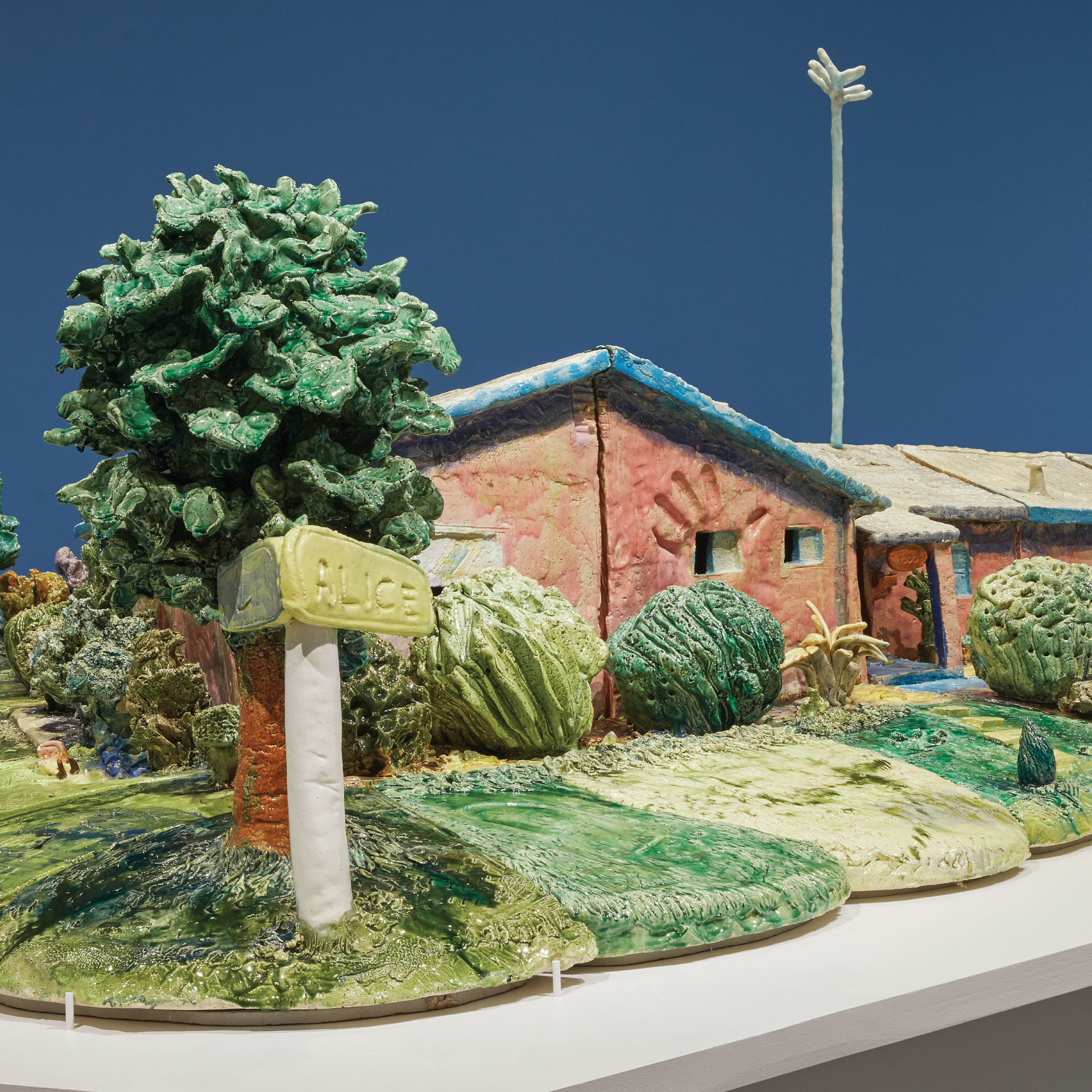 Arneson's The Palace at 9 a.m.: A Conversation with
Sandra Shannonhouse and Rachel Teagle
Saturday, October 19
2:30 PM
Join in a lively conversation about Robert Arneson's Alice series and the making of The Palace at 9 a.m., the centerpiece of the exhibition Landscape Without Boundaries. In conversation with Founding Director Rachel Teagle, the artist's widow, Sandra Shannonhouse, will share her perspectives on the importance of this series as well as her personal reflections on the UC Davis and Bay Area art scene in which she and Arneson were active participants.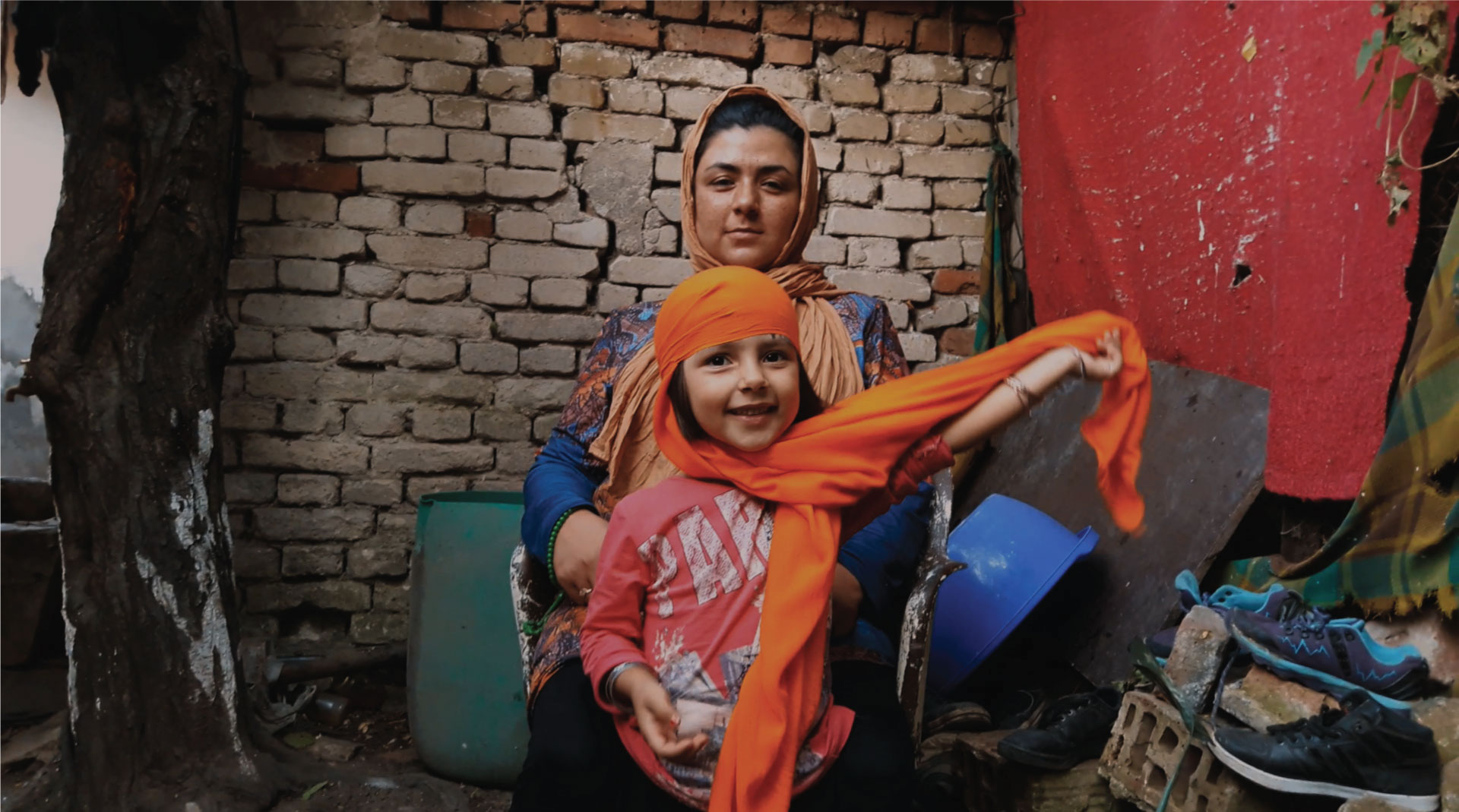 UC Davis Human Rights Film Festival: Midnight Traveler
Tuesday, October 22
5:30–8 PM
The third annual UC Davis Human Rights Film Festival features a screening of Midnight Traveler (2019), a rare first-person account of the refugee experience. When the Taliban puts a bounty on Afghan director Hassan Fazili's head, he is forced to flee with his wife and two young daughters. Capturing their uncertain journey, Fazili shows firsthand the dangers facing refugees seeking asylum and the love shared between a family on the run. 
Stay for a Q&A after the screening with the film's writer and producer, Emelie Mahdavian, a UC Davis alum with a doctorate in Performance Studies. Mahdavian is a filmmaker and Fulbright scholar who focuses on Central Asian cinema. Her 2016 feature documentary, After the Curtain, about the struggles of four women dancers in Tajikistan, premiered at Lincoln Center as part of the 44th Dance on Camera and continues to screen at festivals worldwide. 
The UC Davis Human Rights Film Festival is presented by the UC Davis Humanities Institute, Human Rights Studies, Global Affairs, and the Manetti Shrem Museum.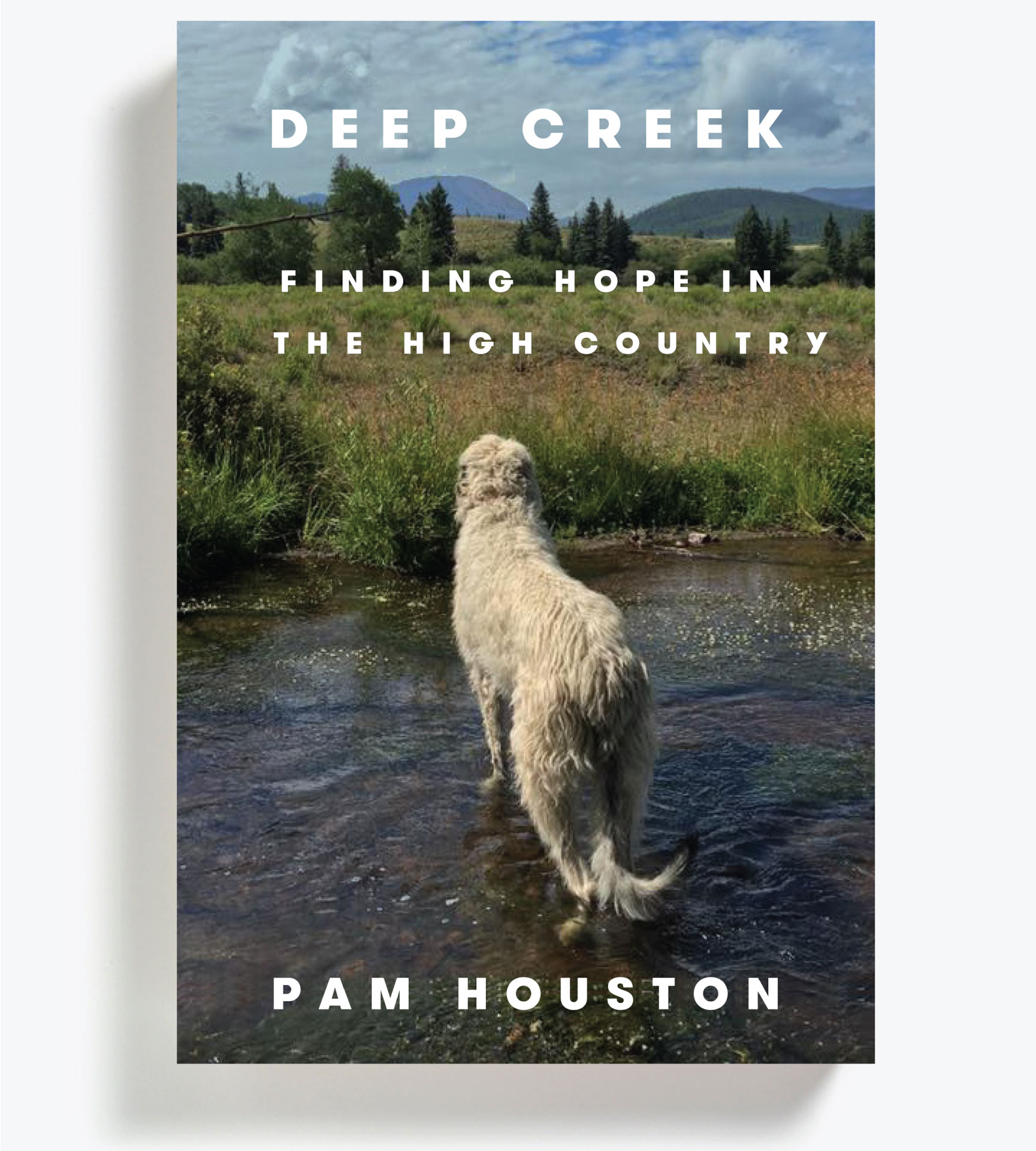 Faculty Book Series
Pam Houston
Deep Creek: Finding Hope in the High Country
Wednesday, November 6
4:30–6pm
Get the inside scoop and hear first about the exciting and interesting work UC Davis faculty are undertaking. Faculty authors representing departments all over campus will be presenting their work. Topics include our relationship to the land, digital media, racism and artificial intelligence. A book signing will follow each talk. 
On her 120-acre homestead high in the Colorado Rockies, beloved writer Pam Houston learns what it means to care for a piece of land and the creatures on it. Through her travels from the Gulf of Mexico to Alaska, she explores what ties her to the earth, and most of all, her ranch. 
Pam Houston is professor of English in the Creative Writing Program at UC Davis.
The Faculty Book Series will continue into 2020 with authors Kriss Ravetto-Biagioli
and Mark Jerng.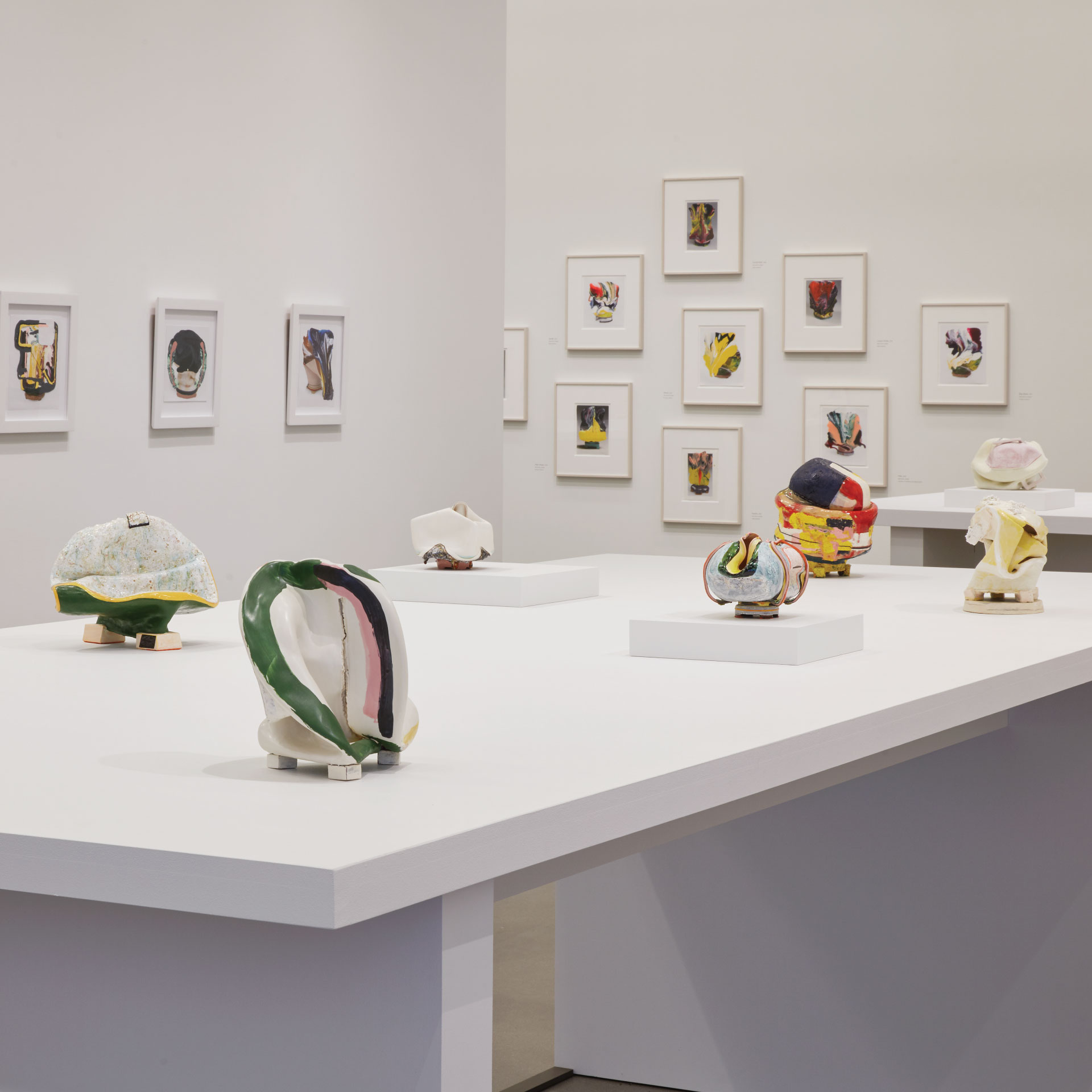 Art Studio Visiting Artist Lecture Series
Kathy Butterly
Thursday, November 7
4:30–6 PM
Kathy Butterly has exhibited widely in the United States and internationally, with her first retrospective, Kathy Butterly I ColorForm, currently on view at the Manetti Shrem Museum. Her works are in the permanent collections of the Museum of Modern Art, New York, N.Y.; the Detroit Institute of Arts, Mich.; the Museum of Fine Arts, Boston, Mass.; the Carnegie Museum of Art, Pittsburgh, Pa.; and the de Young Museum, San Francisco, among others. She has been the recipient of numerous awards and grants including a Louis Comfort Tiffany Foundation Grant (2017), a Guggenheim Fellowship Award (2014), a Smithsonian American Art Museum's Contemporary Artist Award (2012), a Pollock-Krasner Foundation Grant (2011), and a Joan Mitchell Foundation Grant (2009). Butterly received her bachelor of fine arts degree at Moore College of Art before earning a master of fine arts at University of California, Davis, where she studied with Robert Arneson. She lives and works in New York, N.Y.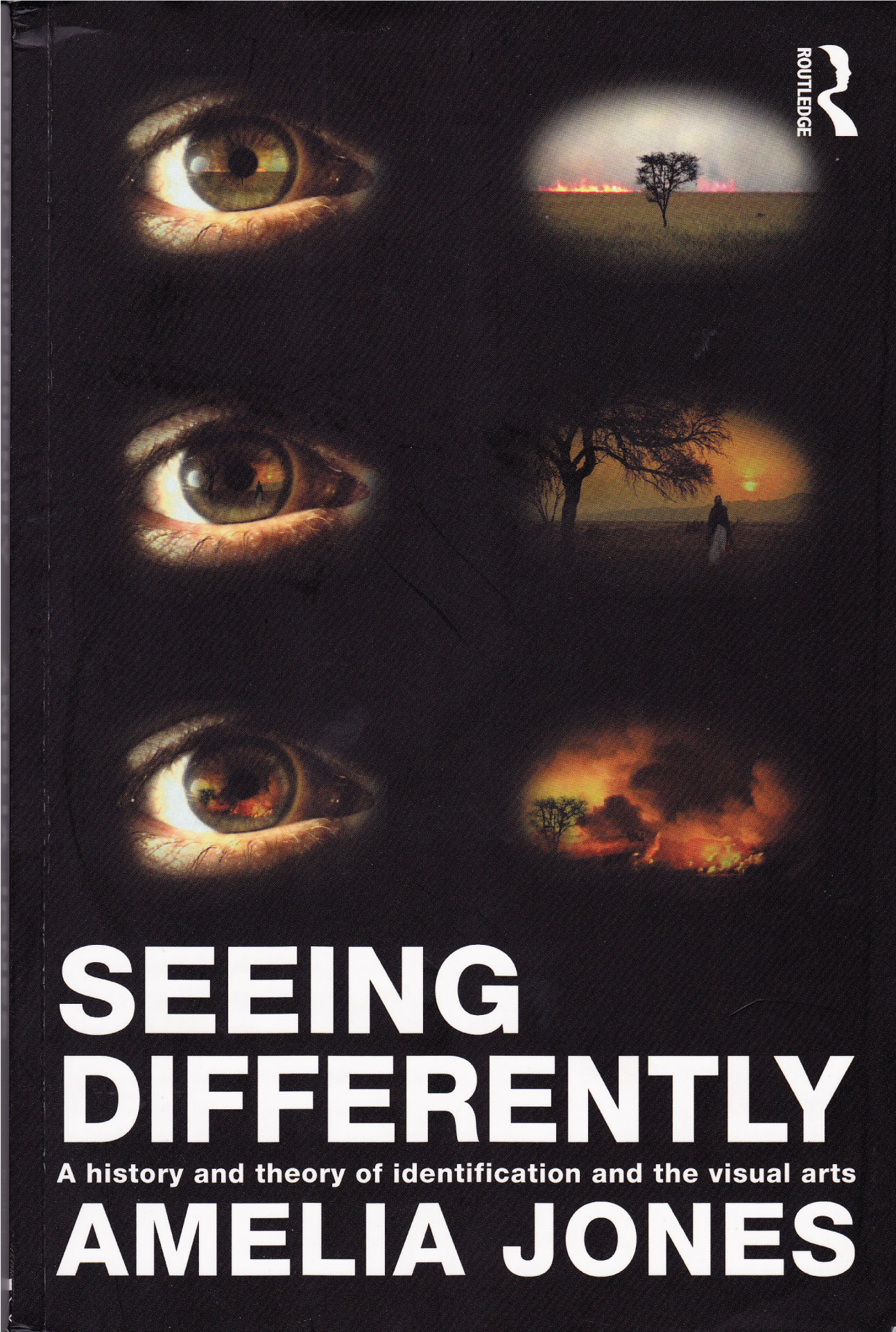 Art Studio Visiting Artist Lecture Series
Amelia Jones
Thursday, December 5
4:30–6 PM
Amelia Jones is Robert A. Day Professor and Vice Dean of Research, Roski School of Art & Design, USC, and is a curator and scholar of contemporary art, performance, and feminist/sexuality studies. Recent publications include Seeing Differently: A History and Theory of Identification and the Visual Arts (2012); co-edited with Erin Silver, Otherwise: Imagining Queer Feminist Art Histories (2016); and the edited special issue "On Trans/Performance" of Performance Research (2016). Jones is currently working on a retrospective of the work of Ron Athey with accompanying catalogue (Queer Communion: Ron Athey) and a book entitled In Between Subjects: A Critical Genealogy of Queer Performance is forthcoming from NYU Press.
This lecture is co-sponsored by the UC Davis Department of Art History. 
Artist-Led Workshops & Salons
We are pleased to introduce two fall programs in the Carol and Gerry Parker Art Studio. The Drop-In Studio and Evening Salons are led by regional artists and developed to engage the community and makers of all levels. 
The first weekend of each month, meet regional artists who will introduce themselves and their series of month-long art-making drop-in workshops inspired by the museum's exhibitions, with an emphasis on materials and experimentation. Each artist will also host a Thursday evening gathering designed for other artists and the creative community, where they will give a short talk about their practice as a prelude to conversation and artistic exchange. Light refreshments will be provided. Free with RSVP (required; space is limited); please call (530) 752-6362.
Featured Artists
October 5–27: Roma Devanbu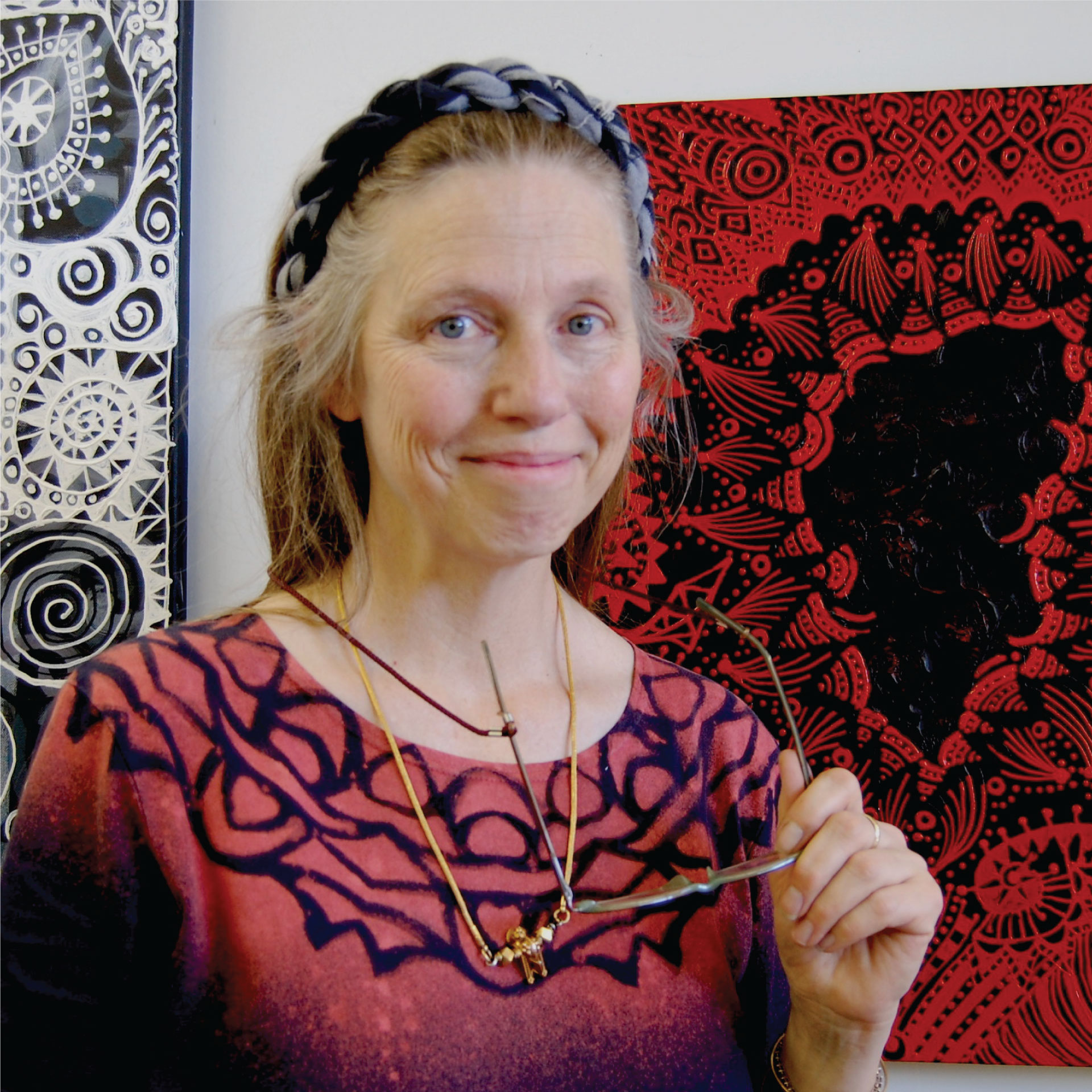 Roma Devanbu grew up on the East Coast and moved to Davis over 20 years ago. Her extensive international art pilgrimages have resulted in a fascination with the human compulsion to decorate. She has a studio residency at Verge Center for the Arts and is a member of Axis Gallery, both in Sacramento. 
November 2–December 1: Steph Rue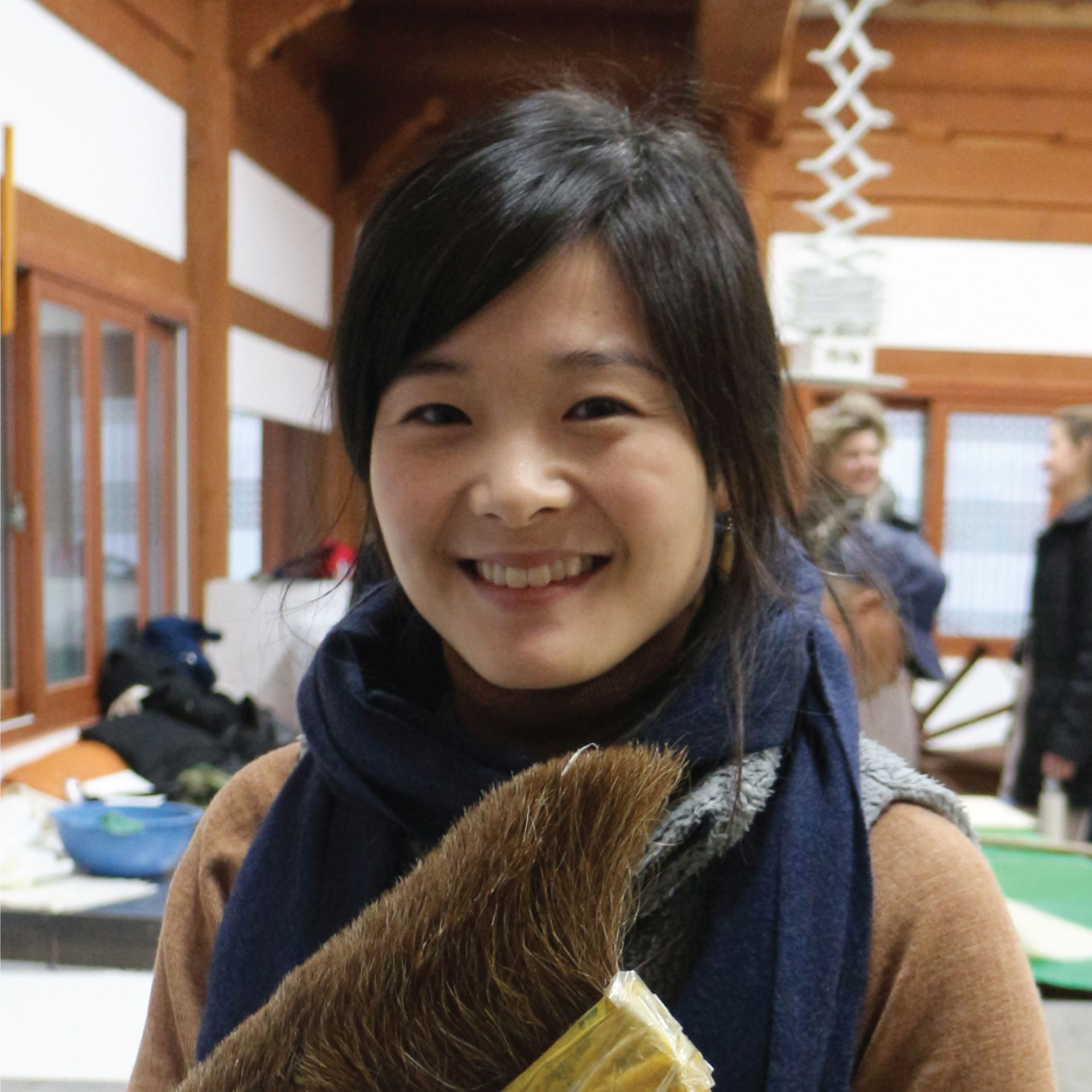 Steph Rue is a Sacramento book artist and papermaker. She received her master of fine arts in book arts from the University of Iowa Center for the Book in 2015 and studied traditional Korean book and papermaking in South Korea on a 2015-16 Fulbright grant.
December 7–29: Patris Miller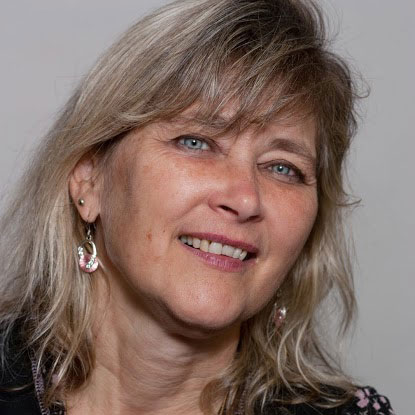 In 2012, Patris Miller opened her own studio and gallery in Oak Park, where she creates art, teaches drawing and painting, holds life drawing and painting sessions, and coordinates art exhibits and events. Her work–whether figurative, still life or en plein air–is based on painting and drawing from life.
Workshop
Symmetry, Pattern and Variation
Saturdays & Sundays, October 5–27
2–4 PM
Explore the power of pattern and symmetry to create a sense of visual order and harmony. Vary the elements to create rhythm. Add in a touch of chance to encounter delightfully surprising images. Using a variety of materials and methods, Roma Devanbu will share her process and provide support as you discover your own ways of using symmetry, pattern and variation.
Salon
Someplace Between Chaos and an Endless Grid  
Thursday, October 10
7–8:30 PM
Roma Devanbu will talk about her attempts to find balance in her compositions, and in her art making process, and facilitate an open discussion about how much and what type of order salon participants find useful in their own creative endeavors. 
Workshop
Joomchi: Playing with Paper 
Saturdays & Sundays, November 2–December 1
2–4 PM
Create a unique landscape using a traditional paper-felting technique called joomchi. We will be using hanji (Korean paper), a strong and durable material to explore a variety of ways to collage, felt and fuse paper into interesting textures. Steph Rue will share a variety of joomchi techniques as well as other ways to work with this unique material. Prepare to get your hands wet and come play with paper!
Salon
Patchwork Practice: Creating Within Boundaries
Thursday, November 21
7–8:30 PM
Steph Rue will demonstrate her process of making paper collages using scraps, a technique used in making bojagi (Korean wrapping cloths). Participants will have the opportunity to make a small paper collage using leftover scraps from the art studio. Steph will also discuss how artists make work with limited time, space and materials — and how these limitations can feed our creative practices.
Workshop
Environments and Mark-Making 
Saturdays & Sundays, December 7–29
2–4 PM
Experiment with variety of mark-making techniques to add a sense of realism to your drawings. Using basic geometric shapes and a variety of materials, explore new ways of drawing the world around you with simple techniques and methods. Patris will share her process and encourage participants to explore their own ideas of creating a sense of dimensionality on a 2-D surface. 
Salon
Connections Between Artist and Place
Thursday, December 19
7–8:30 PM
Throughout the centuries, artists have narrated their environment in a variety of ways and used the art-making process and creative passion to make meaningful connections between themselves and the world around them. Patris Miller will share how her personal vision became the  inspiration behind her Oak Park Broadway Rain Series.
Artist-Led Workshops will continue into 2020 with artists Manuel Fernando Rios, Elizabeth Corkery and Ianna Nova Frisby.
Winter Season Celebration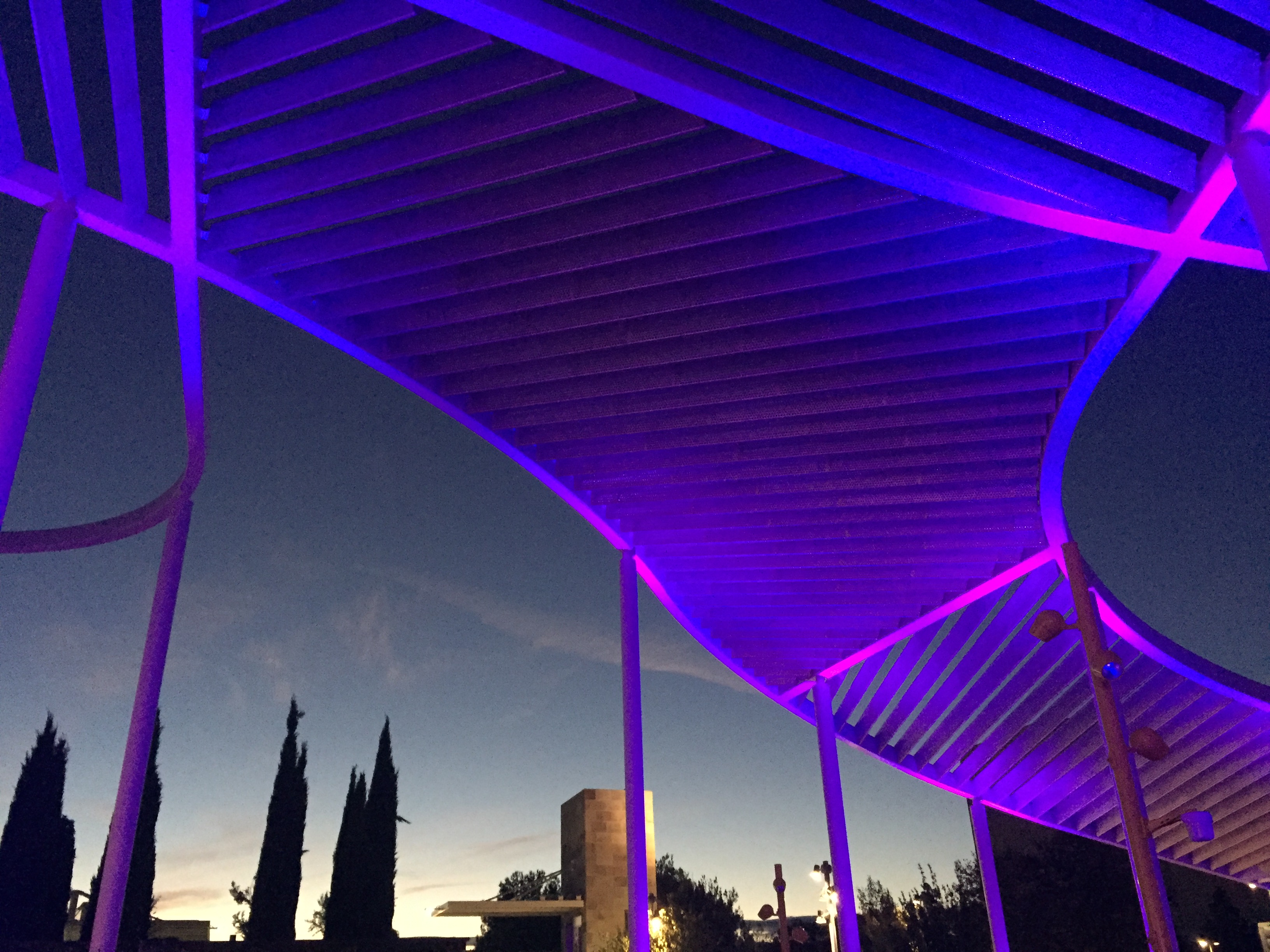 Sunday, January 26
3–5 PM
First-generation UC Davis artists are featured in two compelling new exhibitions opening at this event: Stephen Kaltenbach: The Beginning and The End and Gesture: The Human Figure After Abstraction | Selections from the Manetti Shrem Museum. We will also celebrate a complementary installation of Manuel Neri sculptures outside the museum's West facade. 
Artist Talk, 3:30 PM
Exhibiting artist Stephen Kaltenbach will be in conversation with guest curators Constance Lewallen and Ted Mann.
Enjoy art activities for the young, and young at heart
Hear live music from Mediocre Café
As always, the event is free for all!