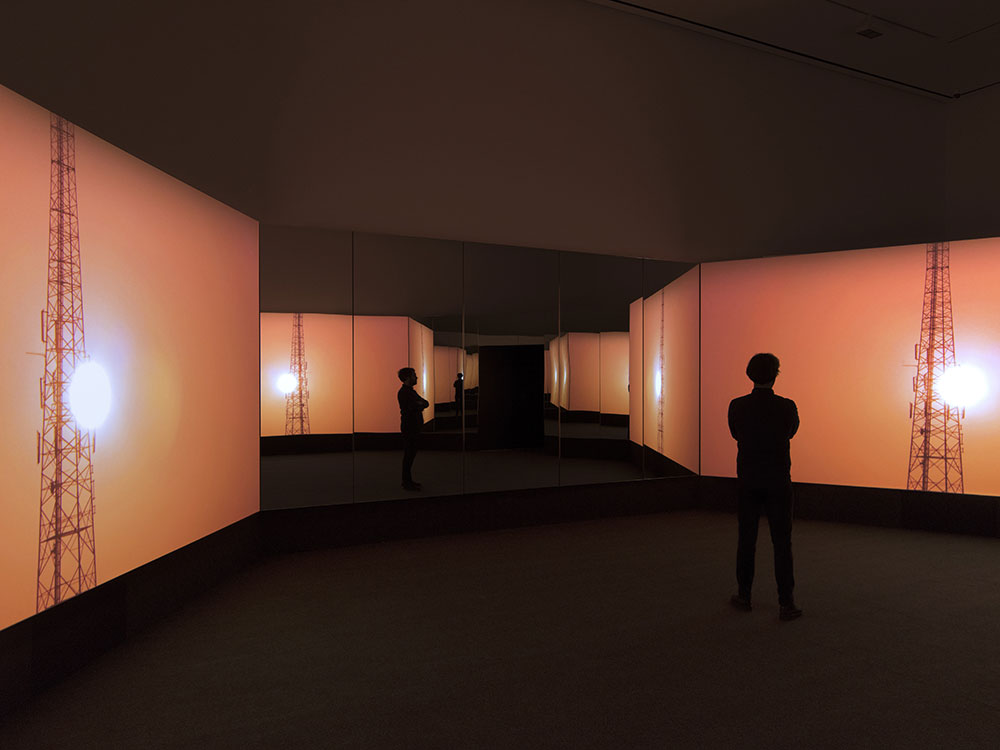 The Manetti Shrem Museum presents NEW ERA, an installation by Doug Aitken
Los Angeles-based artist Doug Aitken has earned international acclaim with his groundbreaking work that redefines how we experience art. The Manetti Shrem Museum presents NEW ERA, an installation by Doug Aitken explores the technological ambivalence of contemporary culture, raising questions about the challenges of our immediate access to communication and networks. Drawing on a history of experimental music and cinema as well as a kinship with the protest movements of the late 1960s, Aitken's immersive installation of moving images and sound creates a "liquid environment" that transforms viewers into collaborators.
Curator and Founding Director: Rachel Teagle
September 26, 2019–June 14, 2020
Virtual Arts & Humanities 2020 Graduate Exhibition
Experience new ways of seeing and understanding the past and future in this multidisciplinary virtual exhibition from UC Davis graduate students in the disciplines of art studio, design, art history, music, Native American studies, cultural studies and creative writing. Listen to the opening webinar for remarks from faculty and university leadership as well as the presentation of the Keister & Allen Art Purchase Prize and the Savageau Award in the Department of Design.
May 28–June 28, 2020 (extended)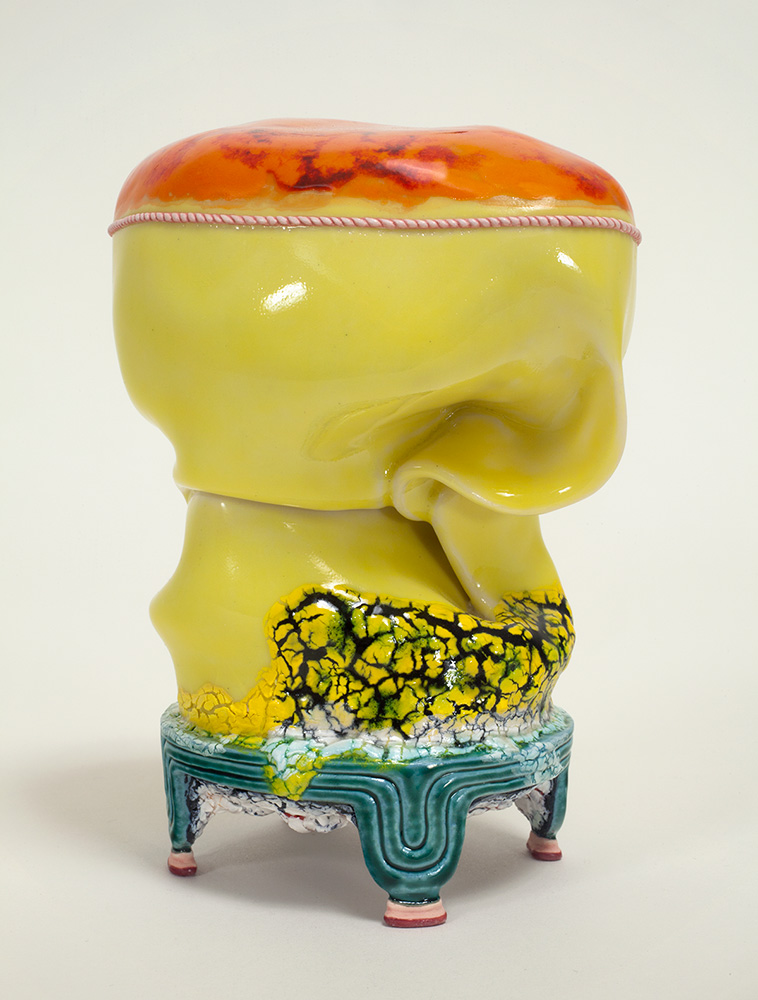 Kathy Butterly | ColorForm
We are pleased to present Kathy Butterly's first retrospective exhibition, Kathy Butterly | ColorForm. A graduate of UC Davis (MFA 1990), Butterly's art has strong historical roots in the work of California sculptors such as Viola Frey and Ken Price, as well as her mentor here at Davis, Robert Arneson.  Charting the evolution of Butterly's career through over 70 works of art spanning 1989 to the present, the exhibition especially highlights the last ten years of her work and features sculpture specially made for this occasion. Butterly is distinguished by her personal and emotionally-accessible sensibility and her ceramic language of line, form, and color. A full-color hardcover catalog featuring new essays by leading critics will accompany the exhibition.
Guest Curator: Dan Nadel
July 14–December 29, 2019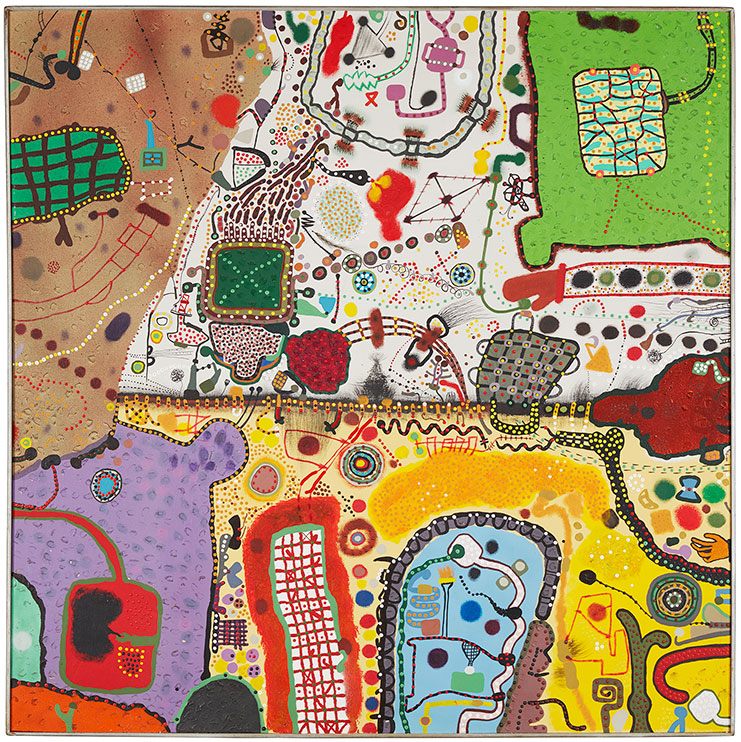 Landscape Without Boundaries: Selections from the Jan Shrem and Maria Manetti Shrem Museum of Art
The artists in and around Davis represent a singularly vital mix of approaches to the idea of the landscape in art. Encouraged by the land in which they lived and worked, our artists used the idea of landscape variously as a way to map psychology, the basis of surrealist images, or the raw material for a freshly invented world. How painting, sculpture, and drawing addressed and reflected the Northern California landscape in the years after World War II is revealed through significant works by artists including Robert Arneson, Joan Brown, Bruce Conner, Gladys Nilsson, Martin Ramirez, and Wayne Thiebaud.
Artists represented in the exhibition:
William Allan, Jeremy Anderson, Ruth Armer, Robert Arneson, Elmer Bischoff, Joan Brown, Deborah Butterfield, Bruce Conner, Roy De Forest, Mike Henderson, Robert Hudson, Ralph Johnson, Ynez Johnston, Judith Linhares, Lee Mullican, Maurine (Fay) Morse Nelson, Gladys Nilsson, Maija Peeples-Bright, Roland Petersen, Jaune Quick-to-See Smith, Martín Ramírez, Don Reich, Tom  Rippon, Peter Saul, Cornelia Schulz, Charles Seliger, Albert Smith, Wayne Thiebaud, Carlos Villa, Mary Warner, William T. Wiley, Franklin Williams, Joseph E. Yoakum
Guest Curator: Dan Nadel
July 14–December 15, 2019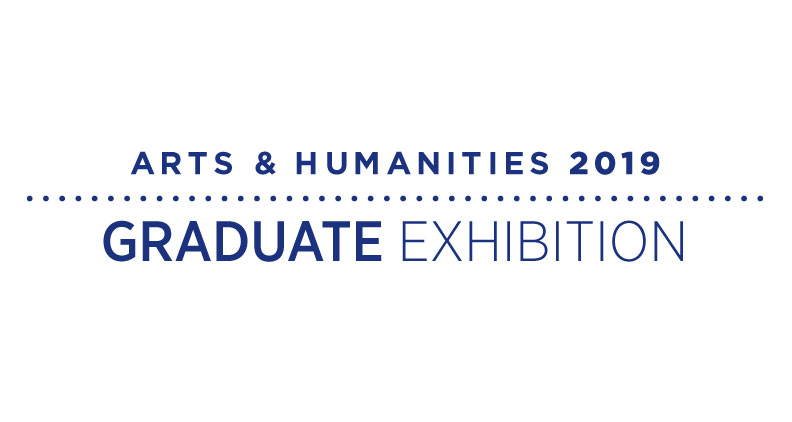 Arts & Humanities 2019 Graduate Exhibition
UC Davis graduate students in Art History, Art Studio, Creative Writing, Cultural Studies, Design, English, Music, and Theatre and Dance present their work. You'll connect with new ways of seeing and understanding the past and future in this multi-disciplinary exhibition.
May 29–June 16, 2019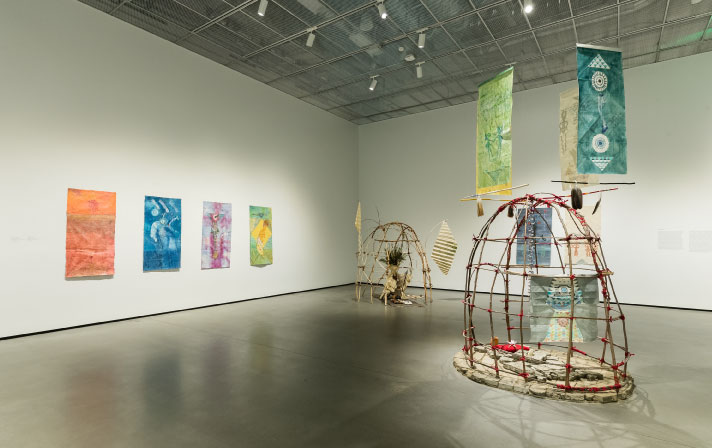 Xicanx Futurity
Xicanx Futurity focuses on the work of six Xicana artists: Celia Herrera Rodríguez, Felicia Montes, Gina Aparicio, Gilda Posada, Margaret 'Quica' Alarcón, and Melanie Cervantes. These artists engage in an intergenerational dialogue that centers Indigenous forms of communal and hemispheric ceremony, rooted in sacred relations. Collectively, their respective artistic practices inform an emerging conceptual and aesthetic decolonial social practice within Chicana/o/x Art.
Guest Curators: Carlos Jackson, Associate Professor & Chair, Chicana/o Studies, UC Davis María Esther Fernández, Chief Curator, Triton Museum
of Art, Susy Zepeda, Assistant Professor Chicana/o Studies, UC Davis
January 29 - May 5, 2019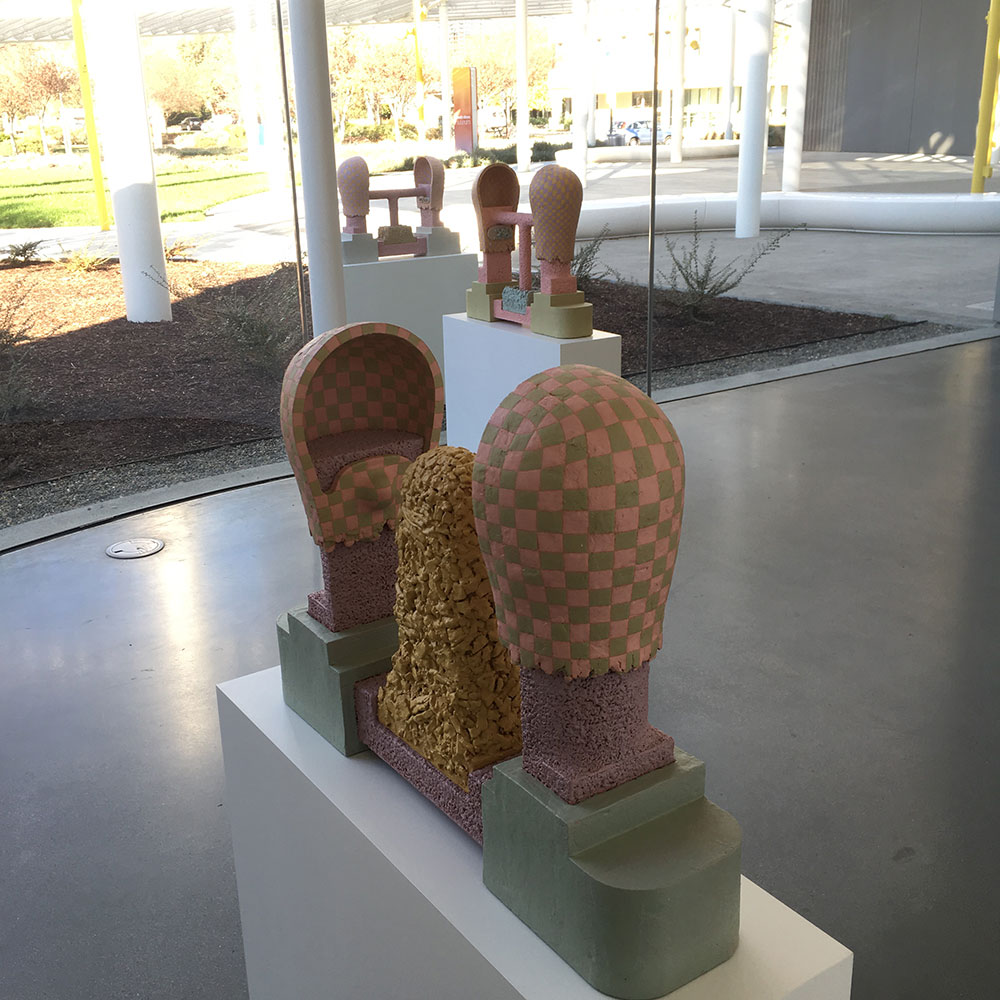 Zachary Leener: Three Sculptures
Zachary Leener (b. 1981) is a Los Angeles based artist whose work embraces metaphorical and spiritual ideas of world building and creation. The sculptures in this 'Pop Up' exhibition invite viewers to imagine the world that birthed these shapes, patterns, and forms, and the idea-space from which these configurations might have emerged.
January 29–May 5, 2019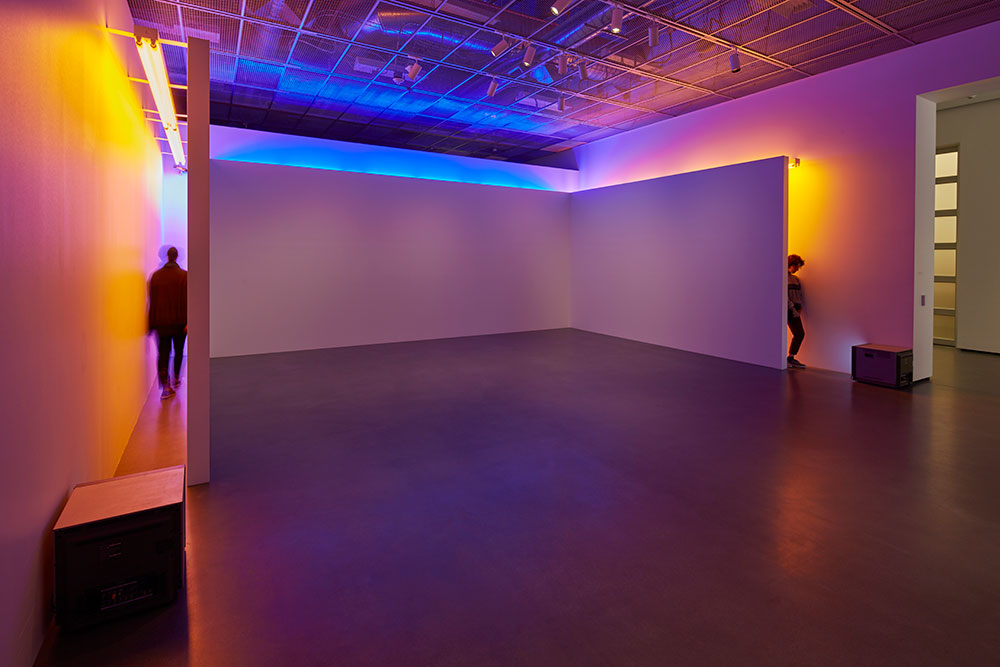 Bruce Nauman: Blue and Yellow Corridor
Coinciding with the opening of Bruce Nauman's (MFA '66, UC Davis) retrospective at The Museum of Modern Art, New York, this exhibition features the first realization of a participatory environment Nauman conceived in 1970. The work is a narrow passageway that wraps around an existing room, combining colored fluorescent light and closed-circuit video to manipulate the viewer's perceptual experience. An adjacent gallery includes artworks that situate the corridor within the artist's career. Guest Curator: Ted Mann
September 27, 2018–April 14, 2019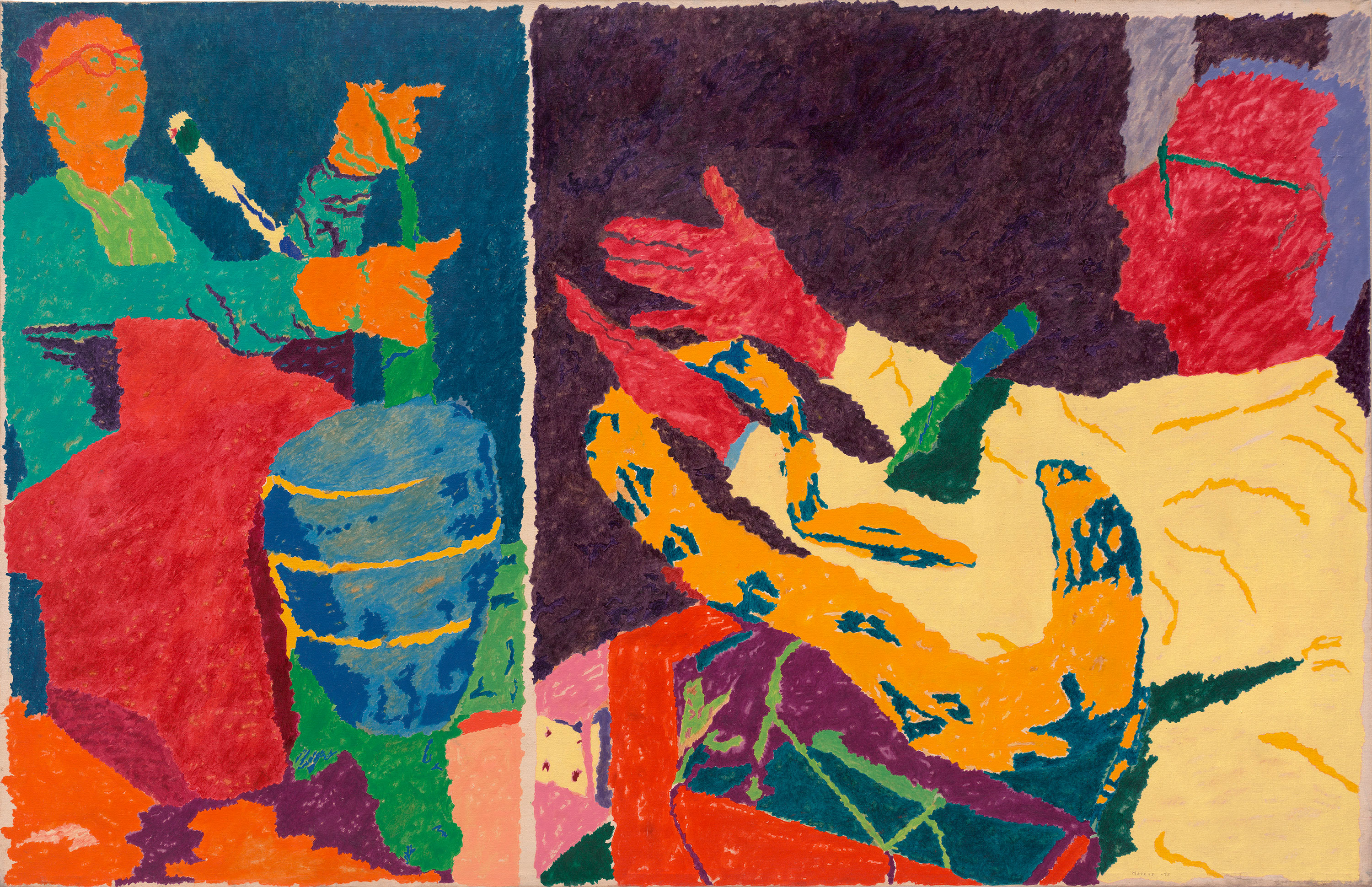 Irving Marcus: Romance & Disaster, A Retrospective
The UC Davis legacy includes a series of coexisting developments explored by artists in northern California at the end of the Twentieth Century. This extended community has been critically undervalued relative to movements coming out of New York and southern California. Irving Marcus: Romance & Disaster, A Retrospective is the first museum retrospective of this important, and yet overlooked, artist. The exhibition surveys more than 45 years of work; featured are his vibrant and intensely personal paintings exhibited alongside works on paper. Curator: Rachel Teagle, Founding Director
September 27 - December 30, 2018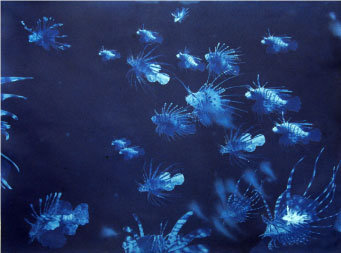 Andrea Chung: You broke the ocean in half
to be here
Andrea Chung's practice finds unexpected intersections between materials, processes, and places. Chung creates installations that offer critical insight into legacies of colonialism and migration. This presentation—Chung's first traveling museum exhibition—highlights her inventive use of collage, printmaking, and photography in an installation that examines the predatory, non-native lionfish that has proliferated recently in the Caribbean Sea, destroying the local ecosystem. With their cyan-blue color, the prints
conjure a fantastic underwater world, but they also present a potent
allegory of colonization. 
Traveling exhibition from Museum of Contemporary Art San Diego
June 30–September 2, 2018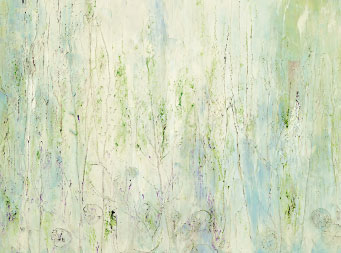 Susan Swartz: Breaking Away, 2006-2018
Over the past decade Susan Swartz has developed a painterly style that results in lush surfaces sculpted from the subtle accretion of color. This exhibit surveys recent work demonstrating a newfound synthesis and complexity in her approach to abstracting the natural landscape. Swartz's first exhibition in California, Breaking Away, 2006–2018 follows a series of solo exhibitions in major European art museums.
Curator: Rachel Teagle, Founding Director
June 30–September 2, 2018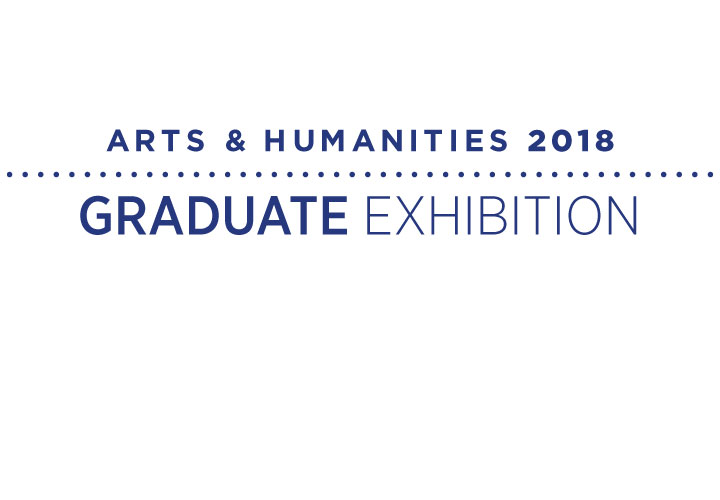 2018 Arts and Humanities Graduate Exhibition
A unique interdisciplinary exhibition showcasing the work and research of graduate students across disciplines at UC Davis. For more information on the opening celebration, download the brochure (pdf).
May 30–June 17, 2018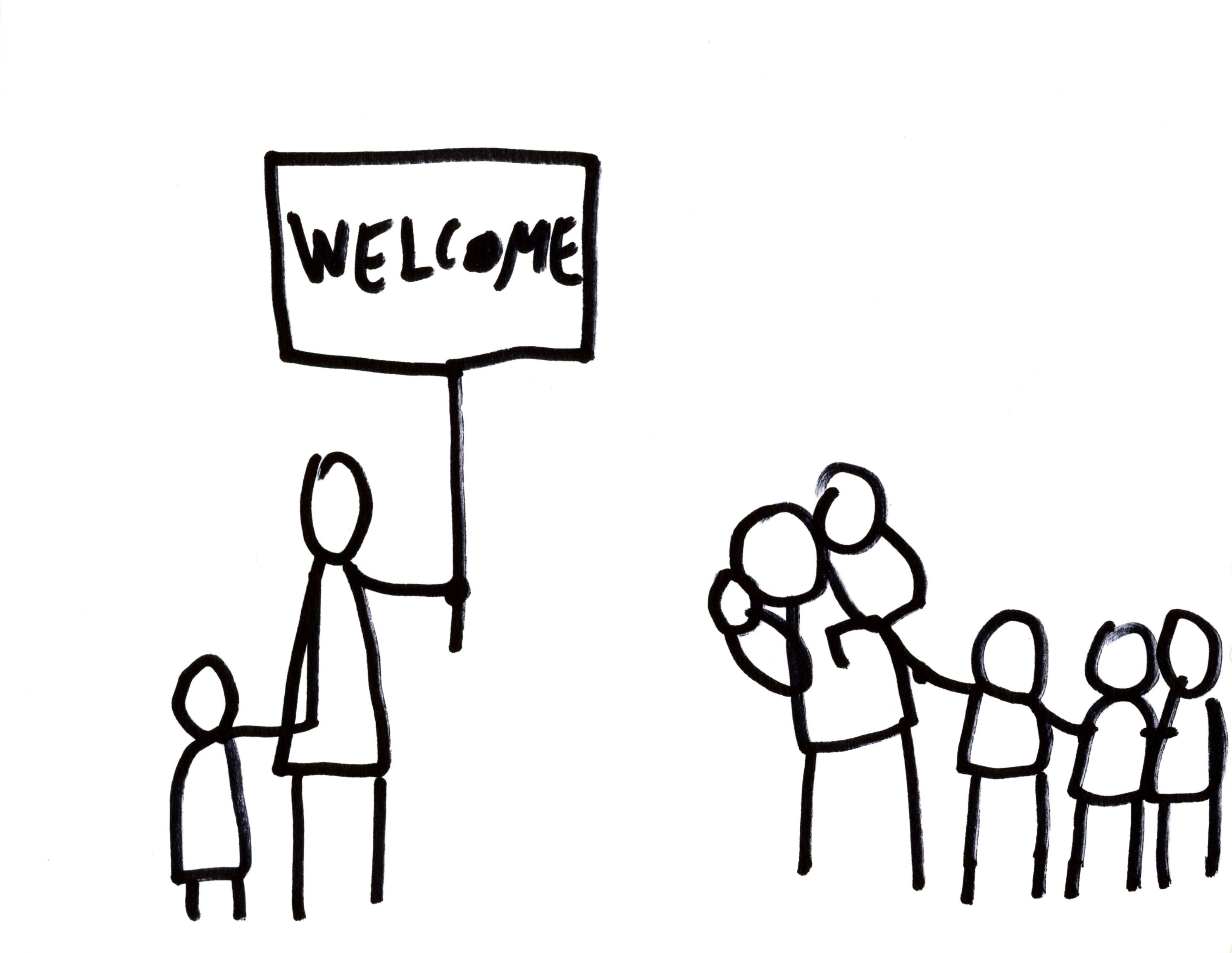 Welcome?
Curated by Susette Min, Associate Professor of Asian American Studies, this exhibition explores the competing meanings of hospitality and the different ways it can be seen as a form of welcome or hostility, driven by necessity and greed, fear and desires and subject to conventional demands of etiquette and the law. Featured artists include Andrea Bowers, Claire Fontaine, Simon Leung, Daniel Martinez, Dan Perjovschi, Kameelah Janan Rasheed, Larissa Sansour, and Jin-me Yoon. 

Co-sponsored by the Mellon Initiative in Comparative Border Studies at UC Davis and the Manetti Shrem Museum.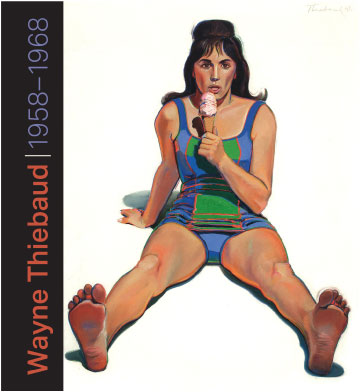 Wayne Thiebaud | 1958-1968
At an extraordinary historical moment, Wayne Thiebaud proposed a radical new take on painting, and he did so with a slice of pie. This exhibition invites viewers to trace Thiebaud's emergence as a mature artist with a singular style. The first exhibition to explore this formative period, Wayne Thiebaud | 1958–1968 brings together more than 60 early paintings gathered from private collections and museums throughout the United States. 
January 16-May 13, 2018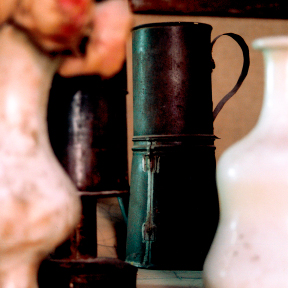 Tacita Dean | Day for Night
In 2009 British artist Tacita Dean worked in Giorgio Morandi's studio in Bologna, where the idiosyncratic painter lived and worked for more than 50 years. She produced several bodies of work as hommage to the painter. In Day for Night (2009), Dean filmed the boxes, pots, containers of different shapes, artificial flowers, tins, pans, and bottles that Morandi painted repeatedly in his still lifes.  
January 16-May 13, 2018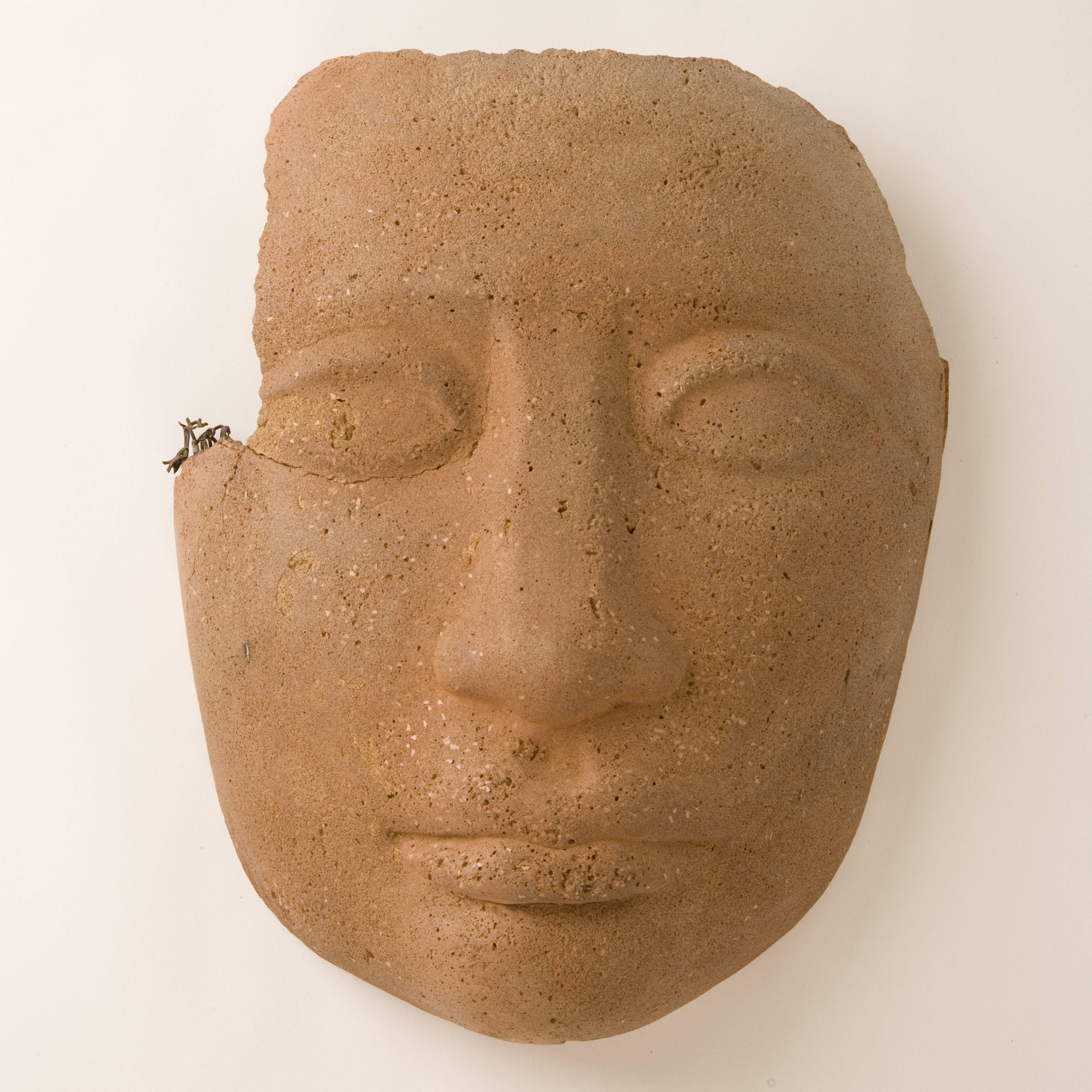 Dimensions of Black
Organized by the Museum of Contemporary Art San Diego in collaboration with the San Diego African American Museum of Fine Art, Dimensions of Black traces the legacy of UC San Diego's MFA program by drawing from the museums' permanent collections. With over 30 artworks from the 1960s to today, the exhibition traverses crucial interests and perspectives that have shaped the art of our time. Artists include: Edgar Arceneaux, Jean Michel Basquiat, Romare Bearden, McArthur Binion, Michael Ray Charles, Ed Clark, Robert Colescott, James Crosby, Damon Davis, Charles Gaines, Theaster Gates, Sam Gilliam, Mark Steven Greenfield, David Hammons, Lyle Ashton Harris, Thomas Allen Harris, Mildred Howard, Richard Hunt, Oliver Lee Jackson, Daniel LaRue Johnson, Kori Newkirk, Kerry James Marshall, Martin Puryear, Marlon T. Riggs, Dread Scott, Gary Simmons, Lorna Simpson, Tavares Strachan, Henry Taylor, Horace Washington, Carrie Mae Weems, Charles White, Jack Whitten, Jessica Wimbley, Joseph E. Yoakum. 
September 17-December 28, 2017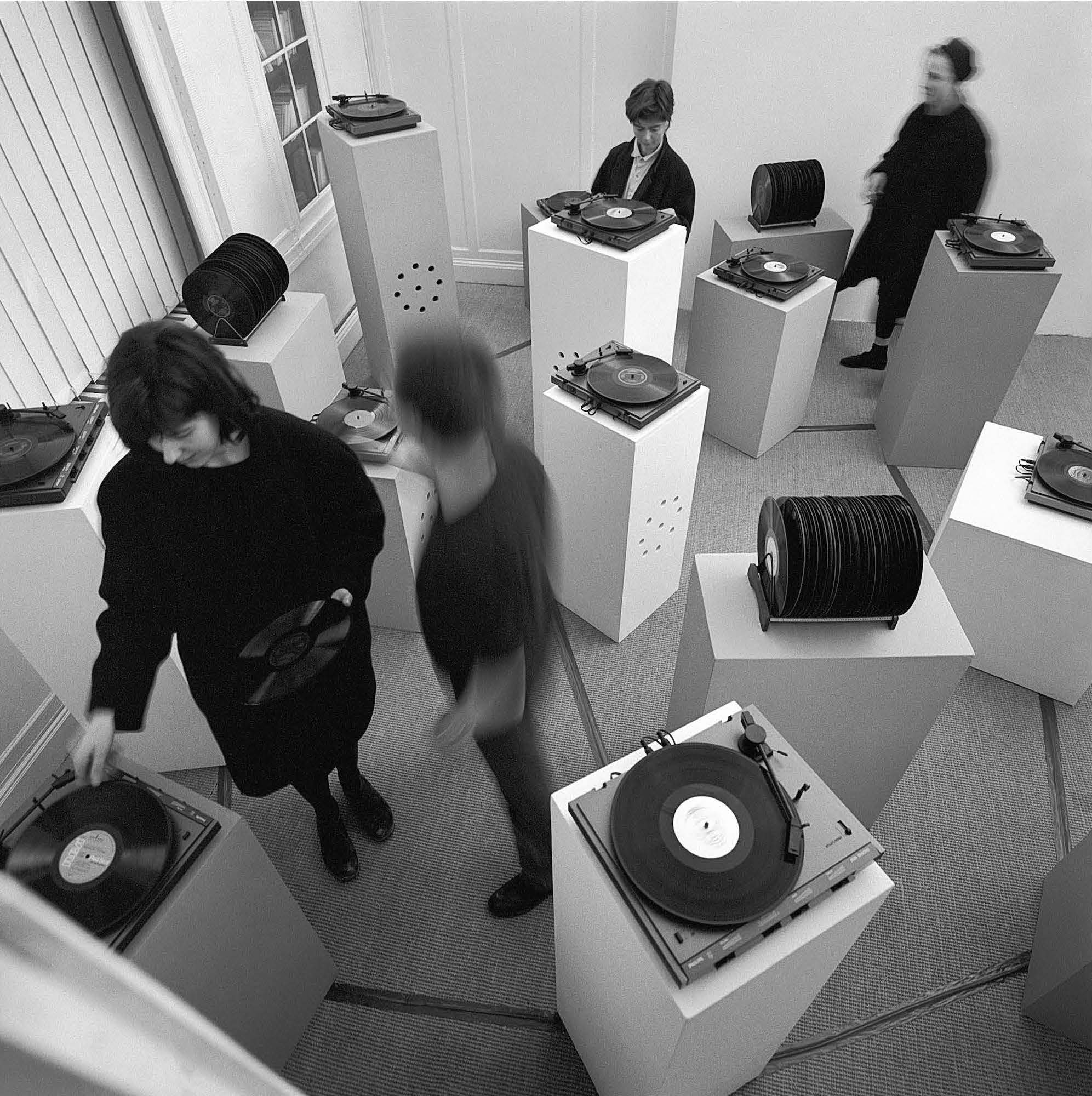 John Cage | 33 1/3
In Cage's groundbreaking participatory composition, 33 1/3—which he debuted at UC Davis in 1969—the public is invited to play albums on turn-tables in the exhibition gallery. Celebrate the improvisatory spirit that helped change the course of experimental music and art during the second half of the twentieth century. 
September 17-December 28, 2017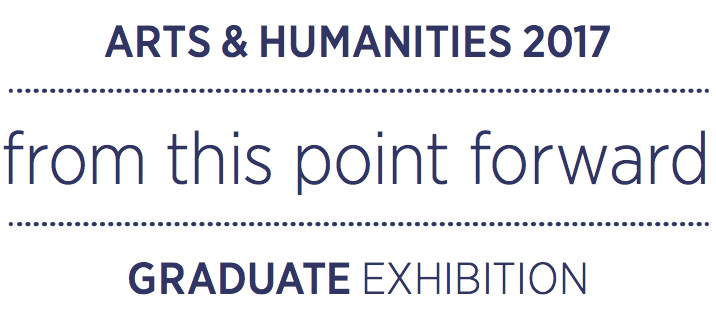 from this point forward
A unique interdisciplinary graduate exhibition that showcases the work and research of students across disciplines at UC Davis, including Art Studio, Design, Creative Writing, Art History, Dramatic Arts, History, and Music. Read more.
May 27-June 30, 2017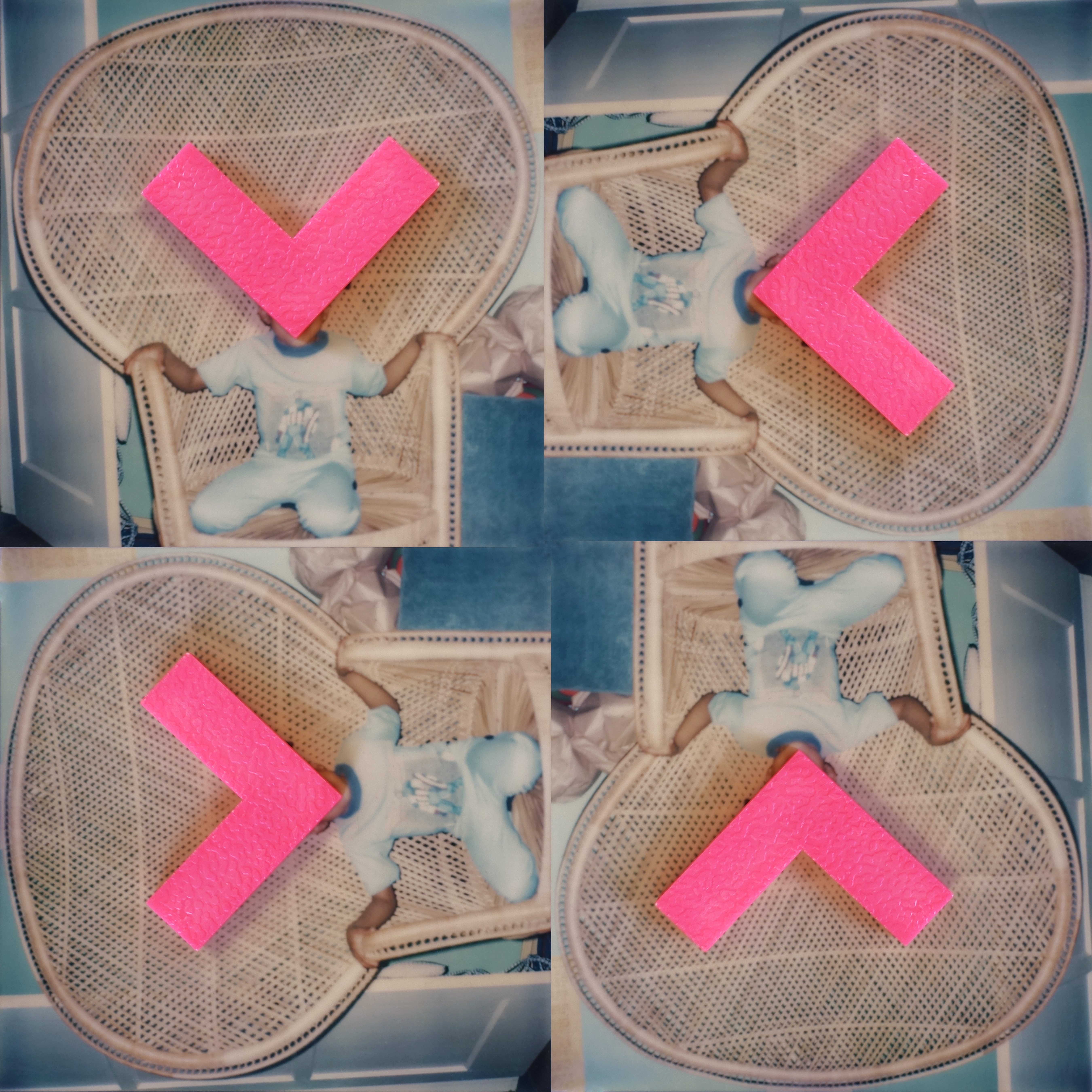 Sadie Barnette | Dear 1968,...
In her first solo museum exhibition, Oakland-born artist Sadie Barnette maps identity construction and personal mythology through the FBI file amassed during her father's years as a Black Panther. Read more.
April 14-June 30, 2017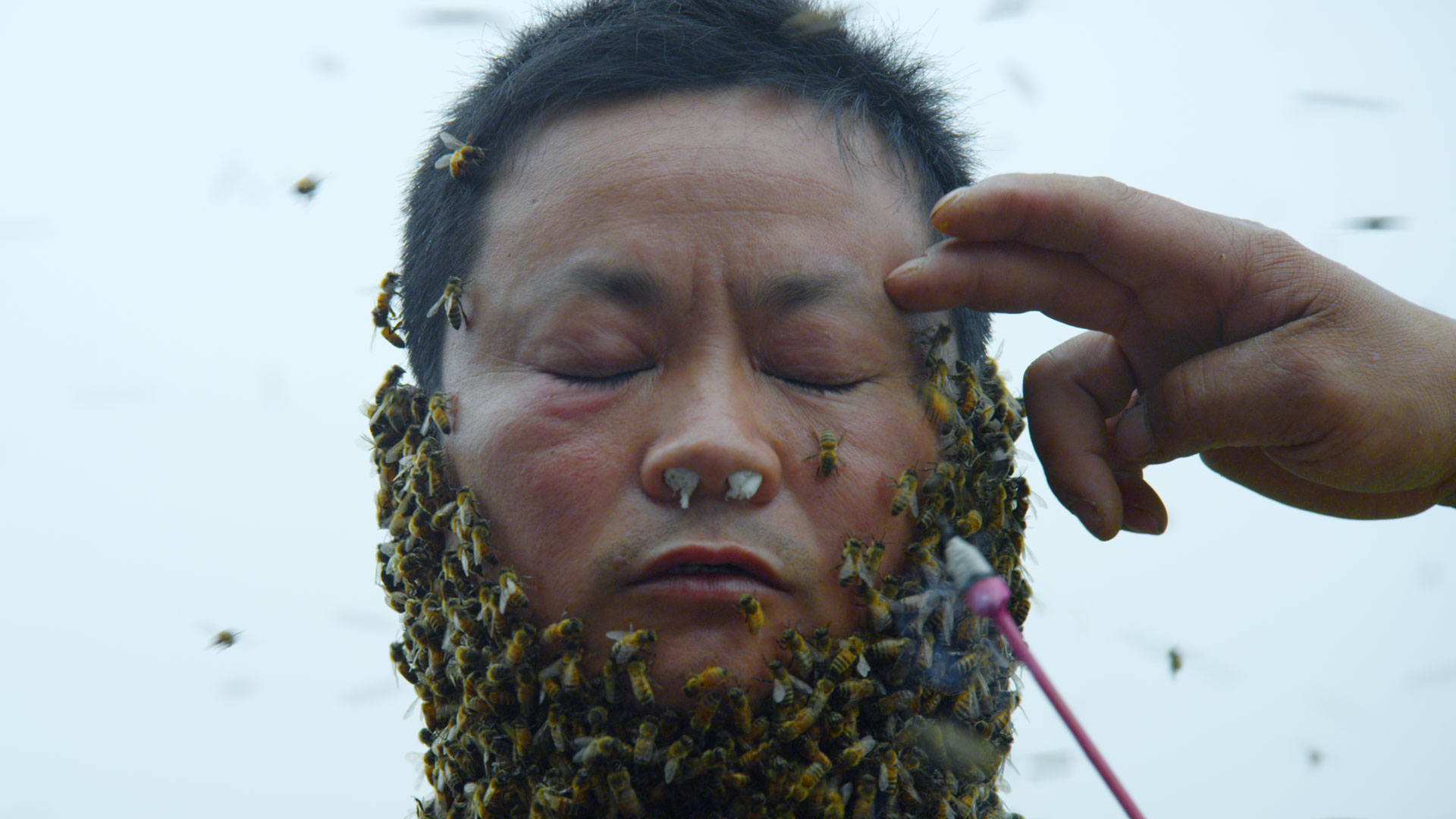 Marc Johnson | YúYú
YúYú, a 2014 film by Franco-Beninese architect, visual artist, and filmmaker Marc Johnson, tells the story of a Chinese beekeeper who performs a rite of spring ceremony. Read more.
April 14-June 30, 2017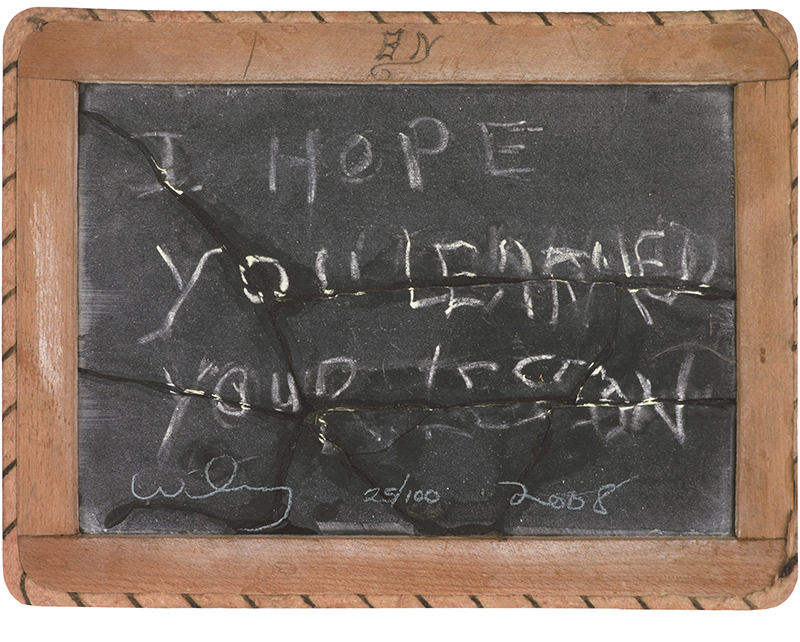 Recent Gifts
This exhibition highlights a selection of gifts made to the Manetti Shrem Museum since 2012. Building upon the nearly 60-year history of the Fine Arts Collection, these works signal the latest chapter in the university's radical and vibrant art community. Read more.
April 14-June 30, 2017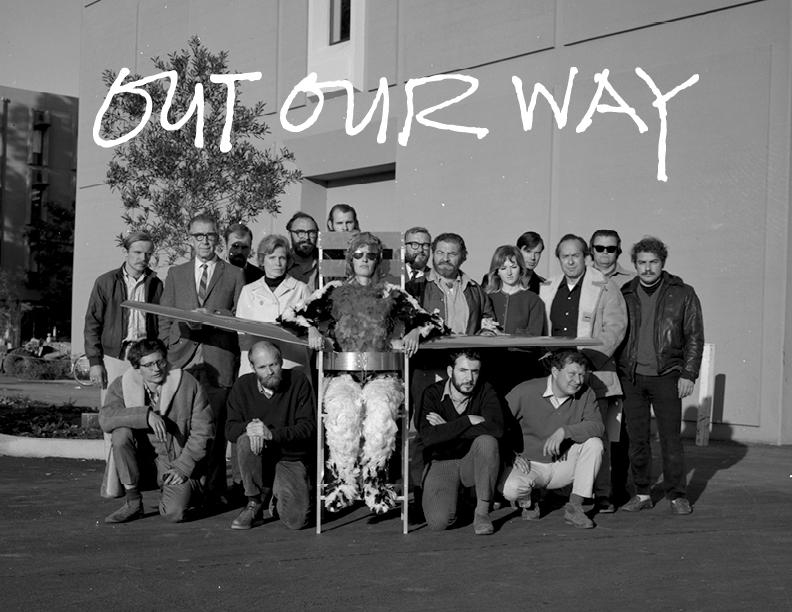 Out Our Way
Major exhibition examining the legacy of UC Davis' Department of Art and the work of first-generation art faculty. Read more. 
November 13, 2016–March 26, 2017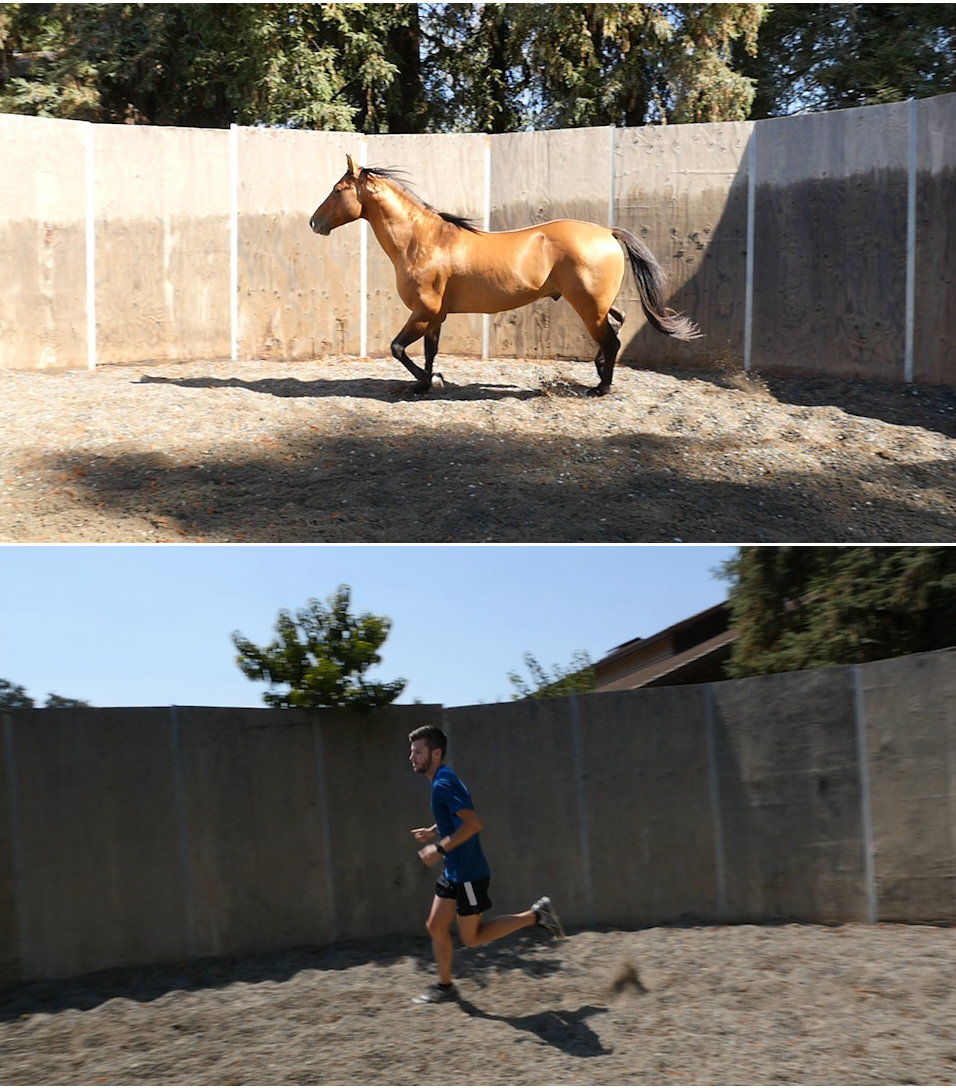 Hoof & Foot: A Field Study
Site-specific commission by Bay Area artist Chris Sollars. Read more.
November 13, 2016–March 26, 2017
A Pot for a Latch
Participatory sculptural installation by Mexico City-based artist Pia Camil. Read more.
November 13, 2016–March 19, 2017
SO - IL / Museum as Process
"SO-IL: The Museum as Process" consists of artifacts that illustrate and interpret the process of creating the museum. Created in collaboration with artists and designers they take the form of photography, graphics and installation. The collaboration was with Luisa Lambri and Richard The / TheGreenEyl.Museum as Process. Read more. 
November 13, 2016–March 26, 2017