This fall, UC Davis student organizations activate museum spaces in ways that align with their missions. Find out more on the For Students page and look for more student-driven events and projects in the winter and spring.
Connecting Threads with S&B Fiber Arts Club
Thursday, November 10
2–4 PM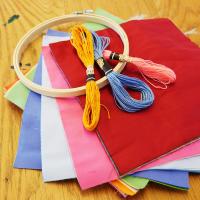 Join us to celebrate (with food and music) the completion of a community blanket, a snapshot of UC Davis pieced together from individual squares created by fiber arts enthusiasts across campus and inspired by a pair of embroidered portraits by Chiffon Thomas in Young, Gifted and Black.
To participate, create an 8x8-inch square using the fiber art medium of your choice that represents who you are.
Visit the Art Spark page for more art making opportunities.
Check back soon for more events.