Long Reads
Delve into insightful essays and profiles about UC Davis artists.

Dream Vortex
By Meredith Tromble
Meredith Tromble, a visiting scholar at UCD's Feminist Research Institute, reflects on the evolution of her work: 
The Dream Vortex, with related drawings, had a six-month run at BioBAT Art Space in Brooklyn that closed just as New York shut down for the pandemic. Exhibition conditions permitting, a new Vortex series piece will debut at Pratt Manhattan Gallery in 2021. So the work is being seen—but am I practicing as a "demon artist," as I imagine in this essay from Interalia magazine? That seems too much to claim, something best left to time and others to confirm. But I do know that the UC Davis collaboration at the core of the Dream Vortex, with geobiologist Professor Dawn Sumner and input from physicist Professor Jim Crutchfield and anthropologist Professor Joe Dumit, has kept growing, and drawing others in. And for that, I am very grateful.

By Bill Berkson
Poet, art critic and San Francisco Art Institute Professor Emeritus Bill Berkson wrote about the seven-plus years Jay DeFeo spent creating her masterwork The Rose for Art in America magazine in March 1996. Read more...

By Susette Min
This essay introduces a student exhibition that was mounted last quarter right before the call to shelter in place took effect. I wrote the essay on the day after George Floyd's life was taken away from him by four police officers. In light of what happened, the outcry and wave of global protests over the murder of George Floyd, I thought it fitting to add the following reflection on this new turn of events in relation to the exhibition, Rest is Power. Read more...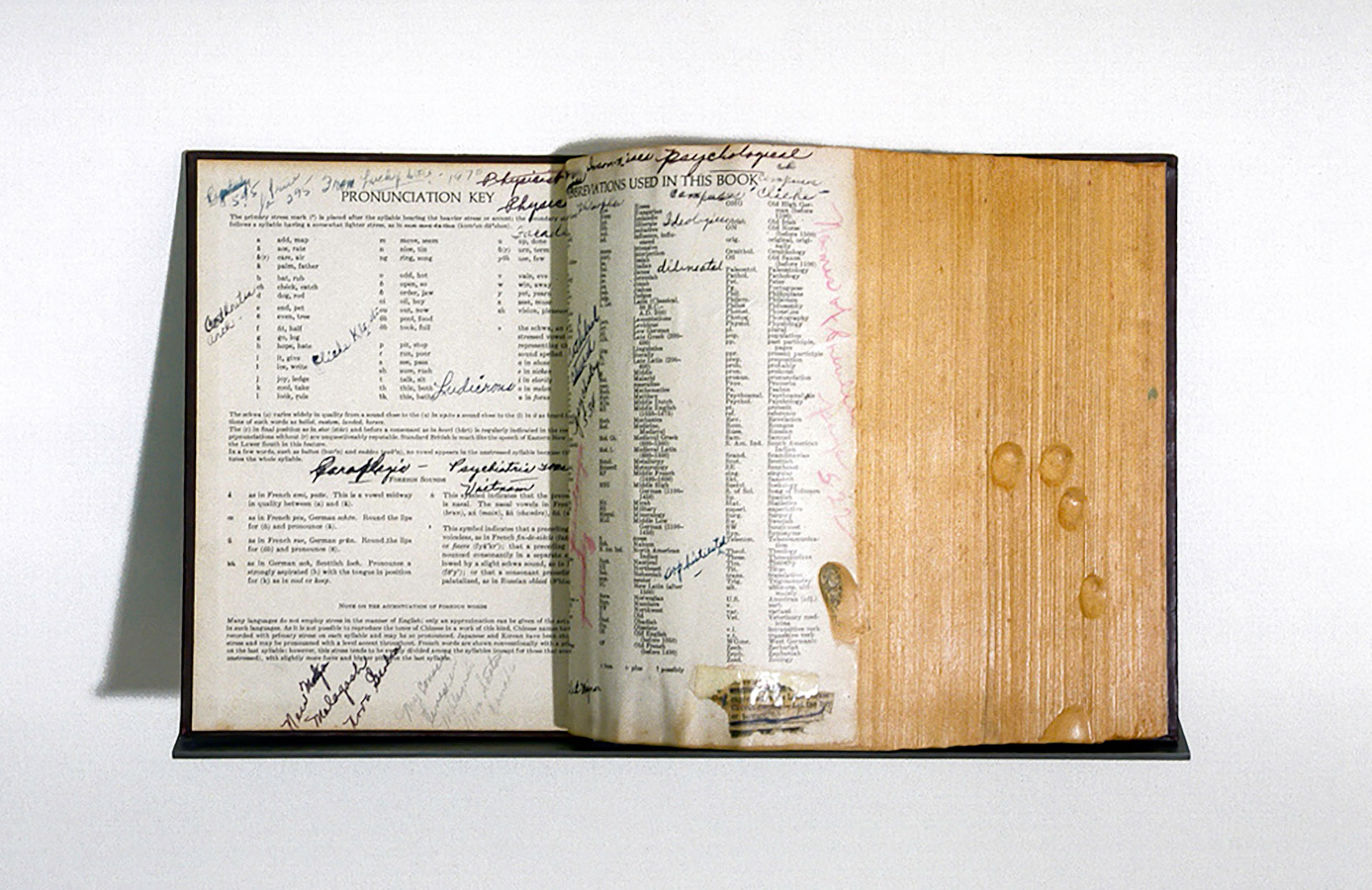 By Dena Beard
In Lucy Puls' Notae (Funk and Wagnalls Standard), 2003, a dictionary's pronunciation key is glued open to reveal marginalia inscribed by the book's previous owner. Words like "Paraplegic, Psychiatric, Vietnam" float over the page like some haunting prose poem. A professor as well as an artist, Puls helps her students detect semantic relations between words. Read more...

By Lindsay Baltus
Professor Heghnar Watenpaugh talks about imagined memories, what it means to call a historical site "timeless" and how places can hold great meaning for people even when they are unable to visit them in person. Read more...

By Simon Sadler
After a sojourn in storage, Robert Arneson's monumental, colorful ceramic sculpture The Palace at 9 a.m. (1974) has re-emerged, charming yet enigmatic. What is most striking to me, as an architectural historian, is the artistic investment that Arneson poured into the exceedingly ordinary house the piece depicts, in the regular college town of Davis, in the least feted region of California. Read more...

By Dan Nadel
I first saw the Central Valley at dusk about two years ago to this day. My plan was to take a look at the Manetti Shrem Museum's Fine Arts Collection and try to hatch an exhibition idea. As I approached Davis in the ochre sunset, I was shocked by the patchwork of fields and deltas all around me. Was I in the right place? I had no idea this California existed. Read more...

By Rachel Teagle
Like so many of Wayne Thiebaud's paintings, Cup of Coffee is unassuming at first look. This small white painting features a ceramic mug of coffee, just like one you've held countless times. In fact, it looks a lot like the IKEA mug sitting on my desk right now. And yet, in 1961 Thiebaud took a plain old "cup of joe" as his subject, and made a remarkable painting at a pivotal moment in his career. Read more...

By Peter Plagens
On the occasion of the opening of the Manetti Shrem Museum in November 2016, artist, art critic and novelist Peter Plagens wrote this essay illuminating the maverick spirit of the artists and teachers who founded UC Davis's art department. Read more...

Dan Nadel on the Art of William T. Wiley
Manetti Shrem Museum Curator at Large Dan Nadel explores the quietly radical nature of William T. Wiley's holistic artmaking in Artforum magazine. Read more...

By Squeak Carnwath
Kathy Butterly remembers the aha moment when she saw the political possibilities of ceramics in this wide-ranging conversation with her UC Davis mentor, Squeak Carnwath. Read more...

By Lawrence Rinder
Renowned curator Lawrence Rinder, who is retiring after 11 years as director and chief curator at the UC Berkeley Art Museum and Pacific Film Archive, delves into how Conceptual artist Stephen Kaltenbach came to create "one of the most powerfully authentic and spiritually moving artworks of our time." Read more...
By Constance Lewallen
Amid the enormous cultural and social changes of the mid to late 1960s, Conceptual art emerged almost simultaneously among groups of young artists in the United States and internationally. The hyper-consumerism of the era extended to the art market and offended idealistically inclined artists for whom art existed on a higher plane. Read more...