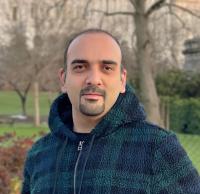 Alireza Vaziri Rahimi is a Designer and Art Director specializing in Graphic and Interactive Design. Over a decade of professional and academic experience has equipped him with extensive creative methods and collaborative skills in visual communication design. He has received national and international design awards. His projects have been published in several design books and websites, and displayed in exhibitions and galleries around the world. He is an MFA candidate in the Department of Design at the University of California, Davis.
"I believe Design is a way of changing the world to be a better place. A better world may have a different definition for different people: perhaps an ergonomic chair or an interface for a pioneer application, each can make one's world a better place to live in."
Infodemic | designing fake news in the age of social media
"When you invent the ship, you also invent the shipwreck…"

Paul Virilio (philosopher & cultural theorist)
As designers, I believe we have a responsibility to our society and we should welcome challenges and mainly confront the inner voices telling us to "just mind yourself." As per the legendary Persian poet Rumi: "I came to you without 'me,' so come to me without 'you'." In this journey, my greatest passion is to view and visualize the depth of a phenomenon beyond its existence. For my MFA project, I aim to re-examine concepts such as propaganda, misinformation and social media in relation to design and our contemporary digital culture. I am trying to answer these questions such as: How does social media manipulate our thoughts? How can visual design make people more aware of crisis? I would like to turn technology back on itself as a mirror to reveal some of its problems. We can go more in-depth with Augmented Reality, a novel technology that allows us to create new dimensions of art and design by linking traditional design methods with digital design methods. The digital layer opens the doors to a whole new world of possibilities. Designers can take visitors on a journey in time and (virtual) space and explain what lies behind, while enhancing the artwork to tell the story with more detail. To that end, I have designed a poster series using AR technology with the intention to provoke the viewer to learn more about the fake news manipulation during the Covid-19 pandemic.
Download Artivive application, simply point your phone at the poster and watch it come to life!
Photo(s)