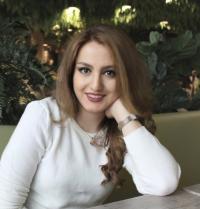 Sima is a product designer who sees jewelry as a medium to demonstrate a message to her audience. She has a BA in Industrial Design, and this background equipped her with a plethora of fabrication and craft skills and empowered her to work with a broad range of materials, tools, and equipment. In the realm of fine jewelry, Sima gained extensive experience working with precious metals and gemstones. Most of her former collections were inspired by architecture, cultural identity, and her home country Iran's ancient history. As an independent designer and jeweler, she created several collections of award-winning jewelry that were shown in international exhibitions and festivals.
During her time in the Design MFA program, she explored digital fabrication to expand on her knowledge of CAD modeling with 3D printing and laser cutting and her MFA thesis explored the theory and concepts of speculative design.
While she always incorporates beautiful craftmanship and aesthetics in her designs, she also utilizes jewelry and wearable objects as critical design mediums to address the challenges of the 21st century.
CJ-2050 | Jewelry for the future
We are heading for a world that will be more than 3 degrees Celsius warmer by 2100!
The crisis of climate change is unfolding at a faster rate than ever before. The impacts of this emergency have become evident throughout the global environment: expedited melting of ice on rivers and lakes, shrinkage of glaciers, early blooming of trees, and shifts in ranges for plants and animals are all visible consequences of global warming. All of the requirements of human life on earth—the health of our habitats, food security, water supply, economic livelihood, and overall security—are at risk. As a result, it will not be far from expectation to anticipate catastrophic threats to our tolerance and survival.
"CJ-2050" is a speculative and futuristic wearable technology which can become a part of our daily jewelry in a "dystopia" that may not be too far away. This wearable object demonstrates a creative solution for our survival on a warming planet. It does that by cooling the body with cold water to reduce the body's temperature at key points in the circulation system. A Peltier module structure placed on the back of this device cools down the water which is pumped and circulated through the delicate tubes placed along the torso and the head.
By imagining the potential needs of humankind in the future, and by attempting to speculate ways to address those needs, we can turn things around before it is too late. The benefit of proactively imagining our future needs is that it encourages awareness and action.
Photo(s)