Students Reflect on Activating Art Experiences and Conversation 
If you've stepped inside the Manetti Shrem Museum, chances are you've met students in tie-dyed lab coats. Our Visitor Services team, made up of UC Davis students from over 20 majors across the university, welcomes visitors with open arms and open minds. From exploring artworks in the galleries to helping you create your next masterpiece in the Carol and Gerry Parker Art Studio, our student staff connects visitors to art and meaningful experiences. We asked them to share their favorite moments at the museum and reflect on the space itself.
---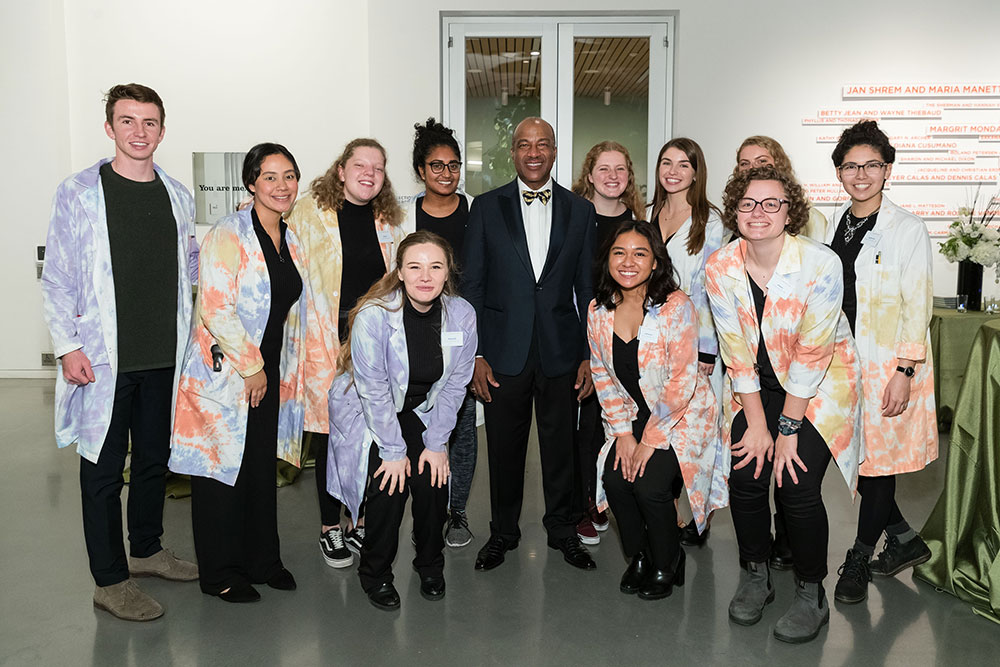 Hadlie Ward
Anthropology, class of 2023
The museum architecture is definitely unique and makes the building stand out on campus. The glass walls in the front make it really inviting, so that people are curious about what is inside and feel welcome. I also love how appreciative people are when they enter this fancy modern-looking building and find out that the galleries are free for all! Although the galleries are key to the museum and there are some exhibits that I absolutely love, my favorite part of the museum is the lobby, because even on days when it is rainy or cloudy, the lobby is bright and people are always welcoming. The lobby is a very versatile space, and it contributes to a lot of the positive connections people make within the museum.
---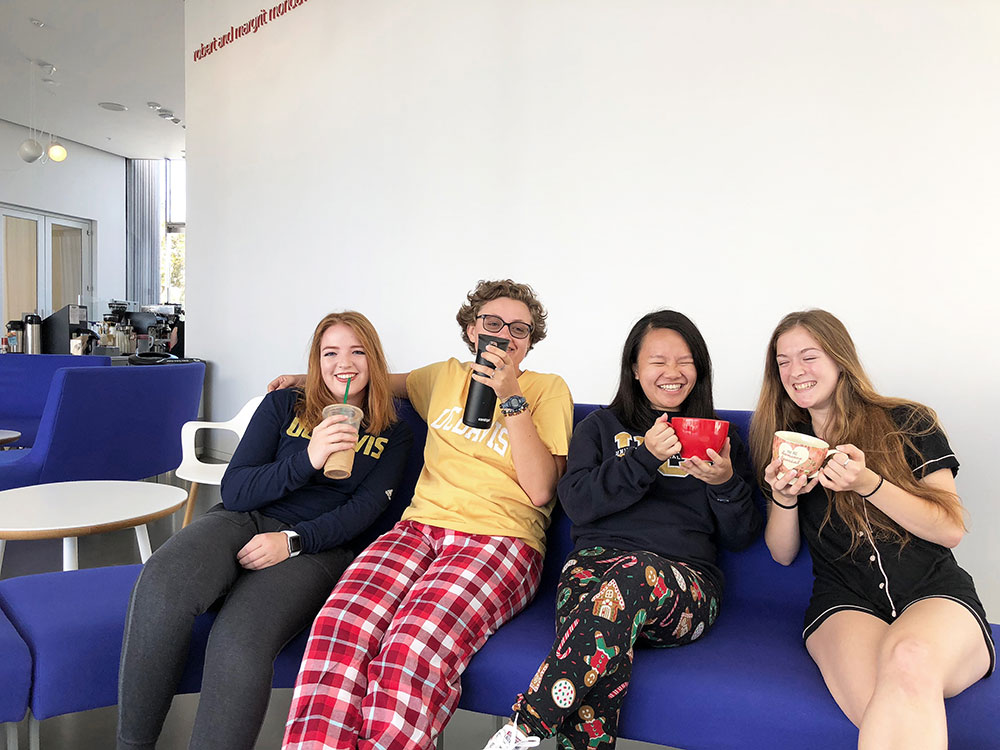 Karen Bretz
Biomedical Engineering and Art History, class of 2020
The museum is a great way to take a break and get away from your everyday stresses. Every time I walk in, I feel like I'm transported to a whole new state of mind where I can explore new ideas and learn new things. I value that the museum is free for all! To be able to experience interesting art exhibits without having to pay is definitely a plus as a college student. I appreciate that I can walk in after class or on the weekends and enjoy a nice afternoon of art for FREE!
I also love the open feeling of the museum space. When I walk in, I can still feel the connection to the Davis campus and community because of the huge glass walls. One of the most beautiful views on campus is from inside the lobby, when you sit on the fun couches and look out towards the Grand Canopy and the Mondavi Center. You have a full view of the always changing light and shadows from the canopy and the students and faculty walking to and from campus. I can enjoy my campus and get a cool light show all at the same time!
---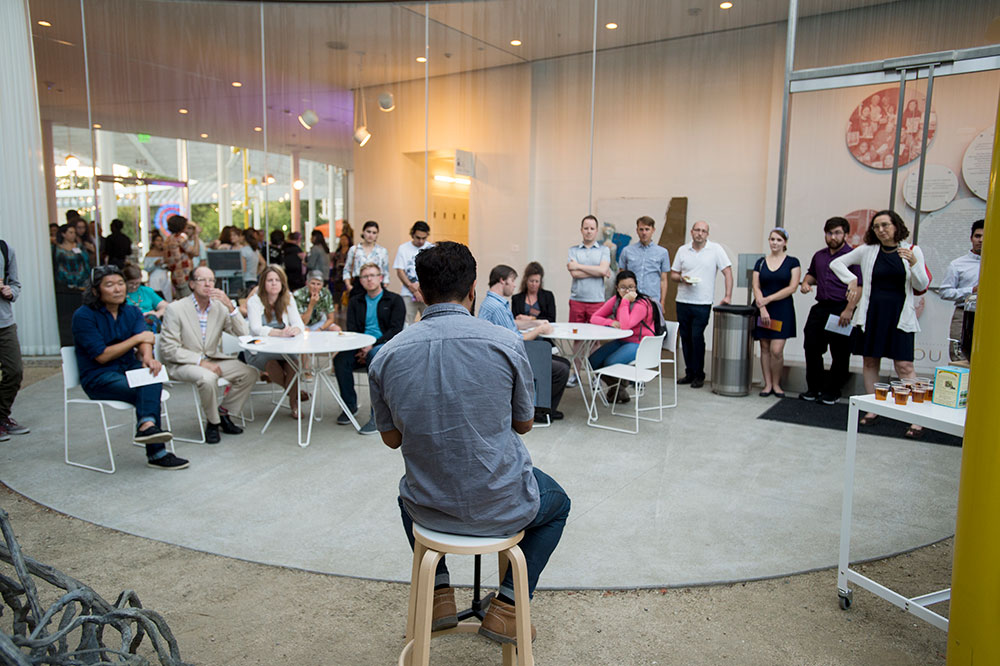 Haley Spanier
English with minors in Spanish
and Art History, class of 2020
Apart from the beautiful facade, the museum stands out to me because of all the amazing and diverse things that go on within its walls. Whether you are visiting an exhibition, attending class, sitting in on a lecture or creating within the Art Studio, there are so many different opportunities for learning within the museum. An aspect of the museum that I value most is that it is always available for whoever needs it. I have spent hours in the galleries, days studying in the lobby and many sunny afternoons in the courtyard to relax.
---
Betzabet Noriega
Economics and Chicana/Chicano Studies, class of 2022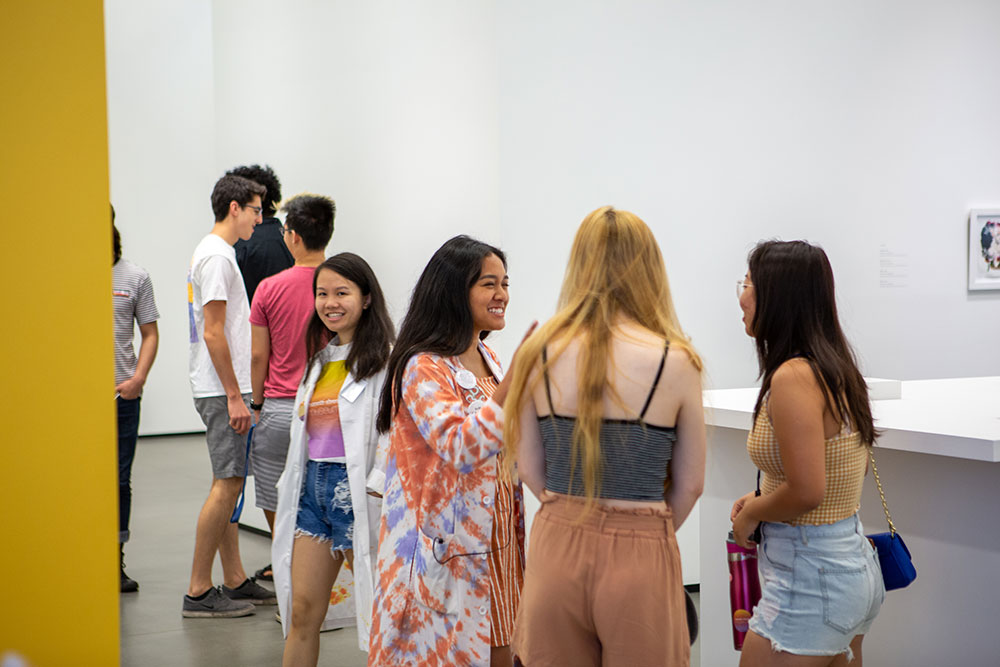 The museum is welcoming. It's a place where you can study or hang out with your friends. It can be a place where you discover your interests in different types of artwork. The galleries are always changing, so there's always something new to discover. The Manetti Shrem Museum is a Davis staple and people are always excited to visit.
The part of the museum that I value the most is the staff. Everyone is so friendly and approachable. Before I became a worker, I remember going to the museum, and the staff were so kind and helpful in explaining the artwork. People will try to help you out if you are lost or curious about the museum. Now, as a student assistant, I am able to bond with my coworkers and be part of the museum's family. I'm an outgoing person and like to meet new people, so I always love to meet a new visitor at the museum.
---
Kate Everhardt
Psychology, class of 2021
One of the first things I learned after having worked at the museum for multiple exhibits is that many of the gallery walls can move, like literally roll on their feet. I love how this allows each exhibit to have its own unique feeling and atmosphere. The rooms can be set up so they best support and accentuate the art that's present in them and can allow the artist or curator to put their emotions into the exhibit. Additionally, having different layouts helps each season feel new and extra special to returning guests. I just think it's a super cool feature, and I never get less amazed by it.
On the move: Art handler Garrett Daniells (left) and Building Manager Brandon Annuzzi reconfigure the gallery space.
---
Paige Talle
Design with a minor in Art History, class of 2021
The Art Studio stands out as a unique place for community involvement. People of all ages are able to get creative and learn about different art mediums and styles from artists. Working in the Art Studio has allowed me a space to engage with others in my community and share something I am passionate about!
I value the conversations I have with visitors and my co-workers while working in the galleries. I learn something new from every person I talk to, whether it is a personal story, a new perspective or interesting art facts.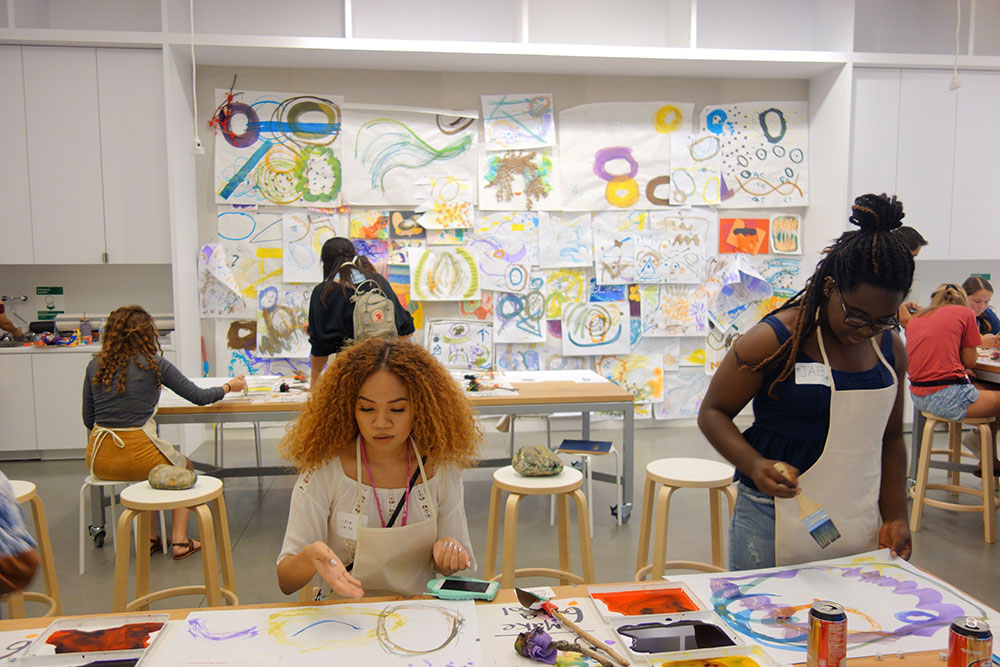 ---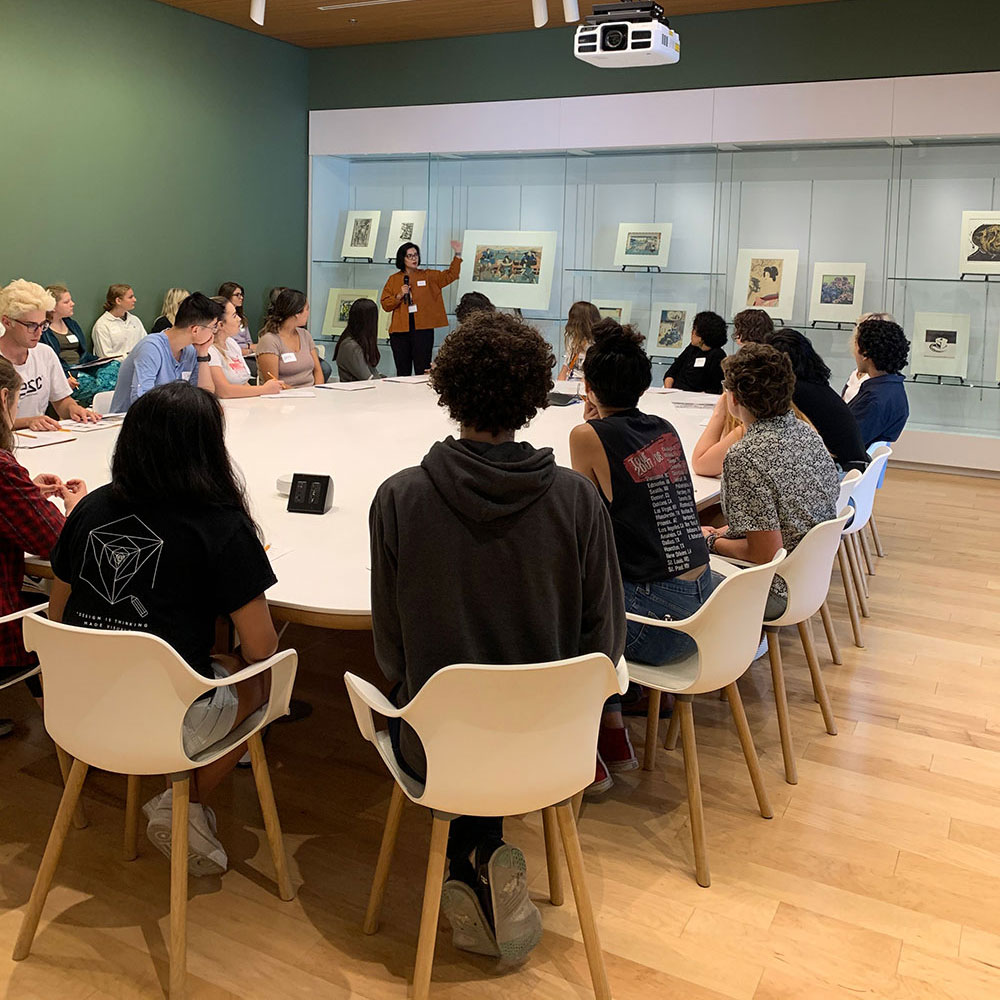 Bella Payne
Art History with a minor in Anthropology, class of 2020
The museum stands out to me because it's not only a space to look at art but also a place where I can study, relax and spend time with family or friends. One of my favorite places is the Collections Classroom. I like that it can be a quiet place to study while also still feeling like a gallery space where I can look at art if I need a break.
---
Jullianne Nubla
Design with a minor in English,
class of 2020
The most standout feature of the museum is its accessibility to all. I really value its mission to create an open and educational space, as well as its numerous available resources that stimulate creative thinking and learning. I appreciate the drive for welcoming friends, family, neighbors and strangers to a space that's so unique and local to Davis. As an undergraduate design student, coming into an enormous STEM campus that's constantly moving, it's comforting to know that there's always going to be a place and home for me here.