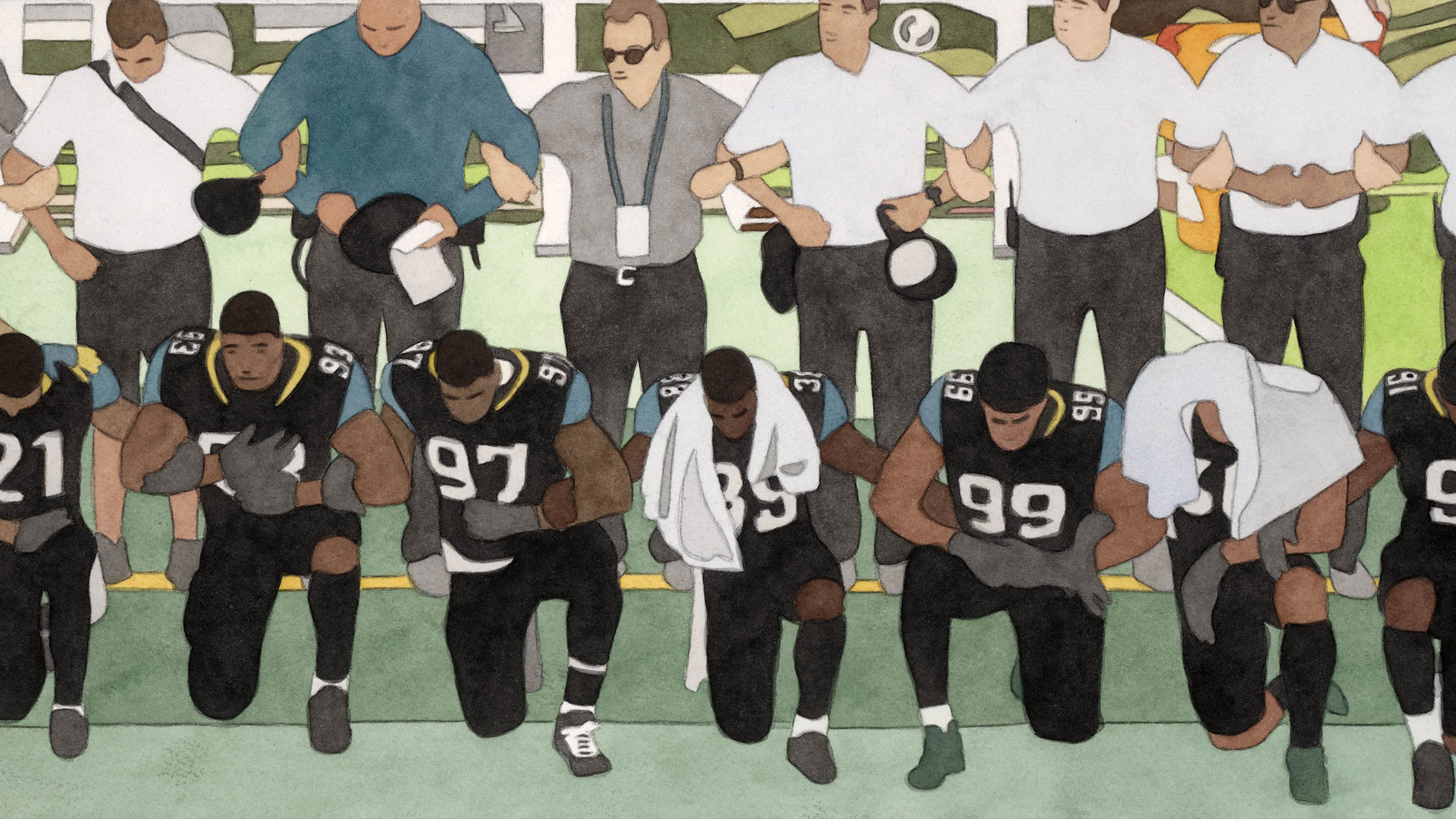 National Anthem, 2018
Personal Protest on a National Stage
During the 2016 National Football League season, former San Francisco 49ers quarterback Colin Kaepernick was at the forefront of protests aimed at bringing attention to police brutality against Black and brown people. Kota Ezawa, who regularly explores the appropriation and mediation of current events in his work, created National Anthem using television footage, which he transformed into watercolor paintings — turning the digital into the handmade and back into digital again. Stripped of the rhetoric of the moment, the muted visuals and instrumental version of "The Star-Spangled Banner" present the actions of various players, coaches and Kaepernick himself, allowing the spectator to experience this act of personal and communal protest without comment or context.
As a sports fan, I understood the civic courage that the players displayed in that moment, risking their careers for the benefit of a social cause. It highlighted the connection between patriotism and protest — or that protest can be a form of patriotism."

–Kota Ezawa, personal correspondence, 2021
---
Learn more about the NFL protests and policing
Although he initially sat during the playing of the national anthem, Colin Kaepernick instead decided to kneel after a conversation with former Green Beret and NFL player Nate Boyer, who indicated that taking a knee in front of a grave was a way of respecting fallen comrades. The act of kneeling was intended to call attention to racially motivated police brutality, while still respecting those who have served the U.S. Kaepernick has not played in the NFL since the last day of the 2016 season, effectively pushed out of the league for his actions.
As Kaepernick said at the time:
I am not going to stand up to show pride in a flag for a country that oppresses Black people and people of color. To me, this is bigger than football, and it would be selfish on my part to look the other way. There are bodies in the street and people getting paid leave and getting away with murder."
The saying "Dissent is the highest form of patriotism" is attributed to American politician and lawyer John Lindsay. While Kaepernick's act of dissent during a series of performances of the national anthem may not be seen by all as patriotic, the intent of bringing attention to police violence against Black people in the United States was arguably effective. Since 2016, Kaepernick has used the platform of the NFL to shed light on a torrent of members of the Black community being killed by law enforcement officers, even as there has been little questioning of why these deaths are so disproportionate compared to other demographics. Five years later, he remains a figurehead for the Black Lives Matter movement, but without a contract from any National Football League team.
–Jaimeson Daley, Ed.D. student in Educational Leadership, California State University, Sacramento
Recommended readings and websites provided by UC Davis professors Aaron Tang (School of Law) and Benjamin Weber (African American and African Studies)
Players Coalition is structured as an independent 501(c)(3) (charity) and 501(c)(4) (advocacy) organization, working with over 1400 professional athletes, coaches and owners across leagues to improve social justice and racial equality in our country.
Colleen Walsh, "Off-field experiences sharpen NFL players' criminal justice focus," Harvard Gazette, 2018.
"A timeline of Colin Kaepernick's protests against police brutality, four years after they began," The Washington Post, 2020.
Kaepernick Publishing and LEVEL, "Abolition for the People Series," Medium.com, 2020. 
For further reading
Nicole R. Fleetwood, Marking Time: Art in the Age of Mass Incarceration, 2020.