Stephen Kaltenbach's Portrait of My Father
By Lawrence Rinder
Renowned curator Lawrence Rinder, who is retiring after 11 years as director and chief curator at the UC Berkeley Art Museum and Pacific Film Archive, delves into how Conceptual artist Stephen Kaltenbach came to create "one of the most powerfully authentic and spiritually moving artworks of our time." This essay comes from the forthcoming catalog, Stephen Kaltenbach: The Beginning and The End, available soon from ARTBOOK | DAP. Follow @artbook.
We've included discussion questions at the end to inspire conversation and allow families to dig deeper into this beloved masterwork.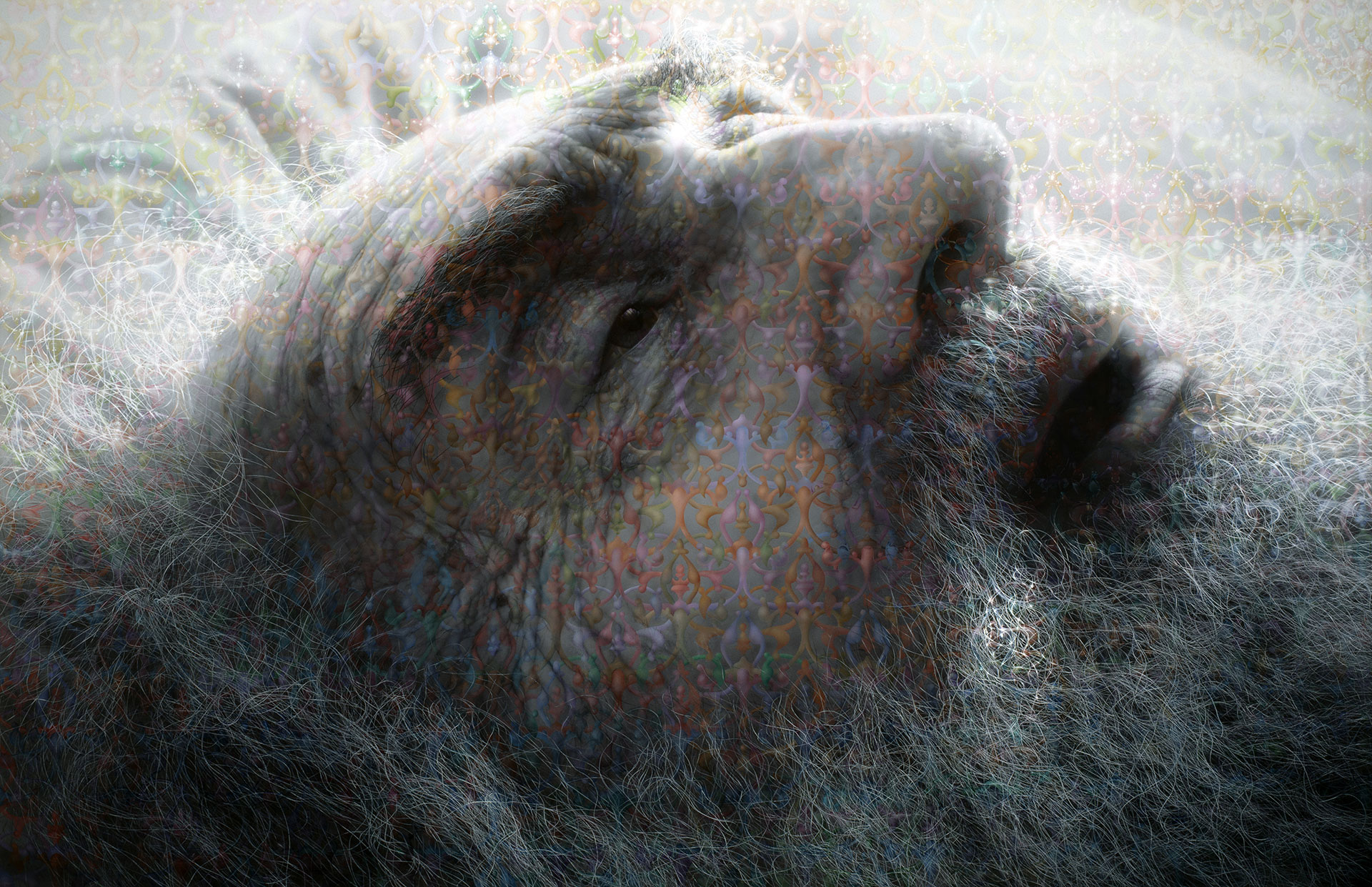 Stephen Kaltenbach's monumental painting Portrait of My Father (1972–79) is among the most formally innovative, emotionally moving, and conceptually rich American art works of the late 20th century. It is sui generis, standing outside of every ism and movement, even as it draws strength from a number of artistic traditions. As idiosyncratic as this painting may be, it aims for—and achieves—a remarkable level of universality. The subject, the artist's dying father, connects each and every viewer to the experience of mortality and generational transition. Kaltenbach's overlay of spectral filigree suggests the existence of a deeper reality—a level of being less differentiated by "you" and "I" or even "life" and "death": the experience of being as pure pattern and light is common to mystic traditions around the world and over millennia.
The achievement of Portrait of my Father is even more remarkable considering that Kaltenbach created the work virtually "out of the blue." It is true he made a small number of paintings that can be seen as preparatory for his magnum opus; however, Kaltenbach's achievement was not the crowning glory of decades of study and practice. The creation of Portrait of My Father was, in a sense, "conceptual." Kaltenbach set his mind to it and then carried out the project for as long as it took—which turned out to be seven years.
The painting grew out of the merger of several currents in the artist's life. First, and perhaps most importantly, was Kaltenbach's initial experience with psychedelics, a dose of mescaline given to him by some of his students at New York's School of Visual Arts in 1968. Under the influence of mescaline, Kaltenbach says that he "lost a sense of reality . . . everything became abstract." He experienced his surroundings as interpenetrated by a beautiful pattern of moving color, a glorious mystical fabric woven through everyday things.[1] Searching for a corollary in the history of art, Kaltenbach found in Islamic design a feeling of organic, repetitive, crystalline, spectral beauty that resonated with what he had seen.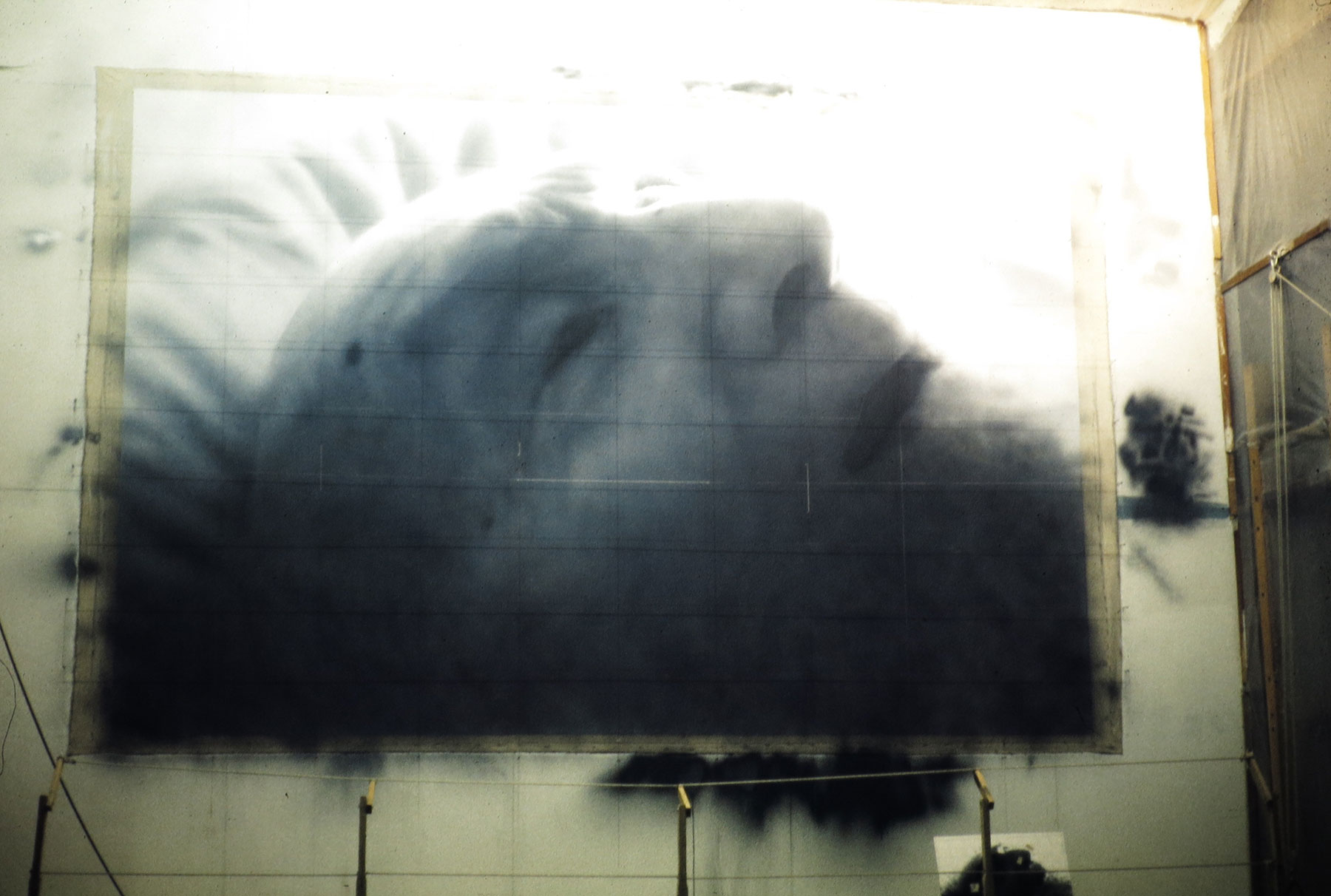 A second important current in Kaltenbach's life that contributed to the creation of Portrait of My Father was his move away from the New York art world. In the 1960s, Kaltenbach had been experiencing considerable success as a Conceptual and Minimalist artist. His work was included in a seminal exhibition, 9 at Leo Castelli, in 1968 along with works by Bruce Nauman, Joseph Beuys, Eva Hesse, and Richard Serra, among others, and he received a solo exhibition at the Whitney Museum of American Art in 1969. Yet, among the "conceptual" methods he evolved was the "Protocol of Opposites," which involved taking positions contrary to the prevailing modes. Further motivated by the implications of his Zen practice (which had led him to question the value system of the contemporary art world), Kaltenbach decided to redirect his art precisely in the direction that he imagined his artist peers would most disparage: kitsch. His first attempt at this involved making the kind of paintings he hoped could be sold at the upscale New York department store Lord & Taylor, where they would be displayed above couches and other furniture on sale. A more dramatic manifestation of the "protocol of opposites" led him to leave New York altogether and relocate to Sacramento, California, where he consciously refashioned his identity as a "regional artist."
Seeking appropriately sentimental, even saccharine, subjects for his new "regionalist" work, Kaltenbach initially painted a sunset and a maple tree and was planning to create a large portrait of his Persian cat.[2] However, while he was in Madison, teaching at the University of Wisconsin, from 1971 to 1972, Kaltenbach received a photograph from his sister depicting their father, who had suffered a series of debilitating strokes. The arrival of this small but powerful image inspired Kaltenbach to change direction and begin work on a painting that would reflect on mortality and transcendence through an image of his own father's decline.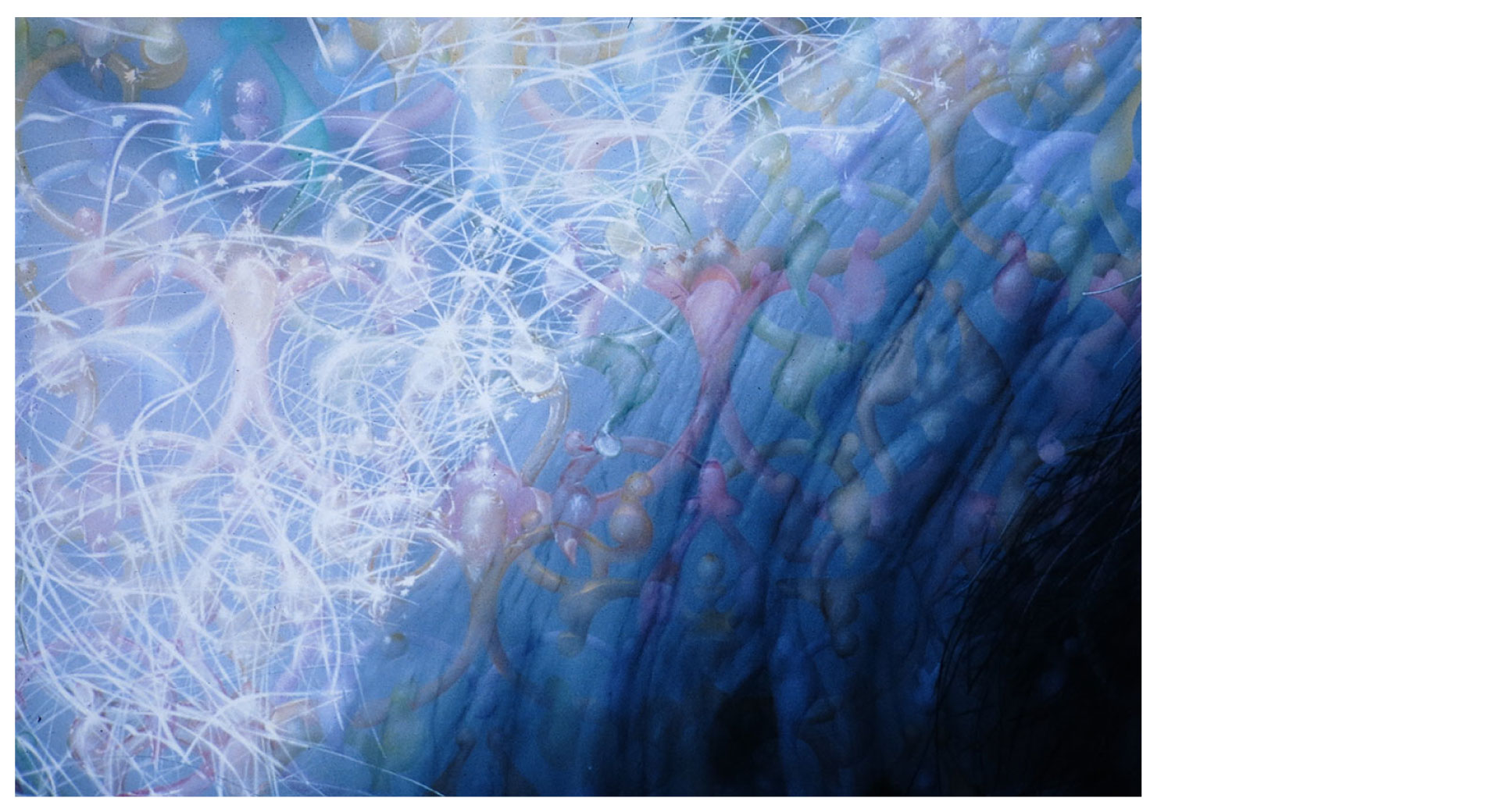 He knew that he wanted the painting to combine a photo-realistic image of his father with an all-over pattern alluding to his psychedelic experiences of an underlying spiritual inter-connectedness. So, Kaltenbach began researching patterns to use in Portrait of My Father while still in Madison, and found an appropriate model in a book by the 19th century artist and designer William Morris, a compendium of decorative patterns from around the world. The particular pattern that drew his attention was from a 9th or 10th century Islamic wall painting (figs. 56, 57). Back in Sacramento, he took another photograph of his invalid father and it is this image that became the basis for his painting. Both the earlier sunset and maple tree paintings reflect Kaltenbach's attempts to juxtapose a photo-realistically rendered subject with an all-over pattern suggestive of his mescaline experience; however, Portrait of My Father was to be on a much larger scale and Kaltenbach modified techniques he had explored in these first two paintings to achieve a more subtle and integrated relationship between image and pattern.
Kaltenbach began Portrait of My Father in Sacramento on December 19, 1972, because of the auspicious astrological conditions of that particular date. The first step was to create a much enlarged silhouette of his father's head on the primed white canvas. After completing this initial stage, Kaltenbach realized that the studio was much too small. So he moved for a time to Davis, where he worked on developing a three-dimensional Lucite model based on the Islamic wall painting pattern (fig. 53) —as well as photographic templates derived from the model—while he looked for a larger studio. Finally, in 1974, he found an old, unheated barn in the agricultural area between Winters and Woodland (fig. 55). For the first six months or so in the barn, Kaltenbach worked on the realistic details of his father's portrait, filling in the gridded features in shades of grey (fig. 56).[3] Then, using an airbrush and stencils he'd made from the Lucite model, Kaltenbach began to create the all-over image of the spectral Islamic pattern. When possible, Kaltenbach would align or visually rhyme abstract qualities of the pattern with the physical details of his father's face, i.e., an arabesque with the line of a hair.
In late 1975, when his father passed away, Kaltenbach had a vision of his father's spirit instructing him with the words, "Too much, toooooo much," which inspired him to remove some of the details he had been adding and to introduce a subtler balance between pattern and realistic detail. He covered sections of the painting in thin coats of transparent grey to mute its intensity. In the later stages of the painting, using a sable brush, Kaltenbach added more detail to the face itself, working on wrinkles, hairs, and skin (fig. 57). "From 150 feet away," he said, "I would like to have it look like a photo-realist painting, in a way, almost completely, except maybe a little vibratings, and then as you get closer I'd like to have it break down more and more until when you are right next to it, I would like to have it look totally abstract . . . ."[4] Kaltenbach continued working on Portrait of My Father until 1979, even while the painting was on display at The Oakland Museum. 
I can think of very few works of art that express such a profound dimension of human experience—one shared by all—while simultaneously redefining the relationship between realism and abstraction. It is paradoxical that Portrait of My Father, which was, after all, the product of a conceptual art idea tinged with irony, and the work of a fabricated persona (Kaltenbach's "regional artist"), resulted in one of the most powerfully authentic and spiritually moving artworks of our time.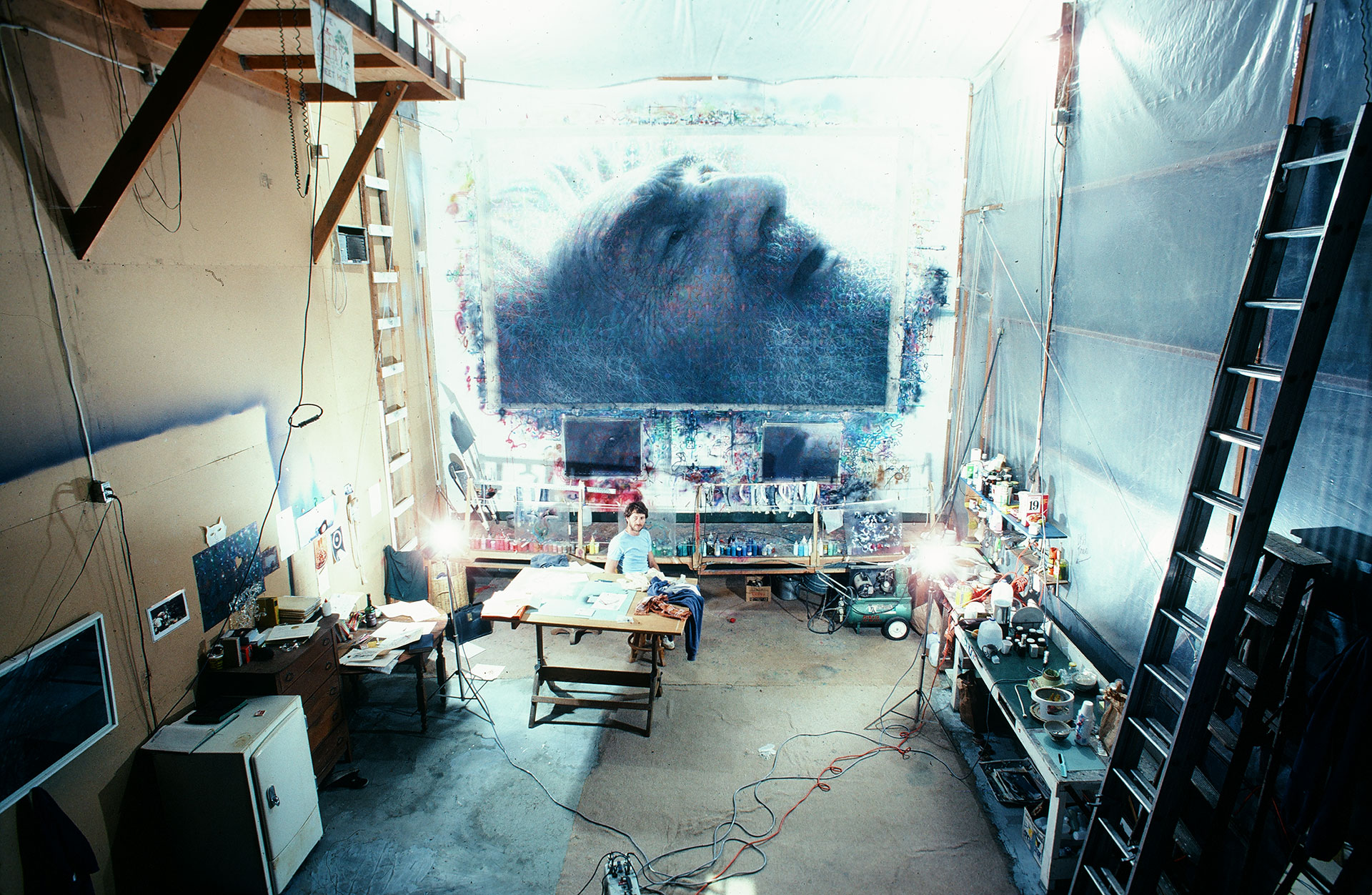 Discussion questions: "Stephen Kaltenbach's Portrait of My Father" by Lawrence Rinder
The author describes Stephen Kaltenbach as a conceptual artist (the idea is more important than the finished object), while also pronouncing Portrait of My Father as, "...redefining the relationship between realism and abstraction." Take a moment to look closely at the painting. Which details are more abstract or conceptual and which are more "realistic?" What is the effect of the abstract? the realistic?

If you were to paint a loved one, who would you choose and why? In what way would you portray them? What mood would you evoke and what details would you need to include? 

 After reading this essay, has your own understanding or interpretation of Portrait of My Father changed? If so, how?
---
Lawrence Rinder is Director and Chief Curator at the UC Berkeley Art Museum and Pacific Film Archive, a position to which he was appointed in 2008. Previously, he was the Dean of the College at the California College of the Arts in San Francisco. Rinder also served as the Anne and Joel Ehrenkranz Curator of Contemporary Art at the Whitney Museum of American Art where he organized exhibitions including The American Effect, BitStreams, the 2002 Whitney Biennial, and Tim Hawkinson, which was given the 2005 award for best monographic exhibition in a New York museum by the United States chapter of the International Association of Art Critics. Prior to the Whitney, Rinder was founding director of the CCA Wattis Institute for Contemporary Arts in San Francisco, and served as Assistant Director and Curator for Twentieth-Century Art at the UC Berkeley Art Museum and Pacific Film Archive.
©Stephen Kaltenbach The Beginning and The End, The Regents of the University of California, Davis Campus. Jan Shrem and Maria Manetti Shrem Museum of Art, 2020.
---
Category
Tags