Ann Harrold Taylor inhabits the in-between in her paintings. Her large-scale oil paintings fuse recognizable objects with dreamlike worlds where each glance reveals something new. Harrold Taylor is drawn to what Philip Guston described as "bad painting" in his own art; that is, art that rejects established norms and distinctions, the "fineness" of fine painting. "By this [bad painting] Guston meant painting that sleeps willingly with the enemy: that nestles among pop and vernacular forms, that renounces sanctity and pureness for the trivial and the tawdry. "Badness" for Guston is the only way we have to keep painting true: true to the media-driven, mass cultural world we inhabit, and true to what art historian Robert Slifkin calls the "delirious indeterminacy" — the collapse of stable meanings — within postmodern life."[1]
For Harrold Taylor, the liminal zone between figuration and abstraction is a form of working between parameters, of "letting the paint obfuscate." She is drawn to oil paint in particular, finding that following the paint — seeing what it can do, using it in various ways — is a seductive challenge. Embedded in this is a constant searching not to find a way out but to embrace the not-knowing as a path to discovery. Her former teacher Wayne Thiebaud has said, "I think the most compelling part of drawing and painting is the continuing thrill of learning about how they can be made. Working on prints is an extension of this constant search."[2] Oil painting is, for Harrold Taylor, the question and the answer; this challenge is where the work makes meaning.
Harrold Taylor has also taken from Thiebaud a rigorous daily practice, creating smaller-scale paintings to warm up for the bigger ones. As she says of Thiebaud, "As a tennis player he compared it to hitting the ball for hours before a game. A daily building of muscle and a sense of strength yet relaxation when the time comes to go to big canvases with oil. It was great advice to me, so now every day I do mixed media work on paper as a form of swinging that racket over and over with abandon." Works such as Forward, Footing and Green Encounter represent her swinging of the racket to quickly get ideas down on paper, and to create momentum for the larger works.

In Forward, a figure, in outline, stands in a small boat, possibly steering or staring out to sea. Harrold Taylor asks, "How safe is it to stand in a boat or indeed, is that the highest life goal?" As we navigate some of the murkiest political, social, moral and economic waters of our lives, one has to wonder what are our personal and collective goals? A boat is only as secure as its foundation.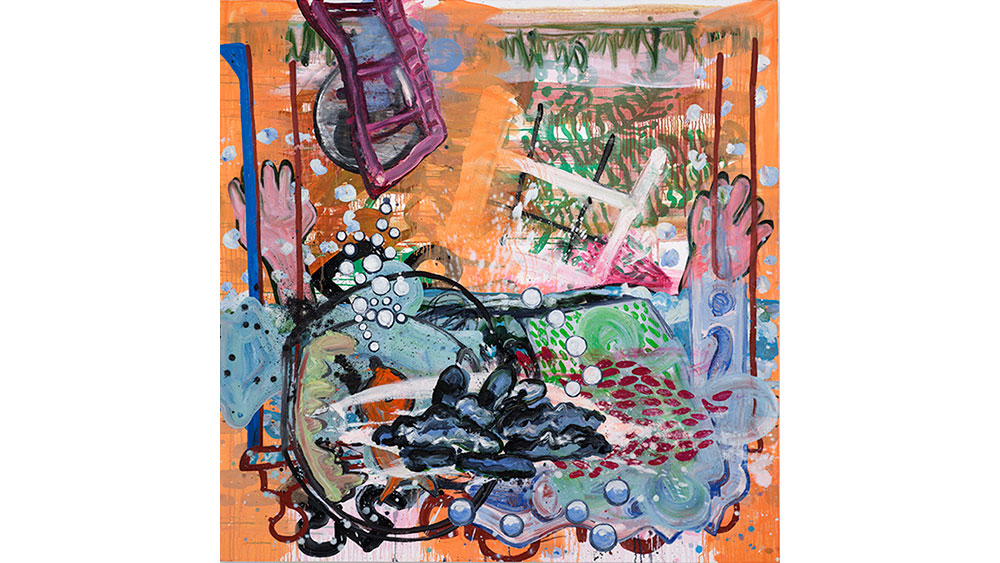 This type of pondering life's biggest questions figures prominently in her large-scale paintings. Safety Rope — made in 2020, during quarantine — is a swirling mixture of images, fragments, ideas. At the top left, a magenta ladder appears above a meaty hand that emerges from the roiling sea of objects below.

Is the ladder descending into the scene, providing a lifeline to the hand? Or is it ascending, pulling away and out of reach? A second hand and arm reach up on the right side of the painting, protruding from the murky depths toward a window. Nearby, another ladder-like form bobs in the soup.
The lower register of the painting includes a bowl with a fish that also reads as a platter. Harrold Taylor, an avid student of art history — in particular the history of painting — cites influences including Guston, Edouard Manet, Henri Matisse and Pierre Bonnard. Harrold Taylor evokes Manet's Oysters from 1862 in the form of the bowl, the way the contents are presented for viewing. Yet the bowl with the goldfish also calls to mind Matisse's Goldfish from 1912, as if it were tipped on its side or viewed from above.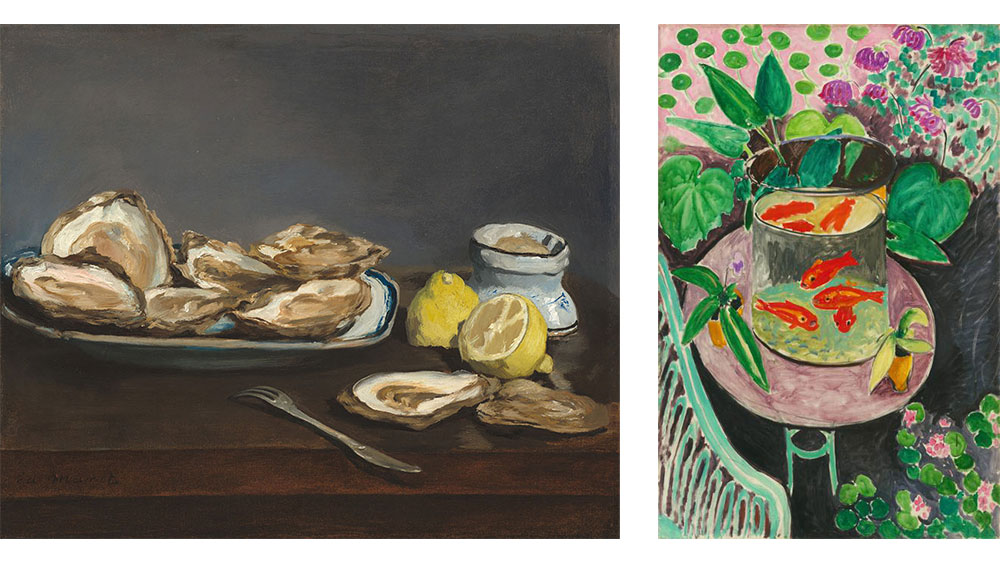 Bubbles from the vertically oriented fish's mouth float up toward the ladder, buoying the arm up. These various, almost conflicting viewpoints recall, once again, Guston's "bad painting" in the refusal to adhere to a single point of view or easy interpretation. Everything is flattened, yet there is depth; we are looking both head on and up at the same time — a familiar feeling of disorientation.
The layers of paint, the various drips and splatters throughout, give Safety Rope a sense of motion and energy, encapsulating the full-body experience of working a canvas that is 70 by 70 inches. Thinner washes of paint function like a palimpsest, creating a layering of images, not unlike a racing mind. Looking again, the painting seems to swing towards the positive, of finding ways to remain afloat in a most difficult situation, and how we can save not just ourselves, but also our collective self. Looking yet again, the ladder swings towards the arm, providing a way up and out.
Susie Kantor, Associate Curator
---
[1] Bryan Wolf, "Between the Lines: Philip Guston, the Holocaust, and 'Bad Painting'" American Art 34, no. 1 (2020): 73.
[2] Wayne Thiebaud, "Changing Prints" in Vision and Revision (San Francisco: Chronicle Books, 1991), 11.