Jonas Wood draws inspiration from 20th century American painting — Edward Hopper, David Hockney, Alex Katz, and Wayne Thiebaud — as part of his process to create vibrant images of the everyday world around him. He has been painting and drawing tennis courts since 2011, working while watching tennis on TV in his studio. Four Majors, a series of prints made in 2018, includes the four tournaments — Wimbledon, the US Open, the French Open, and the Australian Open — that make up tennis' Grand Slam. Wood is a confessed sports addict, as drawn to the field of play as he is to the flat graphic appeal of the sports trading cards he collected in high school.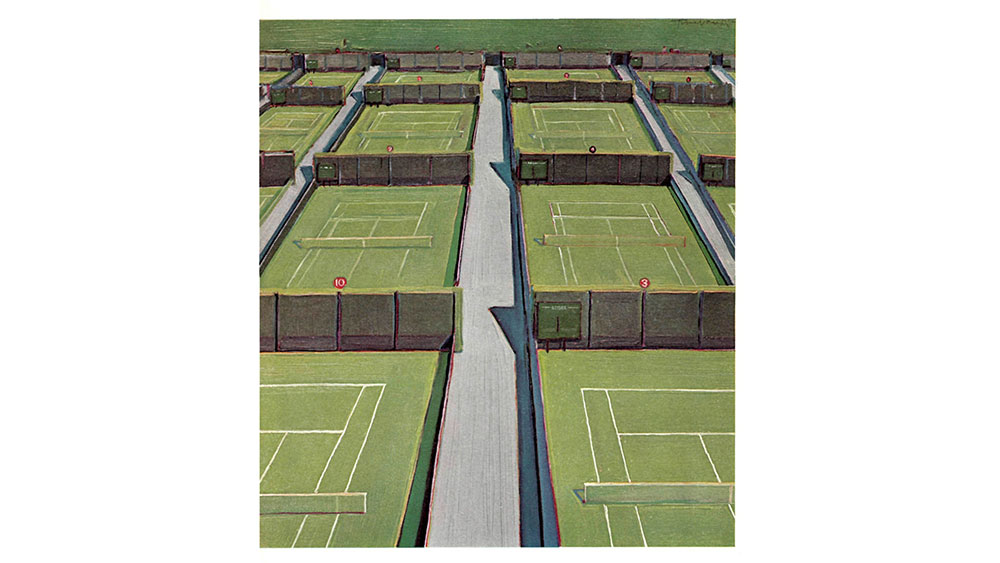 "My forms are not rendered spatially," Wood told Hyperallergic about his images of courts tilted up against the picture plane just as Thiebaud so often renders his images, including his own rendition of Wimbledon. "My paintings of tennis courts were about an interest in abstraction, and how the court becomes a geometric puzzle." In each of Wood's images, the white lines that demarcate the courts organize distinct compositions and points of view that are held together by the graphic appeal of the rectilinear white lines. "My work is under-painted with big flat shapes of color; that is how they start. They are generated from an abundance of flat planes built up on top of each other." Four Majors are a study of flatness, in other words they celebrate art critic Clement Greenberg's definition of medium specificity, an appeal to the flatness of the picture plane instead of illusionistic depth.
In 1967, Sports Illustrated commissioned Wayne Thiebaud to "observe this august tennis tournament" and share his impressions of Wimbledon. The June 24, 1968 issue featured four gorgeous paintings that explore the culture and ambiance of the high-profile sporting event. So too, Wood's images offer a contemporary take on the sporting experience. They extend beyond the racquets and balls to feature corporate branding as central to the visual effect of the tournament today.
Painter Christopher Brown, also featured in Wayne Thiebaud Influencer: A New Generation, remembers in a video interview sitting in his high school art class flipping through the very same issue of Sports Illustrated. The idea of an artist so connected to contemporary life that they could be featured in America's premier sports magazine, planted the seed that maybe, just maybe, Brown might aspire to a life of painting. Just a few years later, in 1972, as a student at the University of Illinois, Brown had the opportunity to meet Thiebaud, who was a visiting artist-in-residence.  Immediately Brown knew he would follow him to pursue a master's of fine arts degree  at UC Davis.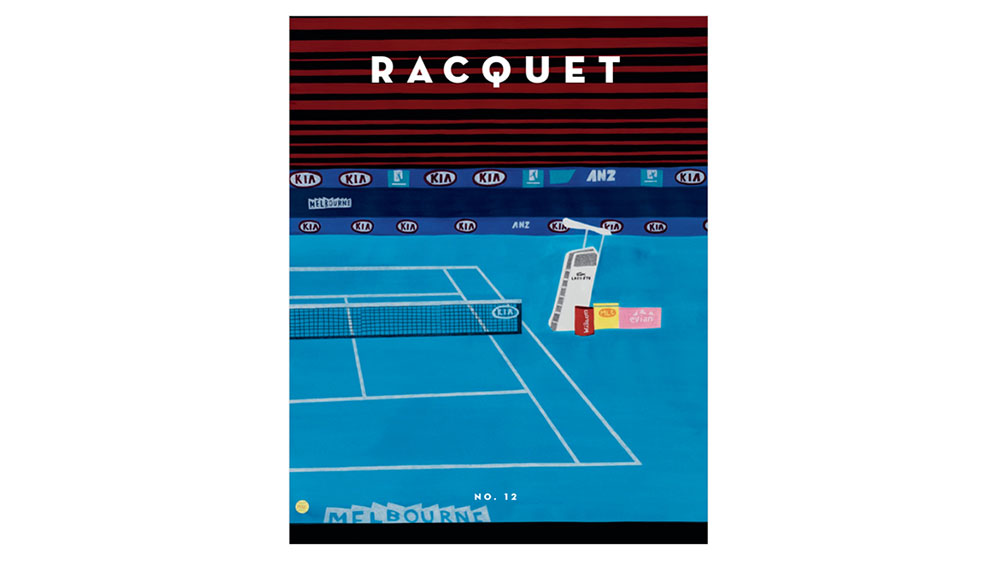 Wood, too, remembers the personal appeal of finding in Thiebaud an artist who could embrace the most rigorous ideals of painting while also living in an everyday world populated with pie plates, steak dinners and sports broadcasts. In no small way an homage to Thiebaud's Sports Illustrated, Wood had one of his tennis drawings featured on the cover of Racquet magazine in 2018.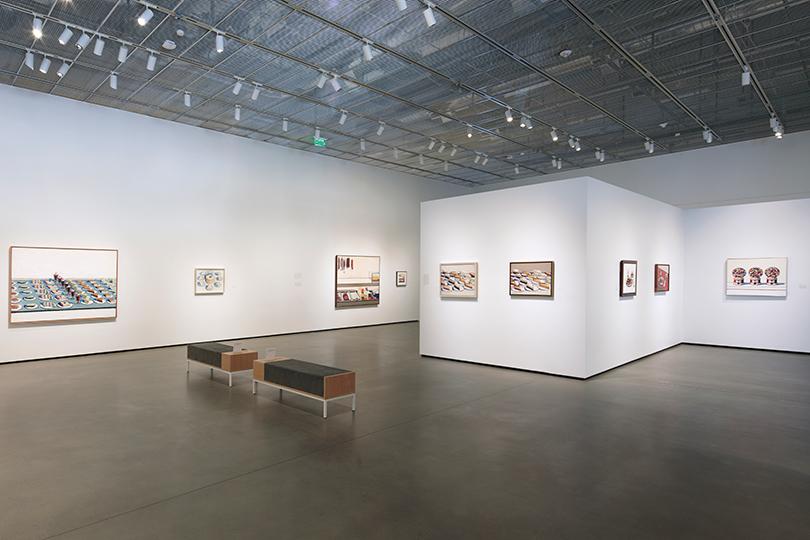 Just like Brown, Wood sought out Thiebaud. In 2018, when the Manetti Shrem Museum presented Wayne Thiebaud: 1958–1968, Wood made the pilgrimage from LA to Davis with artist Mark Grotjahn to meet our modern master. "Experiencing Wayne's world for an afternoon was excellent," Wood enthusiastically reported on his Instagram account. He included a video of Grotjahn and Thiebaud admiring a Willem de Kooning drawing hanging in pride of place by the artist's mantle.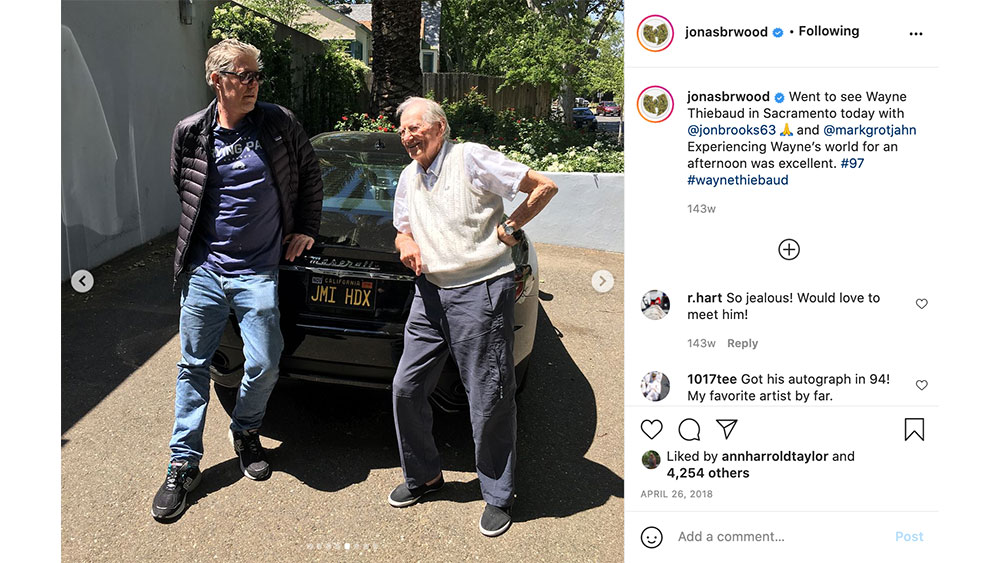 De Kooning brings us back to the flow of influence as a source common to so many of the artists in this exhibition, including Thiebaud. He often recounts the tale of his sabbatical year, 1956, in New York City. He set off to meet his "heroes," artists such as de Kooning, Franz Kline and Barnett Newman. De Kooning, then at the height of his fame, granted Thiebaud a studio visit. In the more than 60 years since their visit, Thiebaud has retold the story many times:  "People tend to try to make the signs of art, rather than work towards something you really could call art," Thiebaud remembers as de Kooning's advice. "He told me exactly what he meant: imitating the signature style, copying the brush marks, the labels," he told Apollo Magazine in 2017. "He said, 'You've got to find something you love and try to deal with it — and not expect anything.' " Thiebaud came home to Sacramento and worked with what inspired him: the artifacts of everyday life, including the sports we play and watch on TV.
Rachel Teagle, Founding Director