A Lifelong Friendship and Never-Ending Art Education: A Conversation with Gene Cooper and Associate Curator Susie Kantor
Susie Kantor: You have a unique position in this exhibition in that you've known Wayne Thiebaud so very long. While there are others who have known him almost as long, they haven't had quite the consistency of the relationship that you have had. Can you tell us about the relationship over the years, how it has changed, and what it has meant to you, starting with the story of how you first met Wayne?
Gene Cooper: In 1970, two things happened to me simultaneously. First, as a junior art history professor at Cal State University Long Beach, I accepted a position as university gallery director. I knew nothing about the position, and had to figure out how to do it. One idea was to have a show around a particular artist, and I picked Wayne only because I always had a slide in those days of Wayne's painting Booth Girl in my pocket wherever I went. If I was to do this, I wanted it be about someone I liked. At the same time, Wayne was giving a figure painting workshop at Fullerton Junior College. Jack and Connie Glenn, friends of mine who had a popular gallery in Corona Del Mar, knew Wayne and encouraged me to attend the workshop. Connie said to just go over there while he's teaching and introduce myself. I went, and during a model break, I introduced myself. Afterwards, we went out and had lunch with pie. I discussed the proposal for the show and off it went. I thought that was just the way it was done. I was pretty naive I'll tell you. I wasn't intimidated by him or anything
As the show developed, I did a lot of research that required many interviews and trips to Wayne's home. He is very giving, and we became friends while I was doing that research. I did a catalog that included an essay on the influence of film on Wayne. After spending days at his home, I noticed he often turned down offers to have exhibitions. When I asked "Why did you accept my offer, with an unknown art historian and small gallery?" Wayne responded, "My Mormon family lives near Cal State Long Beach, and they understand what being a teacher is but are not sure what being an artist is all about." Having the family see the nearby show was convenient and gave him the chance to show his family what it was like to be a painter. And when the show opened, they all came.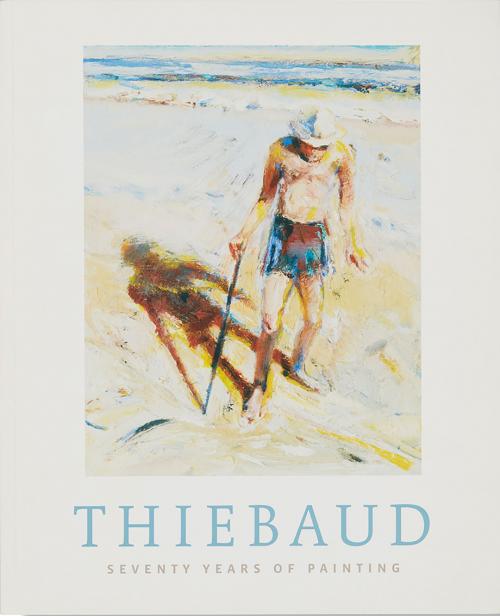 During that whole activity, I began to learn more about Wayne. Then I was at UCLA, getting ready to work on my dissertation. I selected Wayne because I had lots of information, so it was a good dissertation topic. But then that dissertation disappeared in the big firestorm here in Laguna Beach in 1993. That fire consumed 16,000 acres and damaged or destroyed more than 400 homes, including mine.
I was just trying to get information about a guy who had a life that was very complicated. When I would go up to Sacramento to interview him, I always stayed in the house. I became a part of the house. More and more, I became part of the family, and like any family, you have your ups, your downs and all the rest of it. I was always involved in whatever kind of activity they were involved with in terms of travel, going to shows. And it was like living an art history project, as it turned out.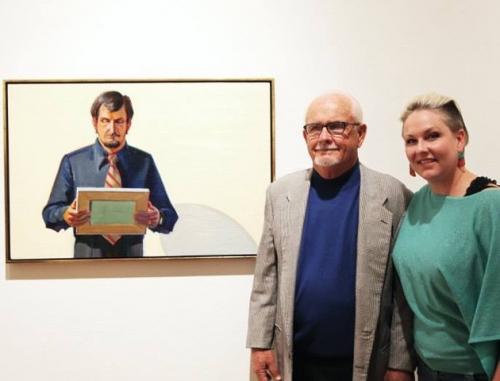 Tennis was a big thing because he was spending more and more time on the tennis court, and it was harder and harder to talk to him. So, I took up tennis, and we played together for a long time and went to various tournaments and things together. So there was that kind of connection. And then we began to flip back and forth in terms of who's the teacher and who's the student. He teaches me a lot about painting. We communicate on the phone a lot, and he gives me projects to do, and he evaluates them and gives me another project to do. And as time goes on, he's like my father and I'm his son. Now, if anything happens in the family, like somebody gets sick or something like that, he's the first one to call to find out how things are going. After the fire, when everything burned up, he sent a care package with all the things that he thought I would need, including a tennis racket.
Kantor: I love that the tennis racket was part of it.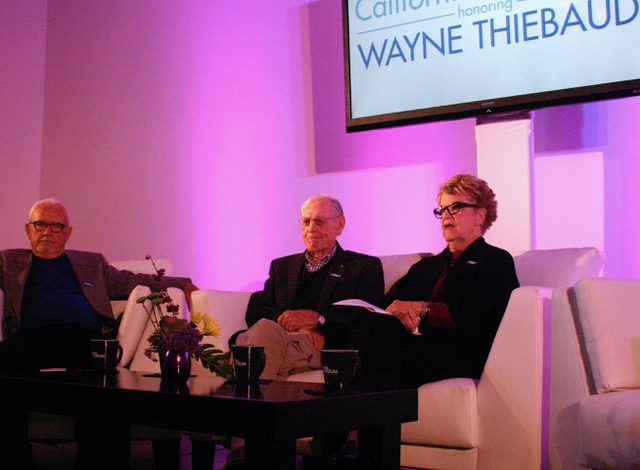 Cooper: Professionally, we have been on panels together and I've given talks and introduced him over the years. I've written about him in different ways. And then as the friendship evolved, so did my skills as an artist. He takes great pride when I have a success, and then he pats me on the back when I have a failure. But he calls me at least once a week to make sure that I'm painting. He's my conscience, sitting on my shoulder making sure that I continue to paint. He wants me to be happy at it, and he wants to keep that work ethic alive. That's an important issue, the work ethic.
Kantor: You mentioned the work ethic in your email, how important it is.
Cooper: Now, the work ethic for me started with my father, but then Wayne tapped into it for painting and tries to make sure that he keeps it alive because I think he's had failures before. He's had students that start with a flash and end with a thump, and he wants to make sure that I don't do that. So, he keeps bolstering my spirits because, if you're into painting, you've got more failures than you've got successes. It's how you deal with those failures.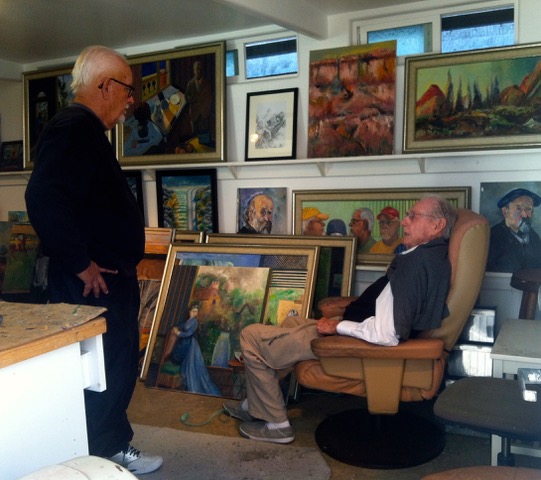 Kantor: From what I understand, he thinks that failure is part of the process. And I can imagine that if you had success every time, it would be less interesting in a way.
Cooper: Well, we figured out that in his terms, he has about a 5% success. And that other 95% either goes in the trash can, or, unlike a lot of other artists, he repaints them. Currently, and I think it has something to do with his age, he is revisiting all of his old work and repainting them. He doesn't believe in the idea that once you walk away from the canvas, the first time, it's over with. You look at some of his paintings and you'll see 10, 15 dates on them. They're never finished. He keeps working on them.
The work ethic can't be overemphasized. He comes from a blue-collar background just like myself. And some of that you pick up, especially if your parents live through the Depression, it's just part of your attitude, your worldview. And it carries over into art — it's something that causes a lot of failure in students that don't have that particular tool in their toolbox.
Kantor: We've touched on this a bit, but I'd also like to talk about the idea of influence – influences on you related to Wayne and as you're talking about work ethic that comes from your own father, are there other influences on your work? And could you talk more about the essay he has assigned you to write about your influence on him?
Cooper: I just got that project. He likes to give me projects where he turns things around and you have to straighten them up. It's normal for people to ask him about how he has influenced people, but he flips that around and says, "Well, you've influenced me." And there are two ways of looking at that. One is influence in terms of art and another in terms of life. One thing I have to offer to him is art history. Wayne comes out of commercial art, and the schools that he went to early in his life were of commercial art directions. … They were concerned with how to sell products and all the commercial art things.
He has created his own art history in a way, those artists that he can use as his tools. It's not art history for art history's sake, but art history for how he can use it and art history that gives him pleasure. He's very selective. And I think a lot of artists are like that. He's a great historian in his own right. He's got two aspects to that. One is that he's got a photographic mind and the other is that he has this passion for art history. There are very few phone calls, very few discussions that we've had over the 50 years that we don't talk about art history.
There's always some reference to art history and, this is especially the case in the last few years, now he senses that he's a part of art history. And he's very proud of being a part of what he calls a selective fraternity. You have responsibilities. You can't tear that fraternity down; you have to build it up. He is kind of fearful of that, but at same time, he takes pride, people have given him every possible award that they can. And so it makes it very obvious that he's going to be a part of art history.
Kantor: Absolutely.
Cooper: And with the responsibilities that go with it. He's had awards from President Clinton but he also deals with students in the classroom. What he has to offer, he thinks, is basics — just absolute basics, how to hold a pencil. And he's very comfortable in his teaching.
Kantor: Now I'd like to talk about your own art and how you develop your paintings.
Cooper: The most important thing probably is the fact that one of the reasons Wayne has always been interested in me is because I am an art historian. Knowing that, you can see my early paintings are drawn from art history — literally drawn from art history. Then I did the artists' spaces series, and then art history comes in various series in bits and pieces. There will be a series in which I take Piet Mondrian, for example, using some of his signature stylistic elements, such as his geometry, and integrate it with something ordinary like a pomegranate. I put those two together and see if something new comes out of it.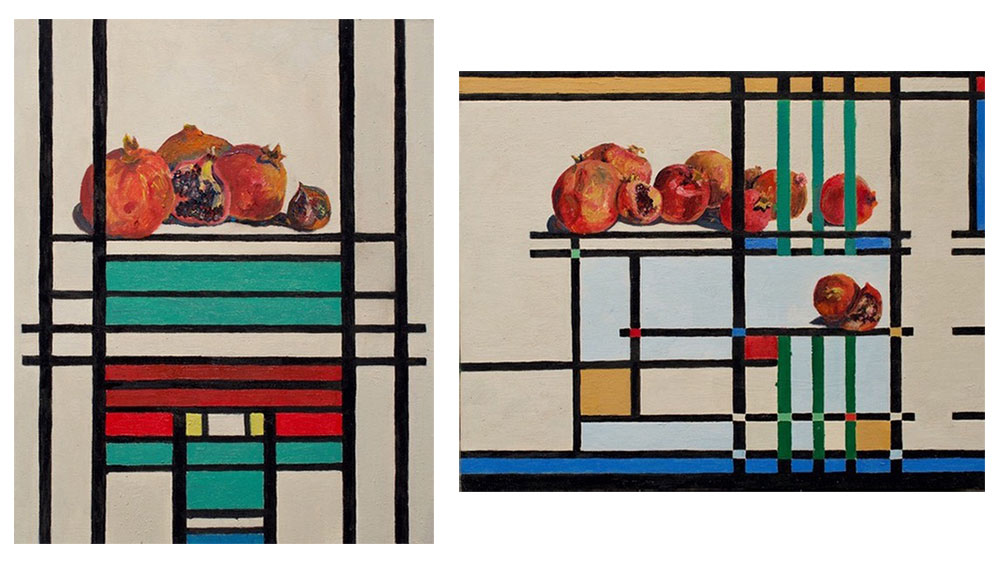 I work in series, because of Wayne's impact on me. He likes working in series and I can see why, because you take a topic and you work at it from different angles: Wayne's pies and cakes, or Monet's water lilies or Van Gogh's sunflowers, Cézanne's apples. You keep working with that one subject as a common denominator, just keep manipulating them or rearranging them and so on. And you learn more about painting and about your subject as well. The first series was the artist series, actually: Different artists in their different studios, where I intended to blend the spaces that these artists created in their work that give them identity, like a Picasso Cubist space and blend that with the space that they live in, the studio space. To see if I could put those two things together. People don't know how much it's like a photographer in his dark room, how much the artist is influenced by that kind of isolation, like a monk's space.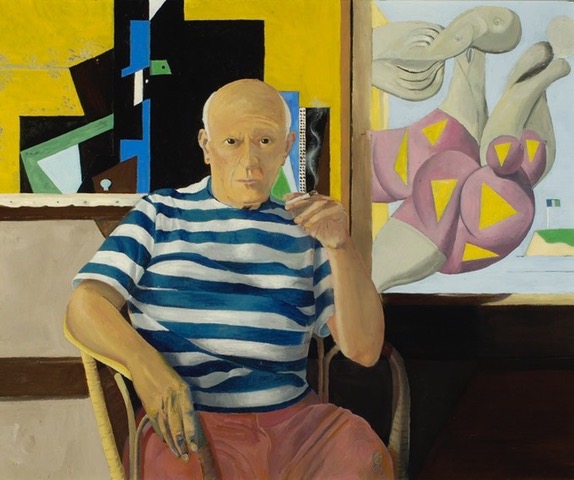 The hats are the most recent ones. And I chose the hat, in part, because like Cézanne, for whom the apple presents a source of geometry, these hats present a source of geometry. You have a cylinder, an ellipse, the circle. And then I use that hat to integrate it with the features of Mondrian [in the background] and all of that is to take abstraction and blend it with realism. You've got floating hats, done very realistically, and the floating is suggestive as to where it is in space. With Cézanne, you have the apple, Wayne has the pies and cakes, and I have the bowlers, which is an obvious sphere.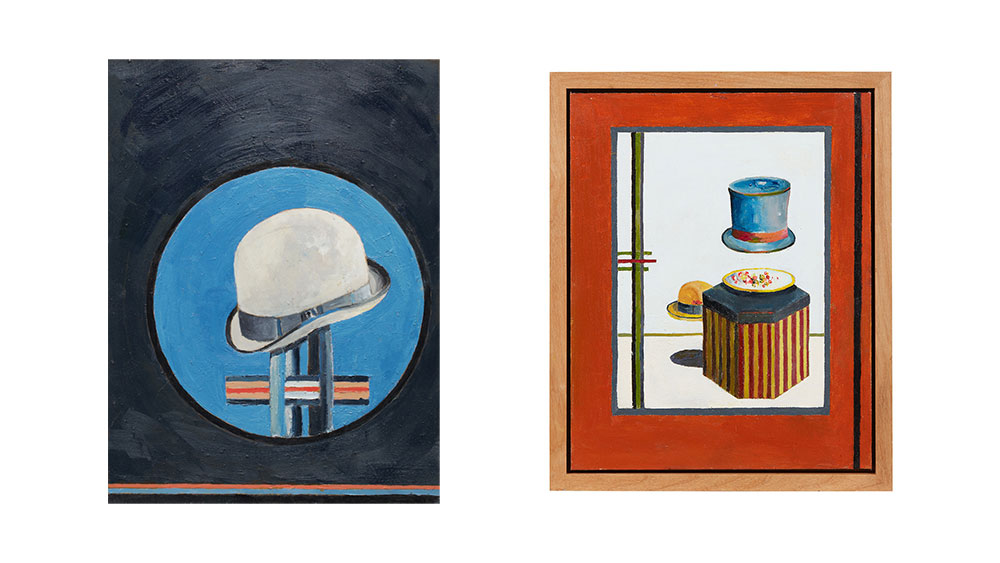 And as far as the style goes, it's always playing with abstraction and naturalism or realism, putting those two things together. And that's what Wayne teaches the most about — he teaches the skill set that comes out of the Renaissance. When he gives me projects to do, they could have been given to Michelangelo; it's the same attitude of representational art that end up in conventions like linear perspective, cross hatching and all those basics. He has made it clear that learning how to paint requires learning how to think. And that requires reading. So he always gives me a reading list and then quizzes me on the reading list. It's never over until I pass the test — he's always the teacher.
Kantor: Thanks so much for talking with me today, Gene. I'm in the museum installing, and that traditional salon wall approach I mentioned to you a while back has changed to what I've been calling salon clouds, different groupings of various former and current students. One of your paintings will be hung in a grouping with a couple of Wayne's paintings and several other artists. And the other one is in a smaller grouping. We're designing it in a way that will be fun for visitors, looking at the different ways that everyone has used the tools that Wayne has given them as a teacher over the years and how varied that can be when people produce their art. One of the things that has come through for me in talking to everyone is the joy that Wayne takes in being a painter and how he's imparted that to his students. And that comes through in the work — this joy, and also rigor and the practice of doing the work every day.