Richard Crozier paints everyday views of his longtime home of Charlottesville, Virginia, turning commonplace street scenes into moments of quiet beauty. Since the mid-1970s, when he moved to Charlottesville for a teaching position at the University of Virginia, Crozier has made thousands of paintings of the city, nearly one per day for more than 40 years. What began as a quest to complete 100 views of the city — inspired by Hokusai's famous 36 Views of Mount Fuji (1830-32) — has turned into a lifelong pursuit of capturing a city as it transitions, recording a history that might otherwise be lost to us.
Painting from his car, Crozier uses his dashboard to prop up the Masonite on which he paints his small scenes. He compares the windshield to a viewfinder, giving him a format by which he can frame his works. In the tradition of plein air painting — painting live in the landscape, a technique used by artists Crozier admires, such as Jean-Baptiste-Camille Corot and John Constable, as well as Camille Pissarro, Alfred Sisley and other Impressionist painters — Crozier spends one to two hours painting the basics of what he sees: large blocks of color that make up a building, a dumpster or a tree. Although he re-creates recognizable vistas, the paintings are impressions: visual reminders of what the city looks like to him at that moment, rather than precise, photo-realistic recordings. The perspective of someone sitting in a car, while recognizable to most, imbues the paintings with the sense that the moment is fleeting — that what we see may shift as quickly as the changing of a stoplight. And, indeed, Crozier has said that many times upon returning to a site for a painting, a house has been torn down, or a new structure has sprung up.

His practice of painting outdoors began during his time in Davis; the practice of intense looking came from his time studying with Wayne Thiebaud. As a graduate student, Crozier would sit in a field and paint. When he arrived in Virginia, he found he could paint from the car protected from weather and peoples' interest, providing him with anonymity. This close looking allows Crozier to pick up on details that may not register to others, capturing changes that signal the growth of a city — from the crane looming in the background of Downtown Charlottesville  to the fluorescent green dumpster of Green Dumpster. The dumpster and the crane are both ubiquitous symbols of construction and change, and Crozier bears witness to the future that inevitably comes to areas experiencing rapid growth: a loss of history, gentrification, and a change in the makeup of a city.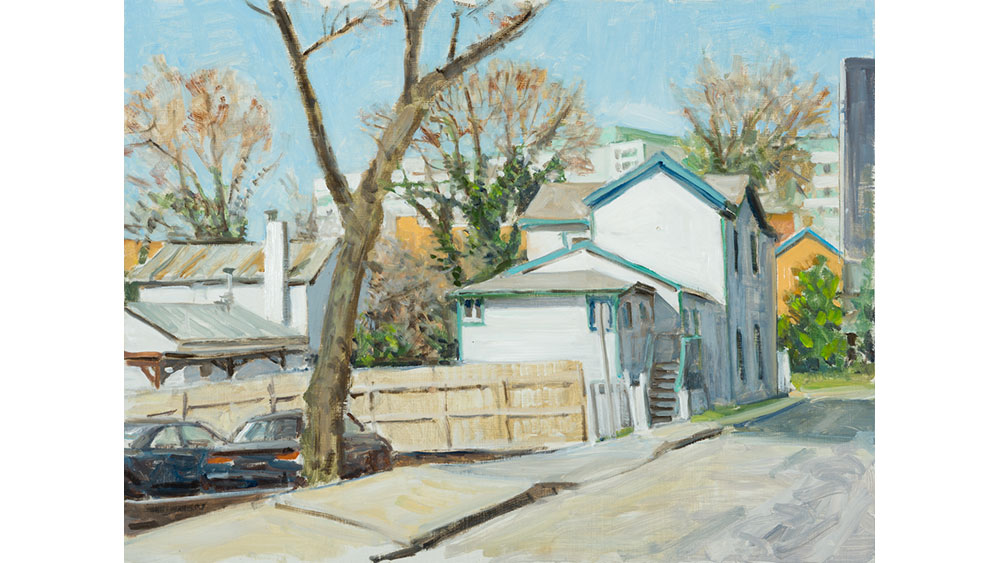 Similarly, Fifeville captures both the history of the city in the houses in front, and its future, with the larger complex in the background. Up close, the paintings begin to dissolve into patches of color — bright whites bordered by blue and green gables, doors, and painted window trim; thick daubs of brown and grey becomes trees, loose smears of gray mixed with yellows and browns resolve into the concrete streets.
Like Thiebaud, teaching has been as crucial to Crozier as painting itself; he was a professor of art at the University of Virginia from his arrival in 1974 to his retirement in 2011. And, like Thiebaud, he instilled in his students the importance of looking, and really seeing the world around them. As he said in 2015 in an interview with the Charlottesville Daily Progress, "There's so much that we screen out when we look at the world. There are things that are just there, but often when you look at something closely, there are surprises.
Susie Kantor, Associate Curator