"A great teacher has a ripple effect," says Fredric Hope, reflecting on his relationship with Wayne Thiebaud, whom he met through his friend and mentor, the artist and art historian Gene Cooper. Hope considers teaching a passing of the baton from one artist to the next, and has found himself part of the relay between Thiebaud, Cooper and his own students. Like Thiebaud, and many of the artists in Wayne Thiebaud Influencer: A New Generation, teaching is a lifelong passion for Hope — something he returned to after leaving his career as a commercial designer for Hollywood studios, including Disney and Universal. Focusing on the fundamentals in his instruction, Hope has taught everything from figure drawing to sketching for illustration to composition and painting.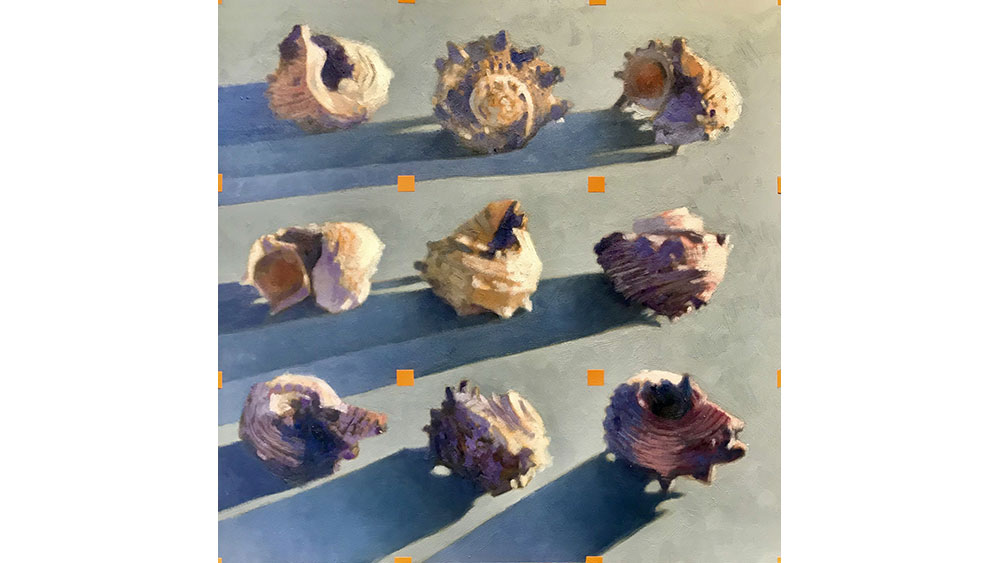 Hope also focuses on the fundamentals in his own paintings, studying light, shadow, form and color. In Social Distance (2020), for example, he repeats a shell nine times, in neat rows of three. Turning the shell just slightly in each iteration, Hope creates a study of the way light hits an object, the shadows it casts, and the way we perceive these changes. Interspersed with small squares of orange, he draws out the many colors that make up the shell, and the way those colors shift ever so slightly between the shell's opaque and translucent parts. What looks brownish-gray at first glance, is in fact made up of oranges, purples, whites, pinks and yellows. With the neat ordering and orange squares — and the title, Social Distance — Hope turns this into a representation of the restrictions the COVID-19 pandemic has introduced.
His experimentation with the fundamentals is also apparent in Slatshadow (2020), a study of composition, shading and light. In this drawing and others, Hope inserts a bright color accent, signaling that these are finished drawings, while also adding a touch of whimsy. Drawing is a core aspect of his practice, and by adding the color accents, he elevates them beyond the merely preparatory.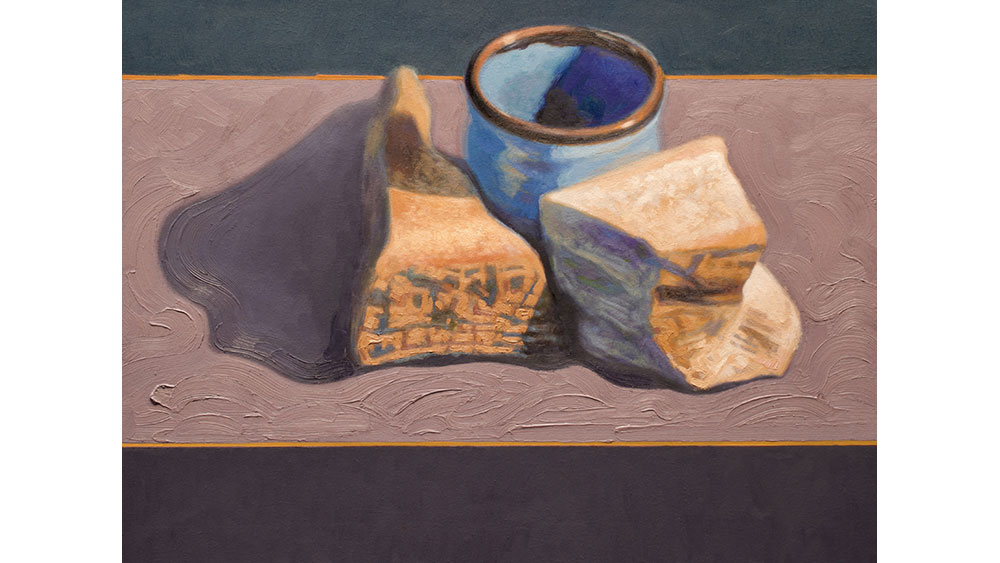 On the subject of influence, Hope takes to heart Thiebaud's advice to "steal, but make it your own." This speaks to his quest, in recent years, to develop a more personal expression in his work, while also looking back through art history. In Stealing from Morandi 001 (2020), Hope nods to one of his biggest artistic influences, Giorgio Morandi (1890–1964). A student of art history, like Thiebaud and Cooper, Hope uses inspiration from the past to create a personal narrative through his painting, passing the baton to a new generation of student artists.
Susie Kantor, Associate Curator